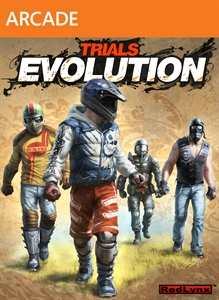 Trials Evolution
Publisher: Ubisoft
Developer: RedLynx
Platform(s): XBLA (Reviewed)
Release Date: April 18, 2012
Price: 1200 Microsoft Points – Available Here
Overview
Trials HD was one of the most successful games ever for XBLA. Over 2 million copies of the game have been sold overall, and it is well regarded as one of the most grueling, addictive, hardcore and entertaining games on the market today. Getting some of the tougher achievements in the game is a sign that you have endurance, patience and skill. The developers of Trials HD, RedLynx Studios, truly created a wonderful game. However, they couldn't just stand on their laurels. So, they created a sequel called Trials Evolution. How can they top one of the greatest XBLA games ever? Does Evolution even come close to the masterpiece that was Trials HD?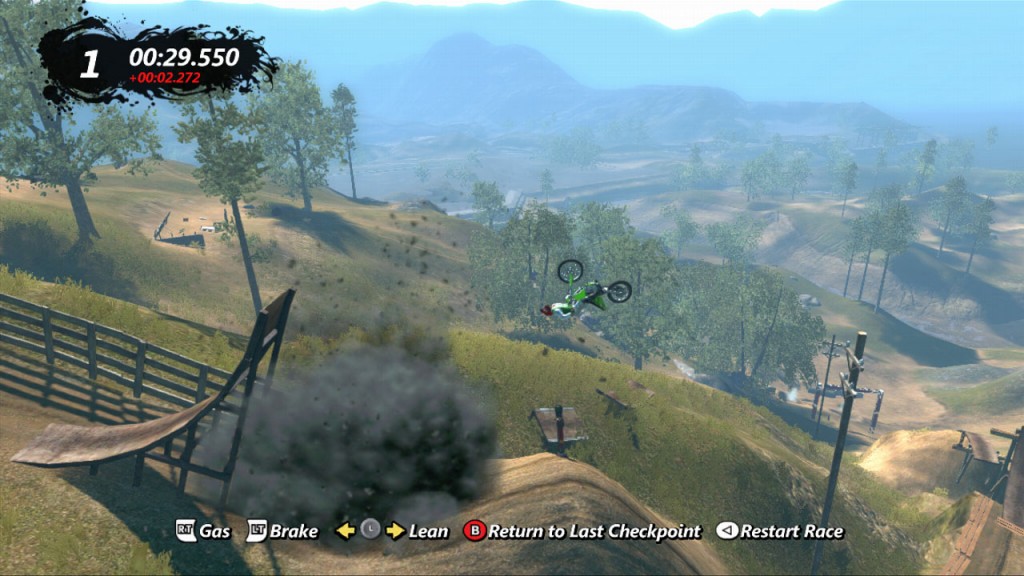 Gameplay
All in all, the gameplay is remarkably similar to Trials HD. RedLynx has tweaked the physics engine but, other than it being much easier to crash, I can't exactly tell you in what areas that I noticed any changes. All I know is that it feels slightly different. However, that does not detract one bit from the experience. Trials Evolution is still an intense ride that is easy to learn, but incredibly difficult to master. The game is still set in 2.5D, although the game does seem to explore the depth of the screen more often. For example, some of the tracks are set in a circle, instead of merely a straight line.
Of course, Trials Evolution is still murderously hard. While there are more easy levels in this outing than in HD, the medium levels still are tough. By the time you get to the hard levels, you'll want to rip your hair out and throw your controller to the ground, all while while cursing the TV, the controller and anything else nearby. By the time you get to the extreme levels, you will cry for someone to just kill you already; just tear your eyes out and cut your throat already. And yet, you'll still play. You'll keep hitting restart, knowing that this is the time that you can get through the track without any faults. That you'll take it slower this time and get a better medal, even if that means you won't have the fastest time to show off on the leaderboards.
All in all, the amount of content Redlynx stuffed into Evolutions makes this game a bargain. You can spend hours trying to perfect your runs, attempting to beat ghosts, viewing other people's replays, creating content, racing in multi-player, and trying out all the wacky Circus modes, like skiing.
One of the biggest improvements to Trials is the addition of multi-player. While I could not connect to any games, due to the intense server load that the game is experiencing currently, there are plenty of modes to experience. If you ever 100% all of the levels in Trials Evo, you'll still have endless multi-player "fun" to satiate your addiction.
The track creator returns to Trials Evolution in spectacular form. There are two editors: a lite version and a pro one. The lite version is easier to create with, while the pro version will literally give you any option you can think of. You can even create your own FPS game with it. You can also download, try out and rate other people's creations, which is amazingly insane.
There are only a few faults with Trials Evolution. One is that the tutorials will teach you something, like bunny hopping, but you won't actually use that skill for another hour or two, maybe not even until you unlock the next set of tracks. Two is that you must reach a certain medal count until you can unlock  more levels. So, if you just can't attain that last medal and you are stuck at 99 medals, then you literally can't move on. This can be extremely frustrating.
For the most part, the difficulty level does ramp up in a balanced way. However,some of the medium levels feel like easy levels, and some of the medium levels feel like hard ones, while some of the hard levels feel like medium ones. While this does give you a brief respite occasionally, it is a little weird. The fourth fault is that the the replay functionality seemed really spotty to me. Although you can view your most recent replay, I couldn't find a way to save it. In addition, you can only view certain replays. So, if your first run was spectacular, you can't save or replay it, but you might be able to save your 3rd retry of that run.
Audio and Visuals
Once again, the soundtrack of the game is generic, awful hard rock. However, some hip-hop and standard soundtrack music also made it into the game this time. Your rider will also still be yelling like a redneck whenever he goes off a huge jump. Overall, Trials Evolution is best sounding when you are playing your own music.
The biggest improvement in this Trials game is the graphics. The backgrounds are insanely detailed and full of life. For example, on one track, there is a jet that flies overhead. The visuals truly draw you into each track and they are incredible. This is probably one of the best looking games on XBLA. I was also really pleased this game was set in the outdoors.  It made it so much more interesting than the dark caverns of Trials HD.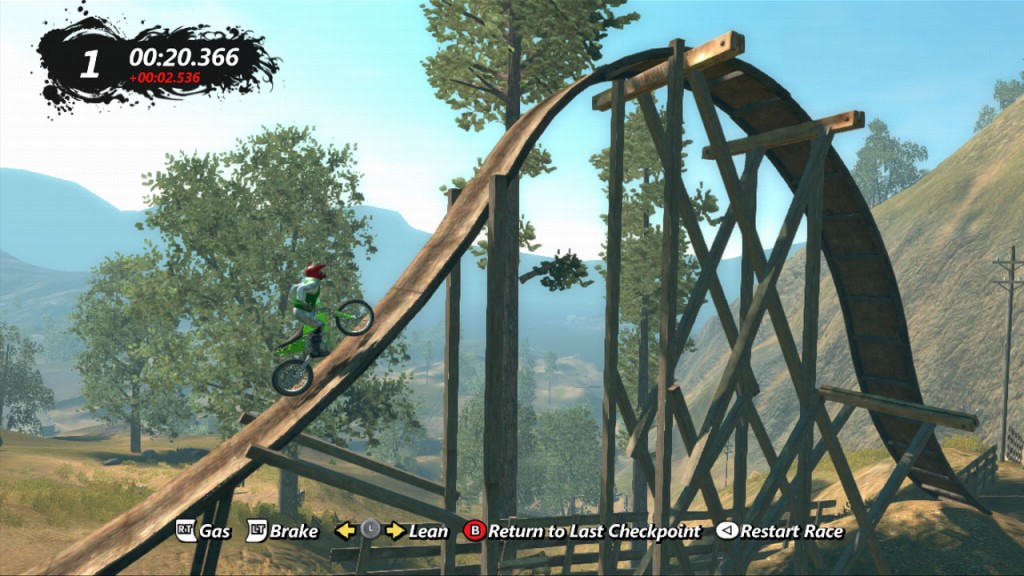 Overall
In conclusion, I was really impressed with the amount of creativity RedLynx put into Trials Evolution. This is no mere copy and paste of Trials HD. The entire game has literally "evolved", and it is one of the most fun, exhilarating, addicting and frustrating games of this year. I wager that it will be on many GOTY lists this December. There is only one warning I feel compelled to give you: please try it out and make sure you won't have a heart attack on the later, extremely difficult levels. If you don't like being angry and frustrated while playing games, then you will not like Trials Evolution. On the other hand, if you like a challenge and you love being completely addicted, then you will adore Trials Evolution.