Treasure Seekers: Visions of Gold
Platform: iPhone/iPod Touch (iPad)
Developer: Big Fish Games
Publisher: G5 Entertainment
Released: 28 October
Price: (US) $2.99
BUY NOW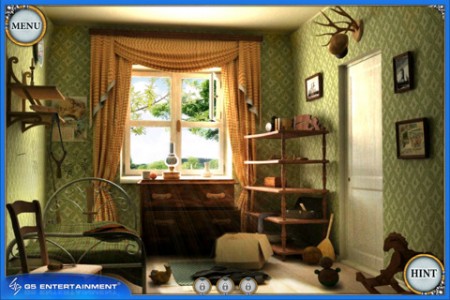 Story
Nelly keeps having the same dream. In the dream, Nelly sees a girl aboard a large pirate ship captaining a group of pirates as they all sail across the ocean. As it's a pirate ship, it is also full to the brim with a huge hoard of gold and other treasures. Oddly, Nelly knows who the girl is. It's not her but in fact her grandmother, though she imagines herself standing beside her. She knows that her grandmother was a pirate because her parents told her so. But she can never stay in this fantasy world, as each time she awakens from her sleep to find her normal bedroom before her, rather than on the decks of this wooden cruiser with the sea breeze in her hair and the occasional spray of water as waves hit the side of the ship. Perhaps she's longing to be like the girl in this dream, but soon, events in the game lead her to have an adventure of her very own.
Overview
And her bedroom is the start point of the game where, in true hidden object game fashion, you search for an assortment of objects and then interact with them to move on to the next stage. There is also a brief explanation of the game's various icons and controls, which while being helpful, leaves a lot to be desired, and the first time I ran through the initial tutorial there was even a bug which halted my progress and, in turn, I was forced to reboot the game. However, these are fairly minor drawbacks and the majority of people will be able to pick up the game, all aspects included, unhindered by the limited tutorial.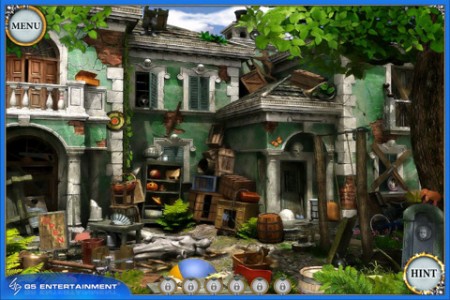 As hidden object games go, Treasure Seekers: Visions of Gold has a clearer level layout than most, and while the masses of items flooding the screen will always make hidden object games look cluttered, Big Fish Games has ensured that the levels are well lit and that background textures are distinguishable from the items themselves. This is something a number of other hidden object titles have tripped up on, rendering them almost unplayable and as such, it's a good thing that Treasure Seekers: Visions of Gold gets it right.
As with most hidden object and point 'n' click games, Treasure Seekers: Visions of Gold takes a while to get going, and only really becomes interesting when the plot progression is in full swing and when the objects you collect are being put to use intelligently, instead of in bland, pointless circumstances. Again, like all hidden object games before it, the game won't appeal to everyone, with some finding the style of play too slow-paced for their liking, but for those who enjoy the genre, Treasure Seekers: Visions of Gold definitely has something to offer, with some adequate logic-based puzzling on display.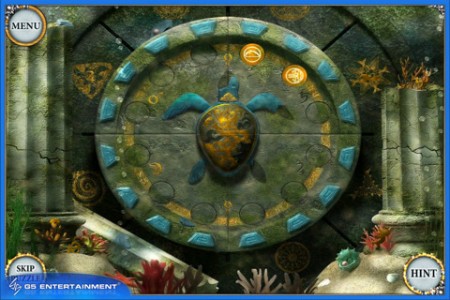 Graphics and Sound
Where graphics are concerned, Treasure Seekers: Visions of Gold doesn't excel in any way, shape or form. The cutscenes can have a fairly attractive art-style, and as I mentioned before, the developers have done the basics well with clearly laid out items, but graphically it doesn't break any new ground. Visually, it can only really be described as detailed but average.
Whereas the music and sound effects seem good; at first that is. The musical score sounds very good until you realise that it doesn't actually git the mood of each particular point in the game. Where it should be setting the tone and matching the atmosphere represented by the specific section in the game, it actually does not match up at all. In this respect, the musical score which initially seems impressive actually negatively affects the game by spoiling the atmosphere. There are also tiny other niggles regarding the sound which may negatively affect the experience, such as some sound effects which could grow irritating to some. However these are minor niggles, and when it comes down to sound effects, these aspects of repetition and a limited library of sounds feature in most games.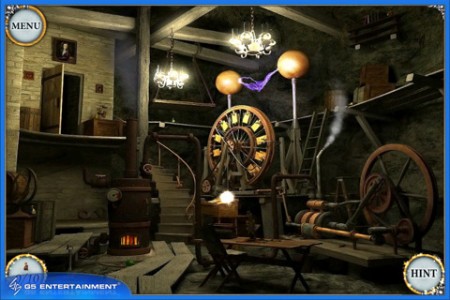 Conclusion
Hidden object games which derive from the point 'n' click genre will always be a bit of a niche interest. The slow-paced nature of them means they won't suit everyone, and this game is no exception: you'll either love it or you'll hate it. Some will enjoy gathering objects and, in the particularly puzzling sections, using their brains to help them progress. Others will feel as if the object-finding sections are building up to something, only to be disappointed when all that's waiting for them on the other side of each search for objects, aside from maybe the odd exploration section or cutscene, is another search for objects.
If you are a fan of the genre or you happen to want to try it out, you could do a lot worse than pick up Treasure Seekers: Visions of Gold. The gameplay has good quality point 'n' click/hidden object value, visually it does the job and more importantly, doesn't compromise gameplay in place of over the top graphics. Some games try to be so dark and sinister you can barely see what you are doing, but thankfully, the developers haven't fallen into this trap. There are a number of bugs that plight the game, though all of these could be fixed with an update in the near future, and there are some issues with badly chosen sound, but all of these are pretty minor drawbacks and shouldn't be dwelled on too much.
Which is why I am giving Treasure Seekers: Visions of Gold on iPhone:
Pros
Visually sound
Steady gameplay
Good example of genre
Cons
Slower speed of play won't appeal to everyone
Some small bugs
Music isn't well-stylised and negatively affects the mood
Slow-starter
GIVEAWAY: Comment Contest
Simply comment about what you like best about Treasure Seekers to be in with a chance of winning a code for the game!