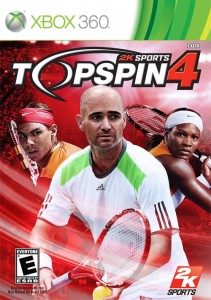 Top Spin 4
Publisher: 2K Sports
Developer: 2K Czech
Consoles: Xbox360 (reviewed), Playstation 3, Nintendo Wii
Release: March 18th, 2011
Price: $59.99 (US), £33.69 (UK), $89.99 (AUS)
Overview
While football is the world game, there's a part of tennis that holds a place in everyone's heart. Top Spin first tapped into this love on Xbox and PS2, and soon enough the franchise has grown into a tennis-loving-gamer's dream. However, with great franchises comes great responsibility to live up to the fans' expectations, and after 3 years (Top Spin 3 was released in 2008), that's a hell of a lot of responsibility for 2K to fulfil.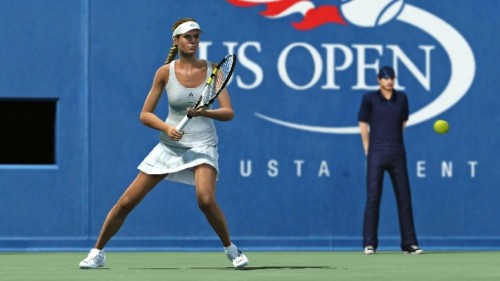 With "intuitive controls", an extensive roster of the world's top players, and upgraded visuals and gameplay, Top Spin 4 really set itself up to "redefine" the way players experience tennis…but Top Spin fans will remember Top Spin 3 making a similar claim. Whether it met the expectations, though, is an entirely different question altogether. ..
Modes
In similar fashion to its predecessors, Top Spin 4 has four selectable modes: Career Mode, Exhibition Mode, all new King of the Court mode, and Top Spin Academy (formerly the Tennis School). Players can jump right in and start playing as one of the greats, or customise a career from scratch.
Exhibition Mode
Exhibition Mode in TS4 is basically just a fancy way of saying "quick play". Anyone who jumps in expecting a quick five minute match will be disappointed though, because my exhibition matches have generally lasted around 20 minutes to half an hour on three sets. Unlike previous Top Spin games, it's very hard to jump into exhibition mode without attending the Top Spin Academy first, unless you want to play Rafael Nadal and have him lose straight sets to Novak Djokovic because you couldn't aim properly.
All of the world tennis players are level 20, which places them in equal footing with each other, and it's up to the individual player to make what they will of the match. Obviously 2K were watching the 2010 Australian Open, otherwise how would Bernard Tomic have made it into this game? With that being said, Top Spin 4 seems to be stuck in some sort of time rut for women because Li Na and Kim Clijsters didn't make an appearance, which is quite disappointing for any female tennis fan.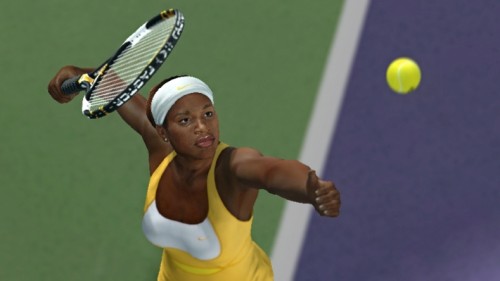 Career Mode
Career mode allows you to build a player from scratch and play him/her through a career by winning tournaments, gaining experience to level up, and beating objectives.  There was nothing horrifyingly new about this setup and the layout of career mode in Top Spin 4 is pretty much the layout of any career mode in a sports game – minus the tennis jargon. Each month players can participate in one preparation game and one tournament – if you're choosing your sparring partner, it's a good idea to select the tennis player who you will be facing first in the tournament. Players level by expending experience on different attribute sets such as defensive, serve and volley, or offensive, each of which increases different stat combinations.
King of the Court
If Top Spin 4 was looking for a real "quick play" mode, I have to say King of the Court would have to be it. This was by far one of the most enjoyable additions in the game and reminded me a lot of my childhood playing King of the Court handball. In this mode, you must choose four players (one of them being your own, of course) and engage in a round-robin knockout, of sorts. Players can choose from being crowned King of the Court after winning 3 matches, 5 matches, and so on. If you aren't playing with friends, the game will simulate the matches between players you aren't controlling. The beauty in this game is that the duration of each match can be customised, and the entire thing goes by quickly and enjoyably unlike tedious 5 set matches.
Top Spin Academy
What would Top Spin 4 be without a place for you to learn how to play? Newbies in particular should go into the Academy before even setting foot in a game. There are so many different controls and techniques to learn, and Top Spin Academy offers tutorials for basic and advanced gameplay. Basic gameplay teaches everything from hitting the ball to serves. A word of warning: don't go through all the tutorials at once because they can get very tedious if you're doing them one after the other. There is a section in the basic gameplay tutorial where you will have to aim a serve at a specific area of the court. This took me at least 10 tries before I got it right, and by that time I was very ready to exit the Academy and just hit balls in the training ground.
Graphics
Overall, Top Spin 4 is a nice looking game. It's not visually 'stunning', but it sure was nice to get away from that horrifyingly shiny head of Federer's which plagued the last game. The players even mimicked their real-life counterparts in mannerisms; Andy Murray has the exact same look on his face when he is losing, and I wondered for a second if 2K had just taken video footage and cartoonized it on Photoshop. The venues were also beautifully recreated, with a choice between lots of venues and lots of options within those venues (clay court? Grass court? Paris? Dubai? Take your pick!). While I was playing, I would see the speed of the serve flash on Ricoh screen on the court and in that moment I admit I was very impressed.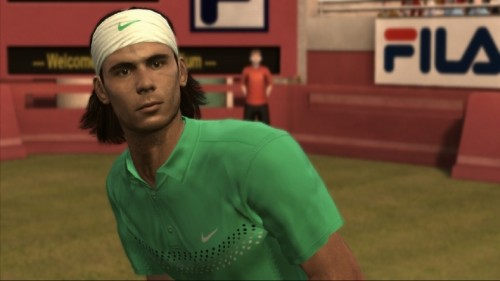 My impressions were taken away when it came to character creation, though. While my character looked good after I had created her, choosing her face and morphology was possibly one of the most difficult things I've ever had to choose because they all looked so bad. All ten women's faces had nothing spectacular, and it was at this point I was grateful for the ability to customise her face. Morphology was the biggest nightmare though – when I was choosing between my player being slim or muscular, nothing changed except the size of her thighs under her skirt.
Audio
As Nadal was about to serve for the match point, I would hear people in the audience shouting "Rafa!" and the announcer telling them to be quiet. The ball would make different noises when I did a flat serve or a slice, and I could hear the ball bounce differently when I hit using topspin. Players also sounded exactly like they did in real life. These are little details, but overall add to the brilliant audio that makes up this game.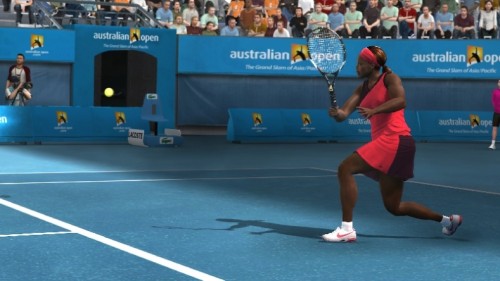 The soundtrack was nothing special, and really only had loop music used for the menu. To be honest, I hardly noticed it but the tunes are good to bop to once you've beaten a difficult player. The real focus in this game is on recreating the experience that players have, and here 2K have really outdone themselves.
Gameplay
Top Spin 4's new controls really do put a realistic edge onto an otherwise monotonous game. While earlier tennis games featured 'press a button to hit the ball', Top Spin 4 requires lots of aiming and timing to create the perfect shot. While it took me a while to get the hang of it, this new control is definitely a welcome change and gave the game even more realism. The players also added to the realism by mimicking the speed of their real life counterparts; Djokovic was fast and Nadal had stamina.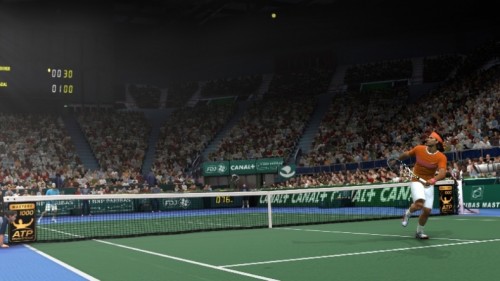 Players also end up sprinting from one end of the court to another in a bid to chase the ball, and end up having to deal with different gameplay styles in their opponents. Some players may play up against the net while some like making you run to tire you out. These different styles really are the icing on the cake because there's just so much to every player and each match truly is unique.
There were a few frustrating moments in the game where my player would be slow to respond and sometimes fail to move altogether. I still can't figure out if it's the game or my controllers, but one fail-proof way to make sure your player doesn't miss a shot is to just keep them moving at all times in the match.
Overall
One thing about Top Spin 4 is that while newbies can jump straight into the game, it definitely is worth it to invest some time at the Top Spin Academy and hone up on your basic skills, at least. Despite there being some hiccups in the game, I found Top Spin 4 to be very enjoyable. I put in the disc intending to play it for an hour, and was still playing it three hours later when I realised it was dark outside. There's just something incredibly hypnotizing about hitting a ball back and forth, and you know you like a game when Nadal wins a set and you start singing Buster Poindexter's "Hot, Hot, Hot".
I give Top Spin 4