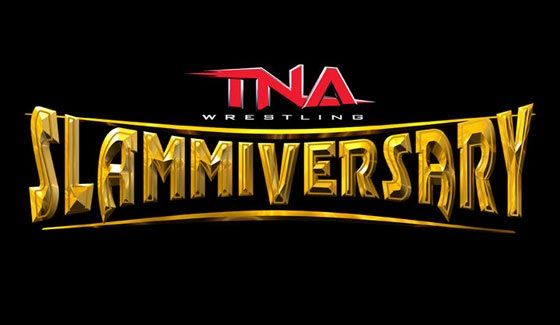 TNA Slammiversary X
Company:  TNA Wrestling
Location: Arlington, Texas
Arena: College Park Center
Date: June 10th 2012
Price: $35.99 – Order Here 
Overview:
TNA Wrestling is 10 years old, but boy do they have to pull a rabbit out of the hat if they want to survive any further. TNA's hasn't been doing well in the PPV market or in TV ratings, but did this PPV change anything lets find out. Slammivsary has been hyped by TNA as their most important event ever. It is also TNA's first time in Texas which is TNA president Dixie Carter's home state. There were high hopes coming into Slammivsary, but boy did they not deliver.
The show starts with Hulk Hogan coming to the ring, and says TNA is 10 years old. Then makes Joe vs Ares an X Division Title match.
The one problem here is that matches do not need Hogans stamp of approval to be good. Hogan was not something TNA needed, and he's quite the buzz kill, when he's out there.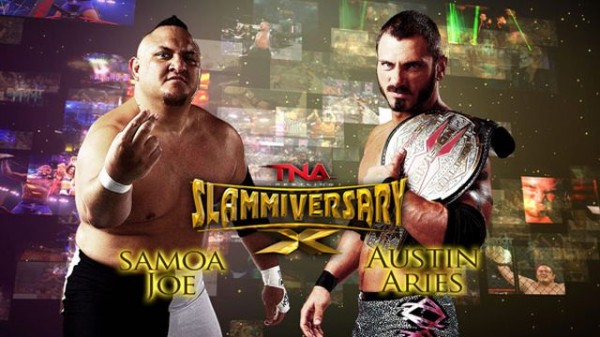 X Division Championship Match – Samoa Joe vs. Austin Ares(C)
Possibly one of the best matches in the last 2 years. This is the reason I still watch TNA. This was an old school TNA style match. Ares and Joe pulled out all the stops, and the crowd was into it. There were many times when it looked like Joe was going to win the title, but then Ares would comeback, and completely turn the tables. Just a great high impact back and forth match.  The match ended with Ares retaining the X Division Championship after hitting Joe with his patented Brain buster.
For the First match on the card it would be hard to follow those two, but you could believe that TNA was going to make this a great night for wrestling fans. Also I would like to note that it was a great decision by TNA to get rid of the weight limit for the title. So we've started the night on a high note lets keep it going.
Overall 5/5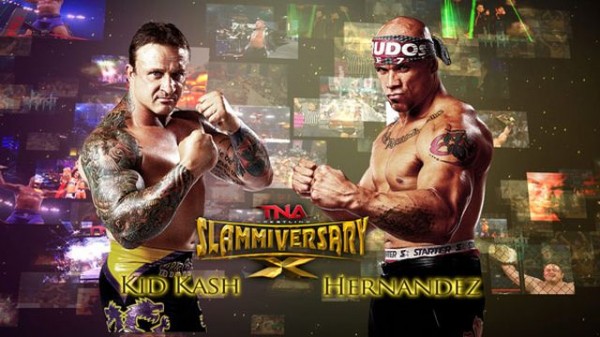 Kid Kash vs Hernandez
The ECW original/ former X Division Champion Kid Kash returned, as well as Hernandez. Unfortunately this was a squash match, and shouldn't have been on the card. They just had a great match with Joe and Ares, and they followed it up with this garbage match. First off Hernandez has a huge size advantage, and Kash is a brawler who can do high flying. The problem here is that there was no build up to this match so it's like management said Hernandez go beat Kash for 5 minutes., and that what happened, the match ended with Hernandez pinning Kash.
The one thought I had throughout this match was they could have used the time to let one of the matches they built up for the past 2 months to a month. I was happy to see Kid Kash back, but other then that this match was terribly and unnecessary.  On the bright side this was not the worst match on the card.
Overall 1.5/5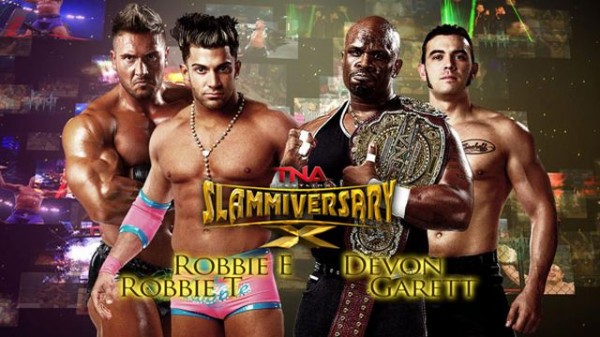 Television Champion Devon and Garett Bischoff vs Robbie E and Robbie T
There are so many problems with this match it's not even funny. For those of you who haven't watched TNA in the last year let me bring you up to speed. Garett Bischoff is the son of Eric Bischoff, and much like his father he can't wrestle and therefore has no business in the ring, at least not yet. You can tell that Garett is trying to learn the craft, but it is painful to watch.   Now onto the match. Now Devon won the TV title from Robbie E back in March. So the two have been warring for the title back and forth since Devon won the title. Now Robbie T is Robbie E's bouncer. So Garett is there to back Devon up. The match had it's moments, but wasn't all that entertaining, and would have been more suited for Impact rather then a PPV.
Unfortunately I could care less for anybody in the match, but it was a decent match with the baby faces wining so the crowd was pleased at last.
Overall 2/5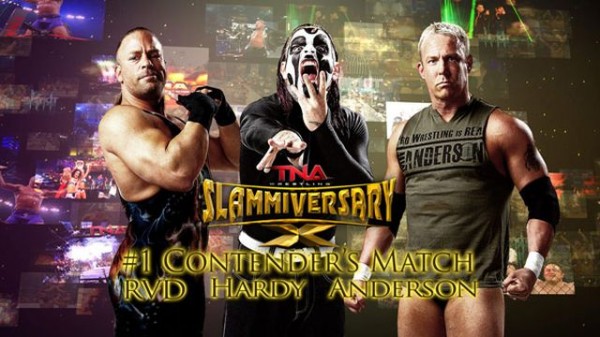 Number 1 contenders match for the TNA world Championship – Mr. Anderson vs Rob Van Dam vs Jeff Hardy
This match was a solid triple threat match. All three contestants put on a show.  Having two high flyers and a mat guy against each other made for an interesting match. Much like the Ares vs Joe match this thing went all over the place, and the crowd went absolutely nuts. It was looking like this was going to be RVD's night, but Mr Anderson pulled out the victory after he took Hardy out of the match and Van Dam attempted Rolling Thunder on Anderson.  Anderson dodged the move, and  hit the Mic Check for the 1 2 3.   This match was a pleasure to see definitely better then the last 2 matches, not quite as good as past matches these guys have had in TNA, but it was really good.
Overall 3/5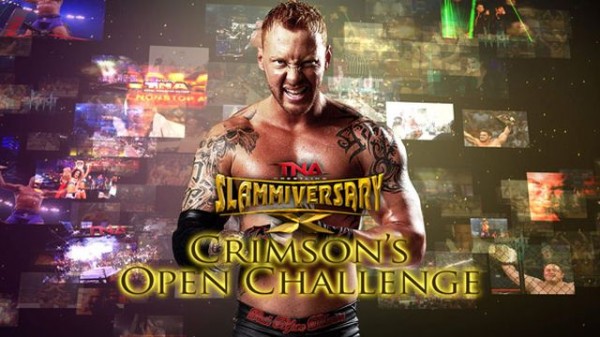 Crimson vs James Storm Open Challenge.
The Undefeated Crimson issued an open challenge to anyone in the world as he has been undefeated for over 470 days. Crimson even went as far as talking smack about Goldberg. So would Goldberg Answer the Challenge? The answer is no but the Cowboy James Storm would.  It was great to see James storm return. Unfortunately the match was just over 2 minutes long with James Storm ending the streak. For a 2 minute match it was pretty good, but again it was a 2 minute match. This is certainly one of the matches that would have used the  time from Kash vs Hernandez match  or the Tag match.
Overall 2.5/5
TNA President Dixie Carter came out, and called the locker room to come join her on the stage to introduce the first inductee into the TNA Hall Of Fame. After the locker room appeared on the stage they revealed that Sting was the first inductee. A Video Package then played. Sting ten made a speak saying that he had no idea that this was going to happen. The crowd began chanting thank you Sting. Sting then thanked the crowd and Thank you Sting and YES YES YES Chants began filling the arena.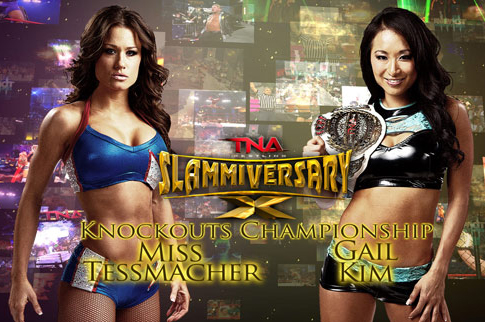 TNA Knockouts Championship Match – Miss Tessmacher vs Gail Kim(c)
TNA does women's wrestling matches well, and really show what they can do this match was no exception. The match went back and forth with Gail having the upper hand for most of the match. It almost looked like Gail was going to retain, but Tessmacher would one up Gail, and capture her first title ending Gail's 7 month reign as champion.
Overall 4/5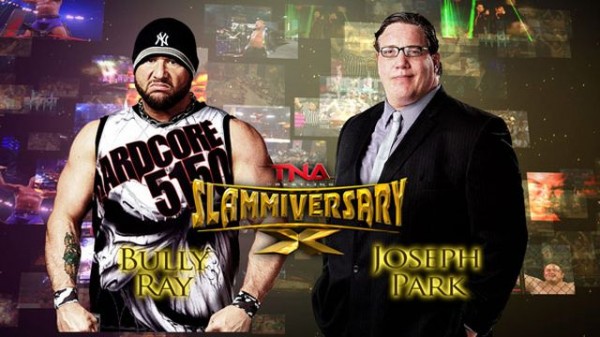 Anything Goes Match – Joseph Park vs Bull Ray
This match should have not taken place just horribly worked match.  There is nothing good to say about this match. TNA needs to not have matches like this. The worst match on the card maybe the worst match TNA has ever had. There were no Moves just slaps to the face and pushing, and a broken table nothing good come out of this match. Joseph Park may have one the match thanks to his brother Abyss, but not even the appearance of Abyss would save this match.
Overall 0/5
Hogan came back out to introduce Christian. Christian grabbed the mic, and made a joke about how TNA now uses a 4 sided ring instead of 6 sided, like when he was in the company.   Christian then revealed the top moment in TNA history which was Sting's debut as a full time wrestler.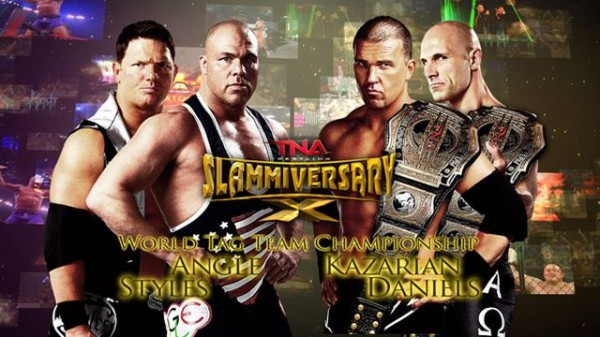 TNA Tag Team Championship Match – A.J. Styles and Kurt  Angle vs Christopher Daniels and Kazarian(c)
The best tag team match in a long time. The build up to the match was great. and the Participants did not disappoint.  Kurt Angle proofed that he still can hang with younger talent. Daniels and Kazarian play really good heels. This match and setup was classic Kevin Sullivan setup where they let the heels get over on TV, and let the baby faces get over on the PPV.  The match ended with taking out Daniels of the outside, and Kurt locking Kazarian in the ankle lock causing Kazarian to submit making Styles and Angle the new TNA tag champ.
Overall 4.5/5
TNA Heavyweight Championship Match – Sting vs Bobby Roode(c)
It's Time for the main event the "Icon" Sting vs Boddy Roode for the Title. The Match it self was great with Sting getting his revenge on Roode for taking him out back in March. It looked like Sting was going to walk out of Slammiversary not only as TNA's first Hall of Fame inductee, but as the new TNA world champion, but it was not meant to be as Roode once again won unclean by smashing a beer bottle over the head of Sting. It almost looked like Sting would kick out as the bottle didn't break, but Roode out the 1 2 3.
Roode has great matches, and they are enjoyable. Sting knows how to put on a entertainment match, but once again like all of Roode's matches since becoming champion they do these stupid finishes. I understand that Roode is a heel, but even a heel can win a match clean. TNA doesn't seems to realize that. The match was great finish was  not.
Overall  3.5/5
Overall
Slammiversary X was suppose to one of TNA's biggest PPV of the year. and less then half the card was worth watching.  This was not good for TNA at all. One can only hope that TNA will start improving there PPV's and start making fans want to care out the company.  TNA really has to start working on better story lines in general. Hopefully Destination X will be a much better PPV.