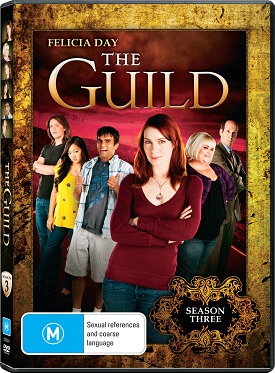 The Guild Season 3
Directors: Jane Selle Morgan, Greg Benson, Sean Michael Becker
Starring: Felicia Day, Vincent Caso, Jeff Lewis, Amy Okuda, Sandeep Parikh, Robin Thorsen
Composers: Don Schiff
Producers: Felicia Day, Kim Evey, Jane Selle Morgan
Distributor: Siren Visual
Price: $19.95 – Available Here

Overview:
The Guild is a fantastic series which captures the essence of hardcore MMORPG gamers and shows their lives in and outside of the gaming world. Season 3 starts with the characters of the guild trying to rebuild the pieces after the destructive ending of Season 2. They run into some trouble with a rival guild called Axis of Anarchy and compete with them to overcome obstacles.
Story:
Season 3 starts off with the members of the Knights of Good in line to pick up the new expansion from the game store. While waiting, a rival guild called Axis of Anarchy shows up and causes trouble for the Knights of Good, getting them sent to the back of the line. At this point, Vork (Jeff Lewis) resigns as guild leader and lets the other vote on who should lead them. Codex (Felicia Day) ends up taking over as guild leader and Tink (Amy Okuda) runs off to join Axis of Anarchy. The Guild takes a turn from here, all characters have their own self developing stories up until the end.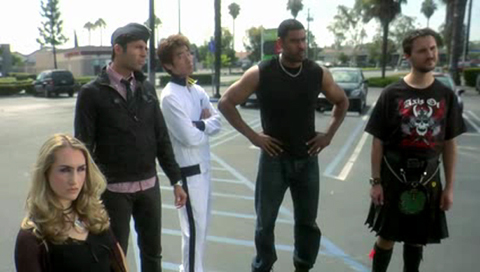 Zaboo: At the end of season 2, Zaboo (Sandeep Parikh) meet Riley (Michele Boyd) and started dating. This relationship is the main focus point of Zaboo in season 3, and most bizarre turn of events The Guild has encountered. He and Riley start off infatuated with one another, but things change when she starts to treat him like a dog. Zaboo despite being beaten up continues to stay with Riley up until the near the end of the season. His character also has another turning point when he and Codex confront Valkerie (Mike Rose), one of the members of Axis of Anarchy. Zaboo starts going crazy while deleting items of Valkerie's game character, while they interrogated him. Ashamed of himself he cuts himself off from the others, while still being Riley's lap dog. Zaboo has a change in heart towards the end of the season when he joins back up with the guild to take on Axis of Anarchy. He also builds up the courage to break up with Riley over a text message. Although being more of a supporting character in this season, he still has his comedic moments that break the tension.
Codex: Codex would have to be the main focus of season 3 with her new responsibilities as guild leader. During this season she grows the most out of all the characters, becoming a stronger person and gamer. She tries to get Tink to come back but when that fails she ends up trying to recruit a new guild member. After many auditions for the vacancy, Codex fills the spot with Clara's (Robin Thorsen) husband Mr.Wiggly (Brett Sheridan). During this time Axis of Anarchy are causing mischief to hinder the Knights of Good, so Codex tries to sort things out with them but ends up provoking them. Fawkes (Wil Wheaton) then declares an all out war against the Knights of Good, causing even more havoc for Codex. With the guild falling to pieces, she builds up the strength and courage to take the offensive and strike back. She and Zaboo sneak into Valkerie's work and interrogate him for info of the Axia of Anarchy. After getting the info she needs she gets everyone back together, to have an all out battle with the rival guild. During the battle she finds herself talking to her priest and has a moment of clarity when she grows into her stronger self. While beating Fawkes and Tink in battle, she manages to rebuild and fix the problems of the guild and returns leadership back to Vork. Codex emerges victorious and causes Fawkes to not take her so lightly. If only it came to all of us that easily.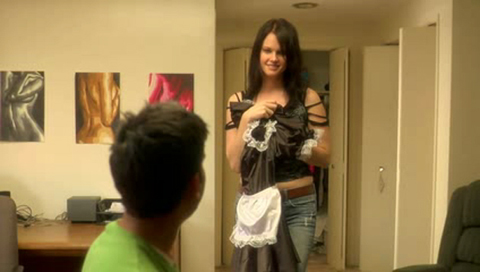 Vork: Passing on his responsibilities to Codex, Vork goes onto a self discovery search while trying to find a stable, free wi-fi connection to game from. Upon his journey, he comes across a lot of people that seem strange to him but in fact find him even more weird. After his interactions with others, he realizes that not many people in real life like him but that is why he was able to be such a great guild leader. Vork may not be a major character in this season but his awkwardness and sense of timing is what makes him funny.
Clara: After kissing another man at the end of season 2, her husband finds out about it and confronts her. Clara's focus during this season is to work on and rebuild her marriage with her husband. In finding a middle ground to spend more time together, he starts playing along with the Knights of Good. Clara is a big support factor throughout this season, and she and her husband ended working things out.
Bladezz: A victim is more what you would call Bladezz (Vincent Caso) in season 3, with being an easy target for Axis of Anarchy. After deleting Tink's game character, she sought revenge from within the rival guild by revealing his model career to his high school. If that wasn't enough torture for him, Axis of Anarchy planted 'weapons' inside his school locker and one of them even slept with his mother. He overcomes these obstacles and turns out to be a likable character after some of the things he has done.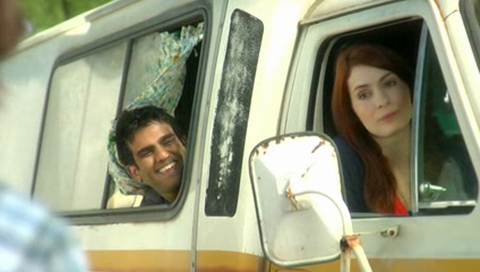 Tink: Tink is once again a support character, and provides some drama for the guild. After having her character deleted by Bladezz, she goes off to join the rival guild. She doesn't appear much in this season, but does show up again towards the end. In the end she comes back to the Knights of Good.
Visuals and Audio:
The aspect ratio of the DVD is 16:9 widescreen and the audio is Dolby 2.0. The picture and lighting of the episodes are excellent, well shot, sharp and felt like you were there watching in real time. The audio is crystal clear and well balanced, that it feels like the characters are right there with you in the same room. While watching this it was really easy to forget that it was originally a web series they way it has been produced. The DVD also comes with English subtitles for all episodes, for those who need them.
Extras:
The DVD comes with interviews, gag reel, script of the season, tips on how to make a web video, a Halloween special, a music video and the making of the music video. These bonus features have had a lot of work put in them to provide an insight into what the cast and crew do to make the series.
Overall:
Overall The Guild Season 3 is a very well put together DVD. If the show wasn't enough, it's packed with some fantastic extra features. This DVD is a must have for fans of the show, gamers or even people who just want to have a good laugh at someone else's expense.