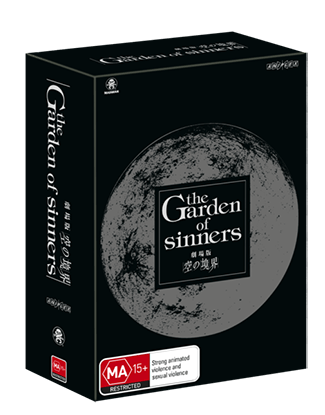 The Garden of Sinners Deluxe Movie Collection
Studio: Ufotable
Publisher: Madman
Format: DVD
Release Date: October 16, 2013
Price: $149.95 – Available Here
Overview
Some of you might be familiar with this title, also known as Kara no Kyoukai, but from my experience there is a fairly large number of anime fans who haven't taken notice of this supernatural series of films. Which is understandable. It looks obscure, uncomfortably dark and has been out for a number of years, sitting quietly in the shadows.
Nasu Kinoko of Type Moon first wrote Kara no Kyoukai as a series of novels before he created the popular visual novel Fate/stay Night. While they both share a similar universe and "laws", such as the use of magic, the two are very different. This adaptation was first released as an expensive Blu-ray import by Aniplex of America, where it sold out during it's pre-order phase. Thankfully Aniplex re-released it as a more affordable DVD collection and now Madman has followed suit, bringing this movie set to Australia and New Zealand for the first time. Limited to just 1,000 copies, should The Garden of Sinners Deluxe Movie Collection be snapped up before it's gone for good? We certainly think so.
Story
The Garden of Sinners is made up of seven movies with a shorter epilogue totalling eight feature films. While there is an underlying story that jumps back and forth, most of the films have their own individual turn of events which manages to keep things fresh and constantly introduces new characters. It's also important for viewers to pay attention to the timeline of each movie, otherwise things may get confusing very quickly.
The story takes place between 1995 and 1999 and is centered around our lonely female protagonist, Shiki Ryougi, and her acquaintance, Mikiya Kokutou, who has been drawn to her since high school. Shiki isn't a normal girl, though. Possessing the Mystic Eyes of Death Perception, she can see the so-called "seams" of life and death in every living thing, allowing her to cut almost anything. She works for Touko Aozaki, a puppet maker and a magus, who runs a small organisation that deals with abnormal events.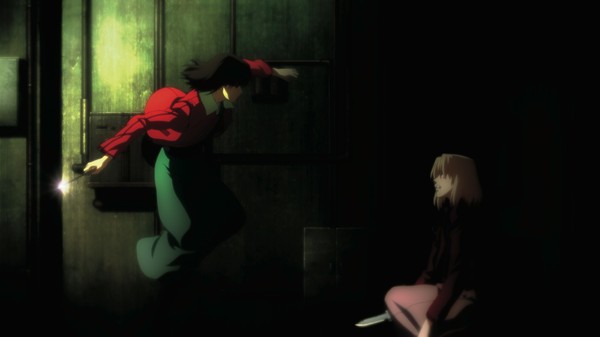 While almost each film has a supernatural plot with elements like villains and ghosts that cause suicides, the real crux to The Garden of Sinners is Shiki Ryougi's story. Her beginnings as a daughter to a wealthy family, her split personality and obsession with murdering and how she met and almost killed Mikiya Kokutou. Mikiya's belief and devotion to her is almost heart-wrenching. It's a poignant, philosophical picture of life and the worth of living. But it also paints a stain on the worst of humanity through the taking of life. These films depict what they need to, without holding back, by showing gory deaths, a rape scene as well as cannibalism. It might all sound depressing but that's really not the case. Yes it's sad, thoughtful and ugly but it's also beautiful and really powerful.
As an adaptation, this is Ufotable's finest work and an example of how novels should be animated. Nothing is rushed, everything is shown with purpose. The theatrical film format lets everything sink in, leaving you mesmerised and retrospective in your seat throughout the credits of movie.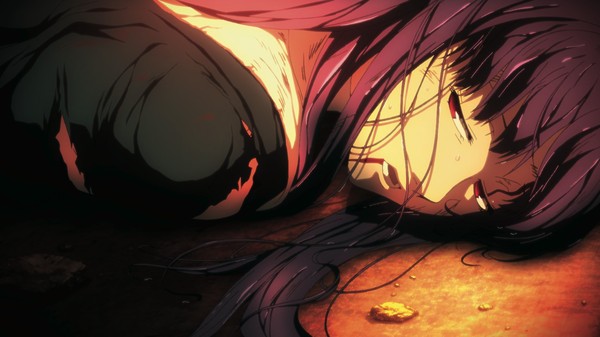 Visuals
Anyone who knows the studio Ufotable (Fate/Zero), who's major debut came with these films, would know what to expect here. From the level of detail in every scene, the depiction of the dark and eerie city to the rendition of Takeuchi's character design, the animation quality is simply sublime. The visuals, combined with the audio, really do make this series. It deserves to be seen on these grounds alone as I've yet to experience anything else quite like this in the anime industry.
The best way I can describe the animation is that it's technical. Some anime like Makoto Shinkai's The Garden of Words (no coincidence with the title!) are beautiful like an oil painting while others make use of unique art styles. This, however, is like an eye-melting, PC tech-demo running on the highest settings. But combine this with a dark environment full of shadows, gory encounters and painstaking level of detail in every frame and you get something really special indeed.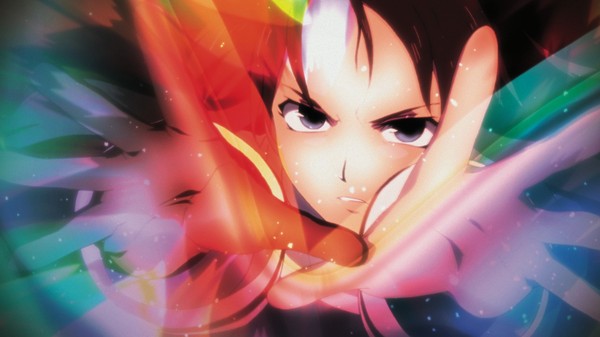 Given the quality, I can't help but express a desire to see this in Blu-ray, but that would be a little unfair seeing as they were strictly limited and beyond the price range of us common folk.
Audio
Think the animation looks damn fine? Wait until you hear it. The sound department equals that of the outstanding visual quality. Yuki Kajiura (Puella Magi Madoka Magica) as composer is a natural fit to Ufotable's animation, with use of fantastic string and piano instruments, weeping melodies as well as a unique theme song for every movie in the end credits by Kalafina.
The voice acting is expertly done, especially by the main lead Shiki and her tough, boyish voice. Fans of English dubs will be disappointed however, as this is a subtitled release. Given that it's a Limited Edition that, by some miracle, has made it down under we can't complain!
Extras
The Garden of Sinners comes with with what you'd expect in a "Deluxe Movie Collection". While we rarely see boxed releases from Madman these days, they decided to go all-out with this set. Included in the box (which has an awesome piece of artwork) are "Theater Pre-show Reminder" videos, a 36-page booklet containing a very useful chronology and episodic summaries, art work and messages from the staff. Finally there are 14 postcards featuring original art for the movies by artist Takashi Takeuchi.
For those iffy about the fairly high price tag it's worth noting that these are 7 films (plus an OVA, essentially) that received a theatrical release in Japan. While some are under an hour, a couple run for almost 2 hours!
For those curious about the differences between Aniplex of America's and Madman's release, it's almost identical. However, the box has a shinier finish, the DVDs come in ultra-thin cases and the post cards are of a smaller size.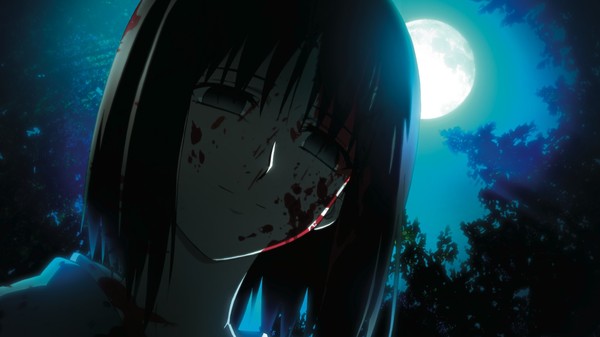 Overall
The Garden of Sinners is one the greatest series of anime films in my opinion, and the message it conveys is equally as great as the production values. The superb animation and sound form a package that's truly special, and it's all wrapped up in a box that, for once, looks great on your shelf.
It's not an easy show to swallow, however, and without full attention and reference to the timeline of each film viewers can be left confused. The Garden of Sinners has terminology that is shared across a "Nasuverse" which spans the author's works, and is not well explained. But should you decide to give this a go, you'll be left thinking about Shiki and Mikiya long after the credits of the Epilogue, and chances are these films will remain a benchmark for many years to come.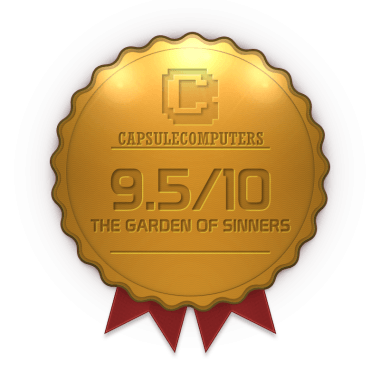 Capsule Computers review guidelines can be found here.