 The Car
Developer: Universal Pictures
Publisher: Shout! Factory
Format: Blu-ray
Release Date: December 15, 2015
Price: $21.99 PRE-ORDER HERE!

Overview
A lot of big hits came out in 1977 in the industry of cinema. Star Wars, Smokey and the Bandit, and Annie Hall came out of that year and became legends, with the impact of those three films still being felt today. There are some movies however that were released that still live on thanks to their genre and "cult" fan following. One of those gems from the year is none other than "The Car", starring James Brolin and Kathleen Lloyd. Scream Factory want us to revisit the flick that predated Christine and made audiences weary of walking down a street alone, bringing The Car to blu-ray for the first time ever with a good amount of special features in tow. How did this forgotten title fare after 38 years of time? Let's find out.
Story
I remember seeing bits of pieces of The Car over the years, usually showing on those "always on" movie channels that you could find on cable during the early hours of the morning in the 90's. Its funny though, as going in – only the first scene really seemed familiar, where two teenagers are happily riding their bikes before a mysterious vehicle inches closer and closer, causing the start in what becomes a path of destruction and death. The Car is a movie about a haunted vehicle that is on a killing spree. There isn't a lot more to say about that part of the plot as the title (even though it is very basic) spells out exactly what the viewer is in store for. There is a black car. It runs over its victims. That about covers it.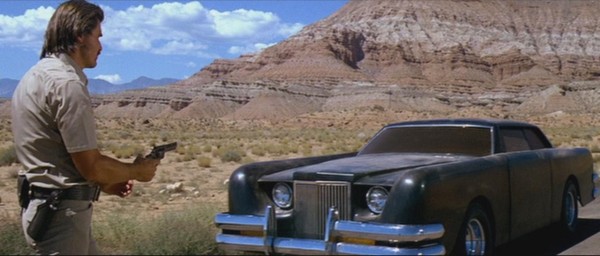 What makes this film so great is the cast within. James Brolin plays the lead of Wade Parent, a cop and single father of two girls who are just starting to accept the possibility of moving on with his girlfriend Lauren (Kathleen Lloyd). The demonic car soon enters the picture and as an officer of the law, Wade Parent actively tries to pursue and solve the mystery of who is behind the wheel – or simply find out what is driving this unstoppable force. I almost would say that compared to conventional horror films of the decade, The Car is almost in the realm of sci-fi due to the supernatural themes surrounding it. That being said, The Car is still a horror flick because Director Elliot Silverstein was able to take a thing that is such commonplace society and turn it into a Michael Myers type villain. Its a slasher film without the blade, but still manages to cut deep due to how well the script is written and the scenes were shot.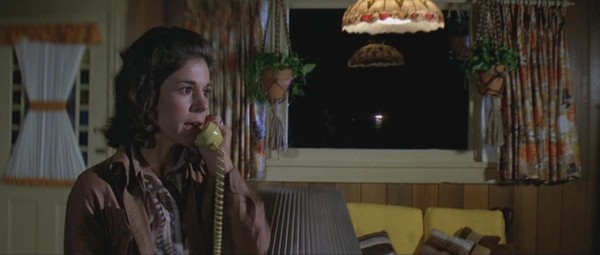 Nobody aside from Brolin's character and his girlfriend seem to have even the slightest bit of intelligence in their peaceful little town. I got into the movie and kept thinking "JUST JUMP OUT OF THE WAY" as the evil car performed murder after murder, but as more deaths occurred – the frustration of watching such stupidity faded and I felt a large smile creep up on my face. There is something extremely charming about The Car, as the cast are so blissfully unaware of what to do that it crosses into camp territory quickly, but as soon as you feel comfortable, laughing along to the ridiculousness of it all – it shocks you with its brilliance with scenes that combine the absurdity with absolute horror. The Car is a film that you have fun watching because it features a villain who feels unstoppable and a cast that is very human and vulnerable. Aside from a few small holes here and there and a lack of significant characters – it is still a blast to watch and has aged just as well as Halloween and Friday the 13th.
Special Features
This is a product of SHOUT! Factory, so you better believe there are some great special features in tow with this release. On top of the radio spots, trailers, galleries, and other original promotional pieces, the publisher was actually able to get Elliot Silverstein for an awesome interview about his work. I enjoyed that, but I found the most interesting interview included on the disc to be that of Melody Thomas Scott, who plays one of the bikers at the beginning. Yeah, she is only in the movie for less than ten minutes, but still brings the greatest discussion in terms of on-set secrets and such. I want to say this was one of the first times I have saw an interview included in the special features of any film where a former cast member actually spoke of a lot of negative experiences without sugarcoating her dialogue. I won't spoil her words, but those who love the little things like this will enjoy her and Geraldine Keams (another minor player) speaking about their time shooting The Car, as well going in depth further regarding the lore of the film.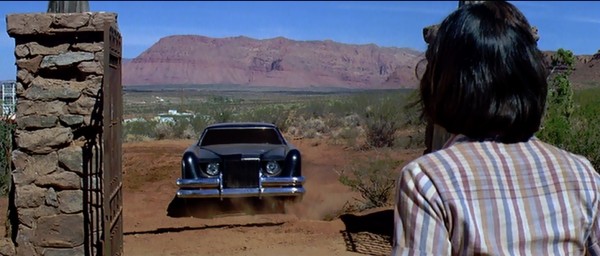 Visuals
I watched the trailer for The Car before seeing the film, and I must say SHOUT definitely brought the best looking version of the film they could get here as it is free of film grain and looks pretty crisp for its age throughout its entirety. The film is also well shot and takes advantage of filters and other techniques to give the car its own, unique perspective. All we can see most of the time is a yellow filter through the inside of a car while this vehicle creeps up, and that is just enough to do the job – showing how creative Hollywood used to be before the era of CGI. There are also a lot of explosions and while some are laughable, others are awe inducing and make the film seem like it had a bigger budget than it actually did. Again, some nice creativity at work here, folks.
Audio
As for the audio, the score for The Car is great – if not a bit of a copycat. You remember that haunting and now famous "dun dun, dun dun" from Jaws? Well, The Car doesn't directly sample it, but it does go for the same approach when having its motorized antagonist slowly go after its many victims to a tune that definitely has the same stalking presence. There is still a lot of camp because of this music, but there is nothing wrong with that as in my opinion, horror films from this era are great because they use a bit of cheese to balance out the raw horror blended within the scenes from the film. I will say that I would have loved to hear some commentary from the cast, but sadly – we will have to settle for a decent helping of interviews instead.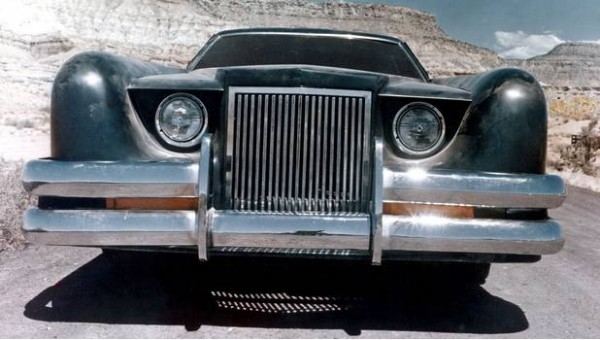 Overall
The Car is a film that captures everything about the "slasher" sub-genre of horror and flips it on its head, creating a killer that is both ridiculous and terrifying. Even though it drives on the line of other genres such as action and science fiction, it still manages to pack a horrifying punch with some of the greatest chase scenes in motion picture history, with a cast that are just as likable as they are talented. The special features also deserve a great round of applause as the interviews are fantastic and movie buffs are sure to enjoy the radio advertisements and trailers that have not been unleashed for quite some time. The Car is a non-stop thrillride from start to finish, and will make you look both ways before crossing a windy avenue.
Capsule Computers review guidelines can be found here.