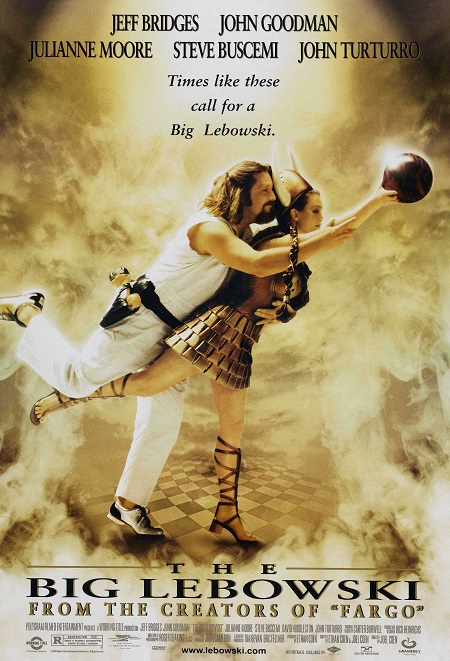 The Big Lebowski
Studio: Working Title Films; PolyGram Filmed Entertainment
Publisher: Gramercy Pictures
Format: Cinema
Release Date: Out Now
Overview
The Coen brothers are a Hollywood duo known for screwball comedies such as Burn After Reading, Fargo, and (of course) The Big Lebowski. Their body of work includes a wide breadth of genre bending films but when it comes to recognising their style, their comedies are considered the best examples of their work. I watched The Big Lebowski years ago in my uni bar and was blown away by the almost surreal experience of the film. After donning my sunglasses and best bathrobe, I strolled on down to George st cinemas to see the In the House screening of the film.
We were back to our regular MCs this week, David 'Quinny' Quinn and Jason 'Jabba' Davis, who warmed up the audience in their own fashions. The two hosts ran an impromptu game of bowling with some pretty awesome DVDs as prizes before Quinny ordained us into the 'Church of the Latter-Day Dude'… a joke religion formed upon the ideals of the film's protagonist. They spoke about some of the film's trivia as well, such as the fact that Julianne Moore refused to do a nude scene and that she actually wears a prosthetic during the relevant scene in the film. After those tidbits of knowledge and quasi-enlightment, the screening began.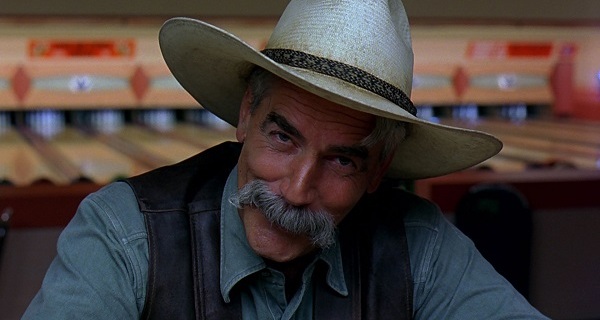 Story
The film follows the story of Jeff 'the dude' Lebowski (Jeff Bridges) as two thugs break into his house after mistaking him for another man of the same name and pee on his rug. The dude finds the millionaire he was mistaken for, another Jeff Lubowski (David Huddleston), and attempts to gain some manner of compensation but instead he somehow gets involved in investigating the kidnapping of the millionaire's wastrel wife (Tara Reid). The mystery takes him down many twists and turns as he attempts to unravel the truth. He does all this while still ensuring that he fulfils his commitments to his friends on his bowling team.
The narrative is pretty much a parody of the stories in film noir crime fiction but instead of a hardboiled private eye as the protagonist, we get a stoner slacker who is way out of his depth. The action moves along with a fairly hefty pace as just when things start to slow down; that's when something new and strange gets added to move the story along. This effectively means that new characters and motivations are constantly being introduced along with new plot points. It's the type of movie where anything could and does happen with every twist and turn following the film's own internal logic. In true tribute to the works of Raymond Chandler, the overly convoluted mystery is revealed to be actually quite simplistic at the end. Pretty much everything and the kitchen sink gets thrown into this film and so if you're looking for something lean and mean to keep you keen; then this film isn't for you.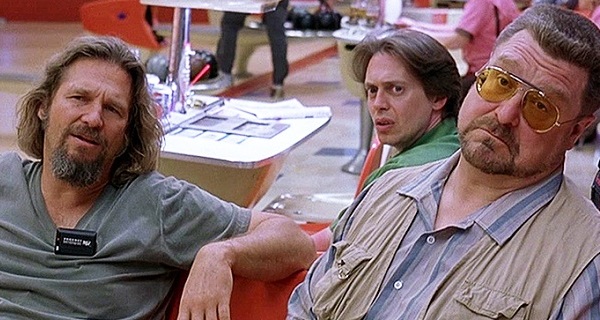 This might be disappointing to some of you but the draw of the Big Lebowski has never really been the mystery or the story. In fact, they largely serve as a vehicle for the Coen's to bring in their diverse and eclectic cast of characters. To describe the ensemble cast as simply 'eccentric' is to understate the breadth and range of strange personas that are in this film. Pretty much everyone the Dude meets has some unusual quality or trait about them which gives the film a very surreal tone. The dialogue is particularly strong in the way that it creates an almost awkward humour between the dude and whomever he's talking. What's particularly awesome about this ensemble is the fact that the Coen's don't resort to stereotyping as shortcut… or at least not without adding some major subversive elements to them.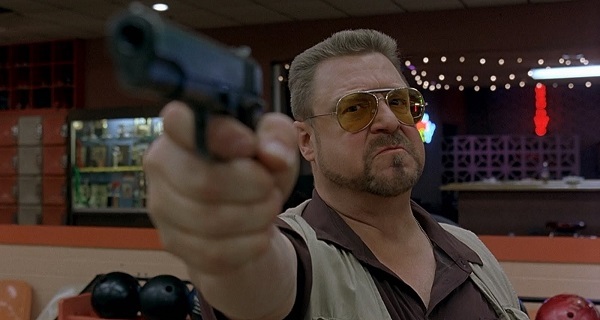 In particular Julianne Moore as Maude Lebowski, avant-garde artist and ostensibly the film's femme fatale, is absolutely hilarious. In pretty much every scene we see, she steals the show with some of the most memorable lines (delivered in an overly precise way) or just by laughing hysterically for a couple of minutes. John Goodman as Walter Sobchak is similarly hilarious as a hapless veteran who is obsessed with Vietnam. I found his character to be cringe worthy at times when his idiocy got to be a bit too much but largely he succeeded in tickling my funny bone more often than not. Jesus Quintana, played by John Turturro, is similarly over-the-top but there was a child sex offender joke in regards to his character which upset my companion for the screening a bit. For me, the joke was far enough removed from its subject matter so I could laugh and my companion enjoyed the rest of the regardless… nonetheless, it's an aspect you may want to be made aware of before you watch it.
Visuals & Audio
The direction is absolutely beautiful in the visuals that the Coen's compose with each sequence. The Coens play with light, framing, and motion to create some absolutely stunning visuals… which when combined with the subject of the actual shot can at times be almost decadent. I don't think I've ever seen the act of bowling portrayed as beautifully as it was shown in this film. A lot of care and effort went into making the visuals of this film something special and this gives every shot a sort of surreal beauty to it.
This surreal beauty gets turned up to eleven when the film does actual dream sequences. The shots in these sequences are like something out of a Beatles movie or a Pink Floyd music video. They're well shot and edited with some pretty groovy music to accompany them too. They're pretty to look at and give you a roundabout way of figuring out exactly what is going through The Dude's mind.
The film's soundtrack features a lot of work from the 60s and 70s to reflect the character of the Dude. It's a pleasant and eclectic collection of music which fans of classic rock will definitely enjoy. A couple of songs that stuck out for me include the Gypsy King's cover of 'Hotel California' and 'Just Dropped In'. These largely stuck out to me for the way that they were paired up with some very memorable visuals. The Coen's show us a masterclass in how to pair scenes with audio in order to make something quite unique and memorable.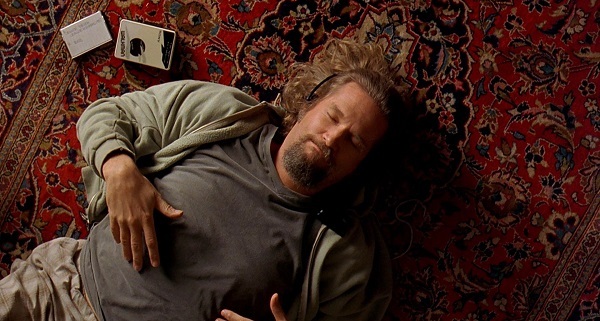 Overall
I very much enjoyed this film and the eccentricities that is all too common to the style of the Coen brothers. The absurd story is wonderfully convoluted and populated with all manner of interesting individuals who each have their motivations and quirks. The direction and visual style is absolutely beautiful and matches the strange story with some surreal beauty. The music perfectly accompanies the visuals and there are some moments that will be quite memorable, thanks in no small part due to the track which played to it. A lot of love and care went into making this film and it certainly shows with every shot and line of dialogue. So overall, I quite enjoyed this film and have no problem recommending it to pretty much everyone… but that's just like, my opinion, man. Kudos to the In The House for screening this cult classic!
For other films which In The House is screening, feel free to check out their schedule here.
Capsule Computers review guidelines can be found here.