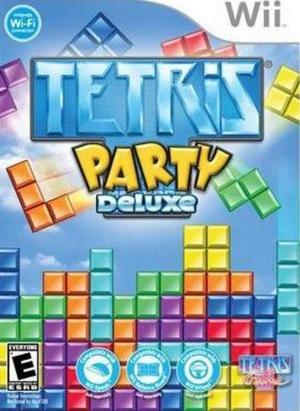 Game: Tetris Party Deluxe
Platform: Nintendo Wii
Publisher: Majesco, Nintendo
Developer: Hudson Soft
Genre: Puzzle
Release Date: Out Now
Price: $29.99 / £19.99

Tetris is one of those rare games that has transcended boundaries with practically  everyone, gamer or otherwise, from John O'Groats to Timbuktu having owned or at least heard of a version of it.
Tetris was created by Alexey Pajitnovon in 1984 and it was not until 1989 that Nintendo jumped on the bandwagon and produced the first videogame version, originally bundled with the Gameboy, that has gone on to be universally loved across multiple formats and via multiple developers to this day. Yes Tetris has certainly come a very long way in the past 25 years and having been featured on pretty much every major platform it is somewhat comforting to see the latest version, Tetris Party Deluxe, released on a Nintendo machine, in this case the Wii, just in time for it's silver anniversary.
Tetris has never really been one to follow a story with the main crux of the game generally being to line up the falling blocks into a form or pattern, usually of the same colour, with the objective being to clear the screen whilst aiming for highest score.  So what's new this time around..? Well for starters Tetris Party Deluxe builds on the success of Tetris Party, a predecessor available as a download on the Nintendo Wii's WiiWare some two years ago. In Tetris Party gamers got to play the evergreen puzzler in a new, fun and funky way. Nintendo has built upon the success of the downloadable version with a fully formed and upgraded sequel that is literally bursting at the seams with plenty of fresh surprises, new game modes and some almost ingenious ways to continue the Tetris legacy.
Gameplay
Tetris Party Deluxe offers players six new game modes plus a host of additional 'enhanced' modes to enjoy. Renowned Bomberman developer Hudson Soft have all bases covered here and whether you are a veteran Tetris fan or new to the game altogether be prepared for a new addiction! Game modes include: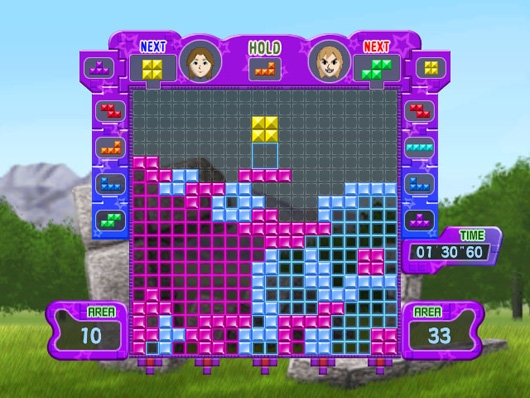 Bombliss: Players have to deal with non-standard Tetris pieces – including bombs! Clear the lines and the bombs to cause chain reactions.
Sprint: Clear 40 lines in the quickest time possible
Vs. Sprint: Players compete locally to see who can be the first to clear 40 lines.
Master: This is for those real hardcore Tetris fans out there! Players see themselves starting out on the games highest difficulty and speed. Instead of falling pieces, Tetris blocks appear at the bottom of the screen and lightning fast reflexes are a must if you have any chance of surviving in this mode.
Co-op vs. Co-op: You and a partner pair up to take on another team.
All Clear Sprint: Achieve 20 perfect clears in the quickest time possible.
Field Climber: This mode drops a tiny climber into the playing field. The climber will scale the mountain you create for him in an attempt to reach the goal zone but be warned – the poor little guy can only climb one block at a time! There are checkpoints to reach on each level so Field Climber requires a more methodical approach and is a nice change of pace.
Shadow Mode: This mode has you creating pictures by dropping Tetriminos into their silhouettes. An edit feature included within this mode allows players to create their own shadow puzzles to play.
Tetris Party Deluxe does not disappoint those looking for a multiplayer experience with the inclusion of online battles over the Nintendo Wi-Fi Connection as well as local multiplayer fun for groups of friends and family.
The Wii release also has some pretty unique ways of playing the game and players can use the Wii Balance Board, Wii Wheel, Wii Speak or their own personal Mii to customize the gameplay experience!
The Wii balance board mode is a particular favourite and throws up a unique twist to Tetris. When utilising the board the game is played on a smaller grid using the more conventional blocks of the original Tetris with the goal also being the familiar make lines/clear lines/score points. The controls are actually really straight forward and moving left or right will move the blocks accordingly as they make their way down the screen whilst leaning forward or backward drops them into place. Squatting on the Wii board will rotate the Tetris blocks ready for you to position them onscreen.  Although fairly easy to master these controls don't make for a particularly precise gaming experience but do offer an amusing diversion as well as a light workout!

Taking into account the limitations of the genre the graphics here look great whilst remaining on the right side of functional and never becoming overwhelming. Overall presentation is bright, punchy and most importantly given the sheer amount of gameplay options menus are fluid and easy to navigate.
The Sound for this game is also very pleasing with some upbeat melodies bolstered by the classic theme making for a catchy soundtrack that is rarely an irritation.
However more attention was definitely needed on certain modes of the game as it limps along with what appears to be one background and a single music track on a loop. That said you can customise this mode by choosing which song and image you want to have but that is the extent of the game's tweaking options so be prepared for some repetition during extended sessions which could become either tiring or very hypnotic depending on which way you look at it.
Overall
The best versions of Tetris remain those that have been true to the original formula. Adhering to this golden rule whilst introducing new elements and modes aplenty gives Tetris Party Deluxe a facelift that is more than a case of 'The Emperor's New Clothes' . Despite this the more traditional modes were still the most enjoyable elements with beating your own high scores the surprisingly addictive long-term goal.  I also found myself immensely enjoying the battle mode and the ability to use power–up items during play. In this mode you can stop your opponent's tetriminos from rotating, shoot blocks onto their grid or force them to use a single type of block for a limited period of time. These items are always fun to use and add strategy to the otherwise straightforward tactic of clearing rows faster than your opponent.
Tetris Party Deluxe offers a huge variety of different gameplay modes that arguably  make this release the definitive version of the game. Despite being a quarter of a centaury old it still feels as vital, instinctive and most importantly, downright addictive as it ever has. Here's to the next 25 years!