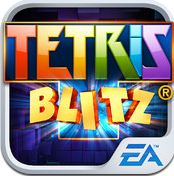 Tetris Blitz
Developer: EA
Publisher: EA
Platforms:  iPhone (Reviewed), iPad, iPod Touch, Android, Google Play
Release Date: May 17 2012
Price: Free – Available Here
Overview
Tetris has been around for what seems like forever and from day one it really hasn't changed, yeah, there's been a tonne of variations, additions, remakes and what not but they're all still Tetris. Tetris Blitz is no different. It's still Tetris, it's still colourful, it's still just a bunch of shapes and it still rocks like nothing else. What else is there to say? "Let's Play Tetris!"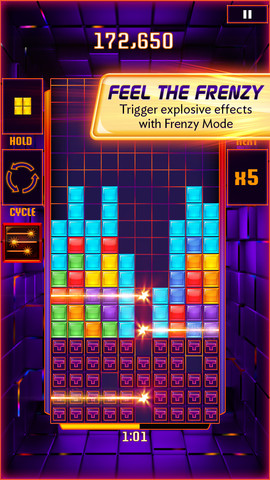 Gameplay
This is essentially the same old Tetris but, let's say, crazier and faster. It's the same Tetris layout that has been changed to make you think quicker, act quicker and play quicker. It's great! We all know how to play normal Tetris don't we? I hope so because it plays mostly the same. you start off with an already quarter build screen, as if you come into the game partway through, you get given pieces (like normal) but instead of shifting and moving them yourself a couple silhouettes pop up down the bottom indicating where you can place the the pieces, there IS a button to shift which way the piece is placed but it really goes unneeded because you're too busy with your swift thinking and acting. There's also a time limit, you've got two minutes to get as high a score as you can.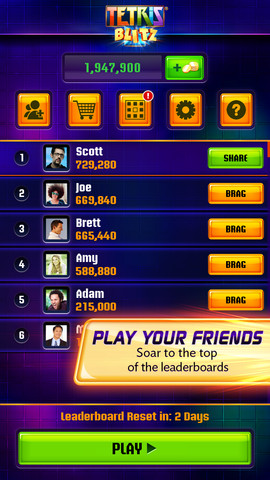 They have also added power-ups to the games to pump us the flair. Power-ups like Avalanche which let's loose a whole lot of blocks that fill in any hole they can and clear lines when possible. New power-ups are released every week so the game stays fairly fresh. The whole point of this iteration of Tetris is not to make you sit, think and take your time. Not at all.  If anything it teaches you quick thinking and impulsive actions that can either make or break your game. These game works so well because of its time limit; being able to start and finish a game in only two minutes is something that makes this game so damn accessible, you can essentially play it whenever and wherever. I found myself playing this game a lot more than I should have strictly because of the way it was played and how quick and easy it was to pick up and play. It's not the traditional Tetris but it really does fit in with the modern, fast-paced world.
Visuals
This game has a great look. It's colourful, it's new-age yet also retro, it feels like Tetris yet also feels like a fresh take. It's just awesome. Everything still looks, essentially, like Tetris so they haven't gone to far away from the original. With the retina display this game looks fantastic. It's crisp and fluid and looks everything but dodgy. The colours are so vibrant and they pop. It's animated so well; the way the lines explode when you clear one and the way the upgrades and power-ups are animated really makes it feel worth it. Colourful explosions are always a winner in my books!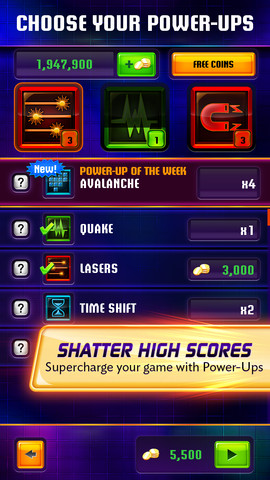 Audio
Original Tetris theme remixed. Do I really need to say anymore? It definitely feels like Tetris has been thrown into the new age with the remixed theme song, it also has nostalgic value with it being the ORIGINAL theme. It just works so damn well! The sound effects rule! Not once during this game did I ever feel I needed to put it on mute, not once. The sounds, much like the visuals, made clearing lines feel really rewarding.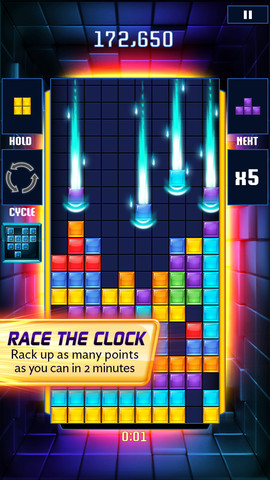 Overall
Let's just say that after you play this game there really isn't a good chance you'll think "Ugh! Classic Tetris is so much better!", with this game in your hands you really wont need to. Apart from the slew of adds and in-app purchases this game was pretty much perfect! You don't have to purchase anything you don't want to so it's not a big deal. I was playing it during times where, to be honest, I really shouldn't have been playing it because of how addicting it is. Look this game rocks and I suggest it to everyone. There's no one I know that hates Tetris and I can say the same about Tetris Blitz!
Capsule Computers review guidelines can be found here.