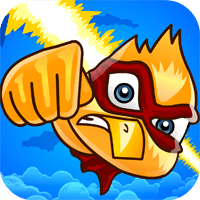 Swift Revenge
Developer: Spaceship Apps
Publisher: Ayopa Games
Platform: iPhone (Reviewed), iPod Touch
Release Date: August 7, 2013
Price: $0.99 – Available Here
Overview
Swift Revenge is a vertical action-scroller developed by Russian independent studio Spaceship Apps, and published by Ayopa Games for the iPhone and iPod Touch. The game utilises the accelerometer of the iDevices for movement control and will test your reflexes as you work to avoid obstacles, rack up points and take down the evil Doctor Crow and prevent him from gaining control of the planet. Is Swift Revenge worth more than just a quick look?…
Gameplay
The gameplay of Swift Revenge is quite simple. 95% of the time, you will be playing on a vertical plane and can control Swift's descent by tilting your iDevice left or right. In the first World, you will have Swift's power of speed. Tapping anywhere on the screen will result in a burst of speed that enables you to break through oncoming obstacles. Holding down anywhere on the screen gives you a sustained speed boost, but it will run out, as indicated by a power meter on the top middle of the screen. This meter regenerates automatically over time. Each World thereafter gifts a new power, the mechanics of which work largely the same.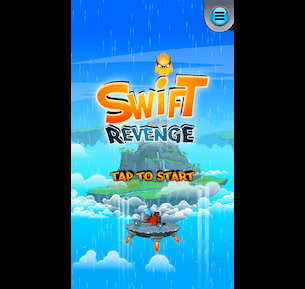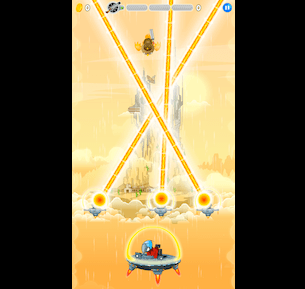 Your arsenal – once complete – will range from guns to boomerangs, swords and shields. These can all be upgraded by spending coin in the Shop, which you accumulate through play and have the opportunity to collect at the end of each checkpoint. If you are struggling with a level and keep dying, provided you have the required money, a prompt will appear asking if you'd like to upgrade your weapon for an advantage. I found the sword ability to be the weakest and most frustrating, as you need to swipe left or right to use it, but your precision and timing must be impeccable as there is a limited reach on it that can sometimes be deceiving in how short it is.
You can also purchase costumes from the Shop, although they have no practical purpose. As you progress through a level, you will reach checkpoints, and also weapon gates which give you an option of flying into and acquiring whichever ability you prefer at the time. And much like with the weapons/abilities, new enemies and obstructions will be introduced, such as spinning lasers and balloons holding dynamite, which can be bumped into and, well, it ain't pretty. There are also threats specific to your currently equipped weapon which add an element of strategy. Levels get progressively harder and longer, putting to task your ability to gain a high-score on the leaderboards for longest run without dying.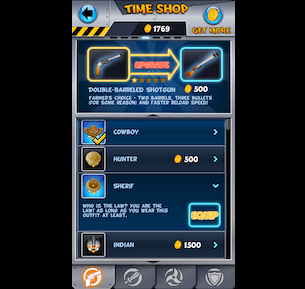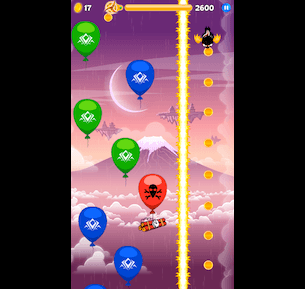 At the end of each World is a mini-confrontation with Doctor Crow, who attempts to defeat you with a different form of weaponry each time. After his attack, his shield will go down and you have a limited window to attack and damage him. When he's had enough, he warps you both to another World (which can all be restarted from the main menu) with his faulty time-machine, and in-between in the space-time void – which requires you flip perspective to landscape – he drops a stream of coins which you can try to pick up for a nice bonus before the next, more difficult World is upon you. At first, I was becoming extremely frustrated, but mostly because I sucked. You get better as the difficulty ramps up to meet your new-found confidence with a good balance.
Visuals and Audio
Swift Revenge is a vibrant title with five unique aesthetics for the five Worlds you can play through. World 1 – Greenflotia – has a lush, island theme set against clear blue skies. World 2 – Westernia – takes on the Western theme, complete with cacti and a sandy-orange backdrop, but with a sinister looking chapel in the middle of the background. World 3 – Medievalia (notice a theme here?) – skins enemies as knights and features a huge, fantasy-inspired castle in the background. World 4 – Easternia – is all things Japanese, while the final World – Futuria – is, you guessed it, set in the future, but a high-tech, dark, dystopian looking one.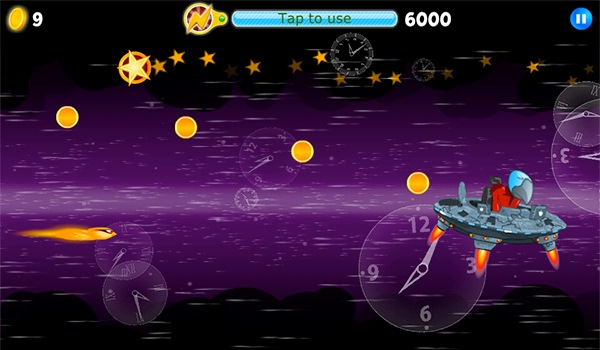 The effect of rising air-stream and clouds gives a good sense of movement, as does the animation of Swift's wings flapping in the appropriate direction when tilting your iDevice. All visual elements, both good and bad, are clearly distinguishable. Each of the 5 Worlds also have their own themed background music, which is looped as you play. So, for example, you can expect a more classical leaning – including horns and strings – on Medievalia. When you pause the game, the music continues to play but sounds muffled, like it has been placed into the background itself, which is a nice touch. The dialogue text is quite silly, and somewhat juvenile, more aimed at kids than any other demographic.
Overall
Swift Revenge is definitely a challenging game. Your reflexes, as well as your patience and persistence, will be tested as you work to dodge numerous obstacles and destroy debris for points along the way to reaching Doctor Crow, who provides fun little "boss battle moments", being entirely too short and easy to be called true 'boss battles'. "An epic story with deep characters and plot twists?", as teased, will not be found here, but for $0.99 you'll be able to squeeze 5 hours out of this colourful, playful title.
Capsule Computers review guidelines can be found here.