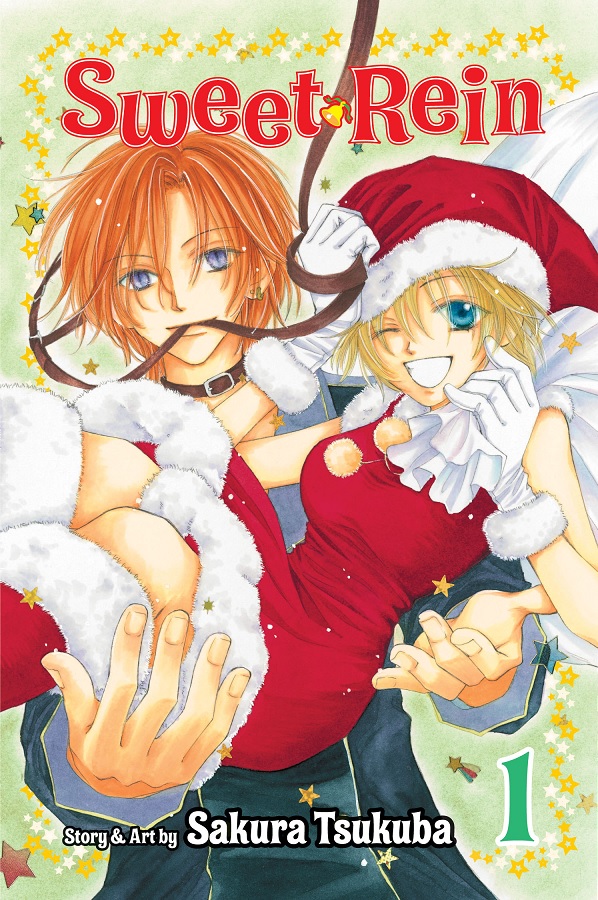 Sweet Rein Volume 1
Author: Sakura Tsukuba
Illustrator: Sakura Tsukuba
Publisher: Viz Media
Release Date: November 5, 2013
Price: $9.99 – Available Here
Overview
The weather is getting colder and although a tornado just swept on through here, it is starting to feel like Christmas now that stores have begun stocking ornaments and the first snowfall has already occurred. As such, it seems like it is prime time to bring a Christmas themed shojo manga over to North America and Viz Media has done just that with Sweet Rein. Now that the first volume has been released,  does this Christmas themed series start off well?
Story
Kurumi Sagara is used to spending time alone. Her mother passed away when she was young and her father spends all of his time at work in an effort to provide for the family. With all of her friends already planning parties with their boyfriends or relatives, Kurumi has resigned herself to spending yet another Christmas alone.
In an effort to clear her head, she takes a walk through town only to bump into a boy who seems to be bumping into everyone that he sees. The only problem is, when she bumps into this boy a rein suddenly wraps itself around her wrist and as she looks back, it connects to the boy's neck. The boy, named Kaito is ecstatic as he proclaims that he has found his master and that she is a Santa.
At first she believes that he is crazy, but at her command he turns into a reindeer right there in the middle of the street. Kurumi now finds herself in a master and servant relationship where Kaito will do anything that she asks of him, whether it is to turn into a reindeer, fly to her no matter where she is, or even get launched away when she wants her space.
Despite the crazy circumstances, Kurumi takes everything in stride as she meets with Kaito's family, consisting mostly of other reindeer, and accepts her responsibilities as a Santa Claus, learning that there are many more people like her and Kaito out in the world. As she begins to spend time with Kaito, will this lonely girl find happiness?
Sweet Rein is a rather simple manga at heart. While the idea of Santa and humans that turn into reindeer is certainly novel, this first volume is rather simplistic but still heartwarming in a number of ways. Thanks to the fact that there are only three actual chapters in this release, the story moves at a brisk pace as Kurumi learns to handle her new situation, helps out a child in need, and deals with someone from Kaito's past.
All of this occurs while she struggles with her feelings for Kaito since, despite his constant devotion and love for her seems true, she is prone to bouts of jealousy and is concerned over how quickly he seems to have developed feelings for her. While stereotypical, it still makes for a rather enjoyable read that will leave the reader smiling and even laughing thanks to the artwork and events in certain panels. It also helps that this first volume avoids a lot of issues that plague many romantic comedies such as this and is pretty much devoid of any worthless drama.
Artwork
It is always interesting to see an author handling her own artwork as there is little disconnect with what she wanted to portray and how it is shown. In Sweet Rein we have a rather simplistic art style that is very familiar to the handful of shojo manga that I have seen in the past. Only a few characters are given importance in the series, so Kurumi and Kaito are nicely detailed and Kurumi has a number of cute outfits that she wears throughout the volume as she switches between a Santa outfit and more standard clothing.
The panels are rather basic except for the standard shojo background effects during romantic moments and there are a handful of large panels that are very nice looking with plenty of Christmas-like illustrations. It is also worth noting that any time that Kaito is shown in his reindeer form it is very cute, especially when he is depressed in that form. Thankfully there are no issues with the English text obscuring the artwork as everything is handled nicely and all sound effects have been translated into their English equivalent.
Extra Content
Throughout each of the chapters in Sweet Rein Volume 1 there are occasional 'Sakura Mail' panels on the left page which feature notes from the author Sakura Tsukuba as she talks about her reasoning for creating the series and adding specific elements to the story. Interestingly enough, she does mention a few colored pages however no colored pages are included in this release. The final few pages of the volume also feature a full page of Sakura Mail which is followed by character introductions.
Sweet Rein Volume 1 may only be three chapters long, but it does feature an interesting one-shot chapter from Tsukuba which focuses on an entirely different cast and situation. The one-shot is titled Sweet Bite Mark and follows a tamed vampire who lives in the modern day. Since vampire bites are almost always deadly, he avoids biting people whenever possible and works with a special agent to get by. However when a little girl appears claiming to be his daughter, he is in for a slight change of pace. This little inclusion is a nice closing story and also features comments from the author referencing how she wanted to write a vampire story such as this.
Overall
Sweet Rein Volume 1 is a rather basic romantic comedy shojo manga but it is still fun to read. Without extra drama to hold it back, the manga remains light-hearted almost the entire time and when something dramatic does occur, Kurumi perseveres to try and make it right. Although rather short to begin with, Sweet Rein's first volume offers an enjoyable new take on Christmas, Santa Claus, and his, or in this case her Reindeer and their budding relationship.

Capsule Computers review guidelines can be found here.