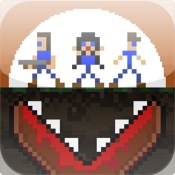 Super Mega Worm
Company: Deceased Pixel LLC
Release Date: August 26, 2010
Price: $0.99 (Labor Day Sale) Regular: $2.99
Story:
In Super Mega Worm, you play as Wojira, the Great Death Worm, Mother Nature's last defense. Your goal is to crawl and dig through the game eating the humans and other creatures in order to protect Mother Nature from destruction. Become the ultimate weapon of destruction! Can you save the World?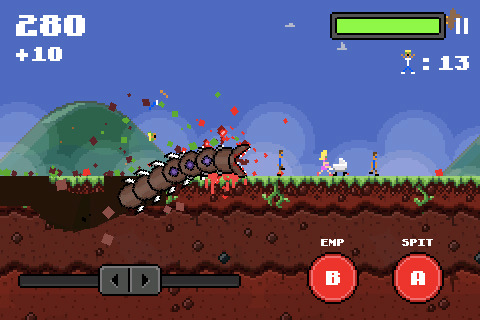 Sound and Graphics:
The sounds in this game are hilarious. There are screaming women, police cars smashing, a Super Mega Worm chomping down, cows mooing and so many other sounds that make this game a lot of fun to play! The graphics are meant to be retro-style as you can see in the above screenshot. It's the fun choppy graphics that make this game so playable. The only other way to make this game would be a 3D version with high resolution graphics and that would be great! The blood and guts are very entertaining in this game. It doesn't look releaistic but it looks like an arcade game would. If you're not into the old fashioned graphics when it comes to games, then I don't recommend this, but if you're like me and you like the old games, then this game is great! Who could resist eating people, while becoming bigger and stronger? It sounds great and the graphics are based on what you prefer. For what this game is supposed to be, the graphics look perfect! For those that like only high-res games, this game is not for you, but it is a lot of fun so if you're thinking about buying it, you won't be let down by the graphics or the great sound effects.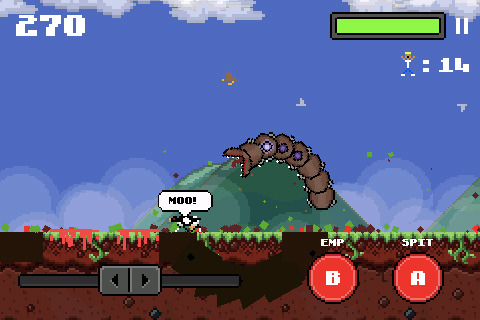 Gameplay and Controls:
The point of this game is to eat up all humanity and everything else with it. You're supposed to be protecting Mother Earth by getting rid of anything that's destroying it. That sounds like a cool idea, and it is. The controls are complicated or just over-sensitive. The right and left arrows, if held too long or not exactly correct, turn you in circles and causes you to lose your position that you were in. These controls are very hard to work with and take a long time to master. This seems to be part of the game, however. It seems like the crazy controls are made on purpose to make the game more complicated and interesting. If you don't eat something before the bar on top runs red, then you explode and the game is over. You will also see a counter beneath the bar. This is to show how many of the object shown you have to chomp on in order to level up. It's a fun game, but the controls could be improved. It really gets out of hand, to the point where if you mess up with the controls, you could be trying to gain control again and explode for not eating something fast enough because of how long it took to take control again. You grow with what you eat. Try to become huge! Yeah, with this game you want to be huge!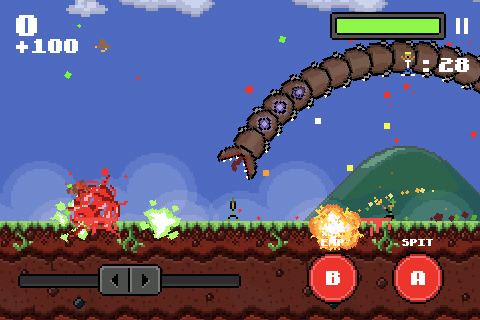 Summary:
This game looks crazy and it definitely is. The graphics are designed in a way to look like the old games from the '80s and '90s and it does it well. It's fun, but the controls really need improvement. It's insanely annoying if you mess up with the controls. The game, itself, has a very simple idea, which is: you eat things, get bigger and then level up. Super Mega Worm makes this style game fun, but the controls make it annoying to play. A GOOD rating of 8 capsules is fair enough for this game. It is fun, but the controls is a real turn-off. There should also be more surprises in the game. It needs more, so if there are any updates it might get a better rating.