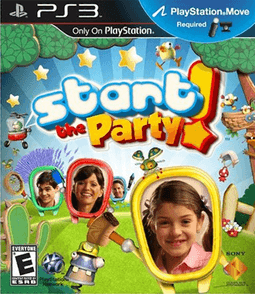 Developer : Supermassive Games
Publisher:  Sony Computer Entertainment
Platform : PlayStation 3 / MOVE
Release date : 16 September 2010
Genre : Party game, Augmented reality
Modes : Single-player, Multiplayer
Rating : ESRB: E
Media : Blu-ray Disc
Start The Party puts you right into the game.  Using the Playstation Move you can see objects like brushes, pizza trays, magnifying glasses and swords actually in your hands without the need to go out and buy those silly looking attachments that you can get on the Wii.  You can go up against another three of your friends and family to see who has what it takes to become the king or queen of the party.
Start the Party is one of Sony's launch titles for the Move and I must say its great fun for the entire family.  Taking full advantage of the Move's motion controls this not only introduces newcomers to the gaming world of motion control type games but it lso throws down the challenge to hard core gaming veterans with some fun and highly addictive mini games.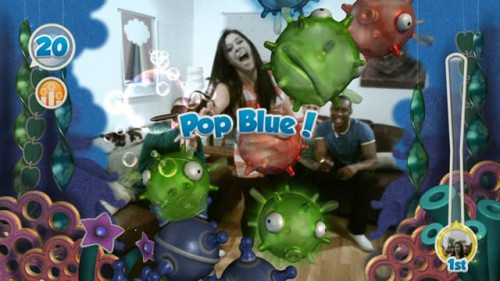 Get your family and friends together for some fun filled action and take part in over 20 fun mini games.  The great thing about Start The Party is that all of the mini games are easy and very accessible for people of all ages.  Grandad and Grandma can even get stuck into the action and have some fun with their grandkids as well.  Some of the mini games are great fun and well designed and will certainly make you laugh, giggle and even jump for joy with excitement.
There is not much of a story in Start The Party.  Pretty much you can play on your own but there's not much fun in beating yourself.  The real action begins when you and your friends all get together and start a 4 player party mode.  You start off by picking a colour pictureless portrait with legs and arms, once you select it you'll be asked to take a happy snap of yourself using the Playstation Eye Camera so it appears in the portrait and then finally speaking into the camera's microphone give yourself a name or anything else you want to be called.  Let the rest of the players do the same thing and then let the games being.  The walking portraits look absolutely hilarious if you manage to pull off a funny looking photo of yourself which makes the fun and games even more enjoyable.
In party mode you'll have a wide variety of fun mini games and modes thrown at you.  The object of the game is have the most stars at the end of the game and by doing that you will need to score the most points at the end of each round.  At the beginning of each round, the voice over presenter will explain what type of trouble you'll be getting yourself into. For example one round might have you taking part in rapid fire mini games, another will allow you to steal stars from other players.  There is also a Joker round that is quite enjoyable (as long as the joke isn't on you) – here you are given a big paint brush and with your MOVE controller you get to paint over an opponent's portrait and to top it off you'll be allowed to re-record their name to something that might make then want to go hide in the corner and cry 🙂
Start The Party not only uses the MOVE Controller but also takes advantage of the EYE Camera placing you right into the game.  As previously mentioned the EYE Camera detects the MOVE controller light bulb (the little ball attached to the top of the controller that changes colour) and will add the appropriate attachment to it on the screen as you play that specific mini game. For example when trying to catch all the pizza toppings your controller on the screen will turn into a large pizza tray, or when you're trying to WHACK-A-MOLE it will change to a giant mallet.  The mini games are very easy to play and extremely fun, very imaginative and well designed.  Some of my personal favourites without giving away to many spoilers is the Ghost Zapping, Haircut shaver and Rock Pick mini games.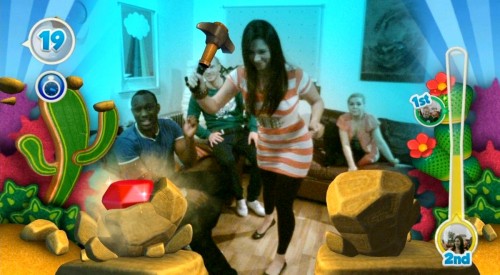 If you also want to pick up some easy Playstation 3 Trophies Start The Party is right up your alley.  Just by playing for an hour or two you'll be able to unlock over half of them, of course some are quick and easy like watching the credits where others will need a little bit of work and time to unlock.
If you're on your own you can take advantage of the survival mode portion of the game which has you taking on random mini-games one after the other till your luck runs out and fail.  The main purpose of survival is to tally up a high score on how long you can survive before crash and burn.  It's timed and if you make it past specific times you unlock yet another few trophies.
Start The Party is best enjoyed with friends and Family.  The mini games are quick and easy and will make you laugh.  It is quite a short game even when playing in party mode with four of your friends.  It would have been nice to have a little more mini games as once you've played party mode a few times playing the same type of mini games might start to get a little boring.  For a Move launch title Start The Party has done just that. Started the MOVE PARTY !!