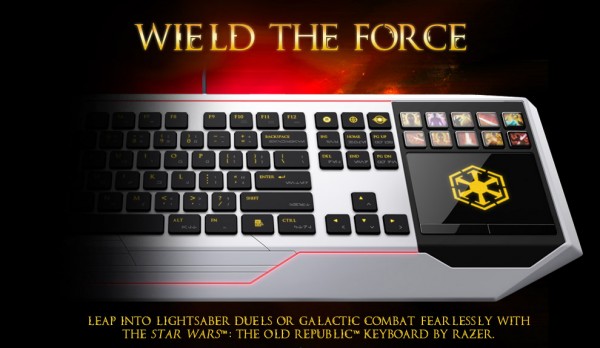 Star Wars the Old Republic Gaming Keyboard
Manufacturer: Razer
Device: Keyboard
Price: AU$349.95
Purchase: Razerstore
Within the realm of competitive online gaming every player strives to grab whatever advantage they can get. Whether it is being the first to grab a particular weapon on a map, capitalise on a combo or glitch, or even using the most up to date gaming equipment to better our chances, online gamers want to get every edge they can. This is true of pretty much every online arena the modern gamer could imagine. So naturally, when it comes to one of the most popular MMORPG's of recent years, players can expect to see a quite a few pieces of gamer specialised merchandise released bearing the Old Republic colours. And if you're an avid PC game enthusiast, then you probably already know about Razer as a brand name. Combining their ingenuity with high quality gaming products with the popular force of a Star Wars themed MMO is a feat that can't be scoffed at.
Earlier this year, several of the editors here at Capsule Computers had the fortunate opportunity to test out and review several SWTOR Razer devices, including the gaming mouse, gaming headset and gaming mouse pad. However, the best was definitely saved for last: the Star Wars – The Old Republic Gaming Keyboard. This particular device is not only the flashiest piece of equipment in Razer's SWTOR arsenal, it boasts numerous unique features that promise to be a boon to not only the game in question, but in many other gaming arenas as well. As one of Capsule Computers avid SWTOR playing staff members, I was genuinely interested to see what sort of difference the keyboard would make to my in-game experience. The answer was: A WHOLE LOT.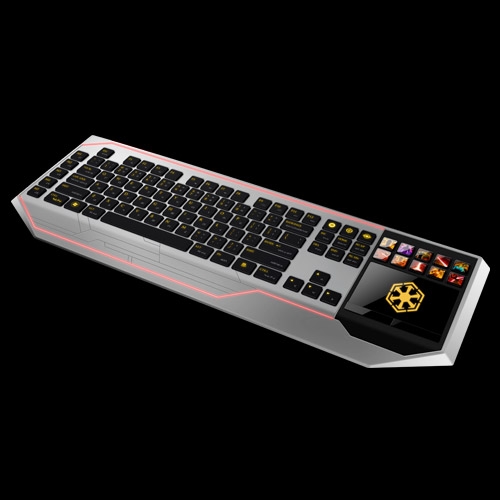 From the moment I opened the box and pulled the keyboard out, it was clear that this piece of hardware had something special about it. The sleek metallic silver, available touch screen and unique sidebar buttons honestly seemed unworldly. Alien in fact. Additionally, each key on the keyboard is marked with a piece of Star Wars themed text. It was like looking at a piece of technology that really comes from a long time ago in a galaxy far, far away. The multi-coloured LED backlighting also added to this effect once I had the keyboard plugged in. This aesthetic design point alone shows how Razer really does care about the intellectual property they're working with. When a company puts this much effort into even the simplest of design choices, it makes you think that there will be quality to back it up.
While clearly designed with the MMO genre in mind, it should be mentioned that the keyboard also has its uses within different genres too, courtesy of the 'Switchblade' user interface. Those who are familiar with MMO keyboards will no doubt be reminded of the extendable World of Warcraft keyboard which required users to purchase additional "extensions" to be able to access the widest and most varied array of macro functions. However, the Switchblade interface erases any need to buy more parts to be functional. The entire array of keyboard commands are at the players fingertips from the word go.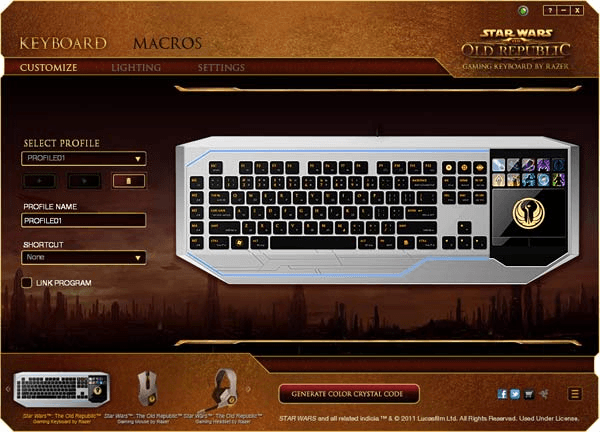 The keyboard features a massive amount of personalised customization features to accommodate players of all kinds. The afore mentioned LED backlights can be changed to whatever colour of the rainbow the player chooses. Naturally, as a Sith Marauder, this reviewer sported a wrathful bloody red to complement my play style of "stab everything that moves". The keyboard's Switchblade interface also allows for a high degree of customization with 10 interchangeable game keys. Using the Razer Synapse 2.0 program, not only are players able to create brand new hotkey functions, but have an entire array of pre-made digital images to assign to the keys. Each of the 10 keys features a small LCD display below the clear key itself. Each screen displays an image selection of the player's choice ranging from the existing catalogue of SWTOR commands to commands from other EA titles such as Dragon Age 2 and Battlefield 3. And if the player so chooses, they can upload their own image for use on the keyboard. It must be said there's something rather satisfying about creating your own personalised button labelled "Sick 'em!" that commands your ally to attack the closest enemy in range. Better still, you can actually create your own 'Awesome Button' to perform taunts or social actions. However, in all seriousness, when it came to engaging in combat within the game, the inclusion of these extra keys went a long way to helping out my game by making my combos and attacks more effective, and allowing me access to a wider range of skills at the push of a button.
However, to be able to customize the keys to the fullest extent, the player will need a working knowledge of how to record and assign macro commands. This particular feature will take less informed players a while to figure out, even with the assistance of the online manual. Additionally, the macro commands and customization features can only be performed by using the free to download Razer Synapse 2.0 program. This means that you will require an active connection to the internet to interact with these features. Not such a big issue if you plan on playing an online game, but it might seem like an additional hassle to some.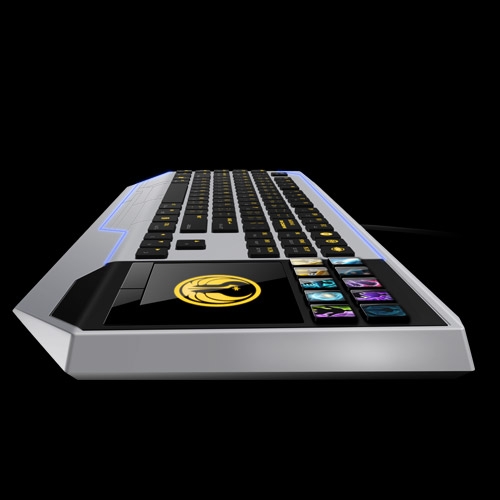 The Switchblade interface also features a touch screen that allows players to user their finger to take control of the cursor. This is a feature that I would highly recommend in augmenting conversation scenes in SWTOR. However, this is not the limit of the Switchblade screen's capabilities. The touch screen might not a feature for some players. In which case, these players might feel obliged to instead use the keyboard's quick-open keys to open up a brand new, completely separate browsing window on the touch screen itself! With this feature, players are able to experience the convenience of having the full game opened on the main monitor, while checking emails, Facebook, Youtube videos or any other webpage on the Switchblade's touch screen. It was quite convenient being able to have the small screen open to an online guide revealing the locations and methods for obtaining in-game holocrons while I actually perused them for myself on the main monitor.
If pulling off some of these commands is sounding confusing, don't be troubled. The controls do not take long to learn, and a handy user guide is available on Razer's support site. One area of improvement I could suggest is to include the support guide inside the box with Razer's other stack of goodies. It's a minor issue at best but would help players avoid that initial feeling of being overwhelmed by the technology.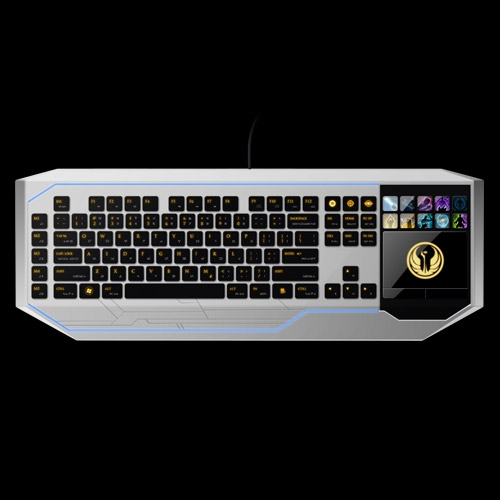 While on the topic of the Razer's stack of goodies, it should be noted that the keyboard comes packaged with several items of interest including: The quick set-up guide; a set of Razer and SWTOR stickers to show off the fact that you've got a Razer product; and for fans of free DLC (which should be effectively everyone) a instructions on how to receive a free downloadable Lightsaber colour crystal to customise your in game weapons.
Besides the Synapse interface and lack of physical manual, the only other noteworthy hassle that some players might experience are those who are shorthanded on USB ports. To get complete functionality out of the SWTOR keyboard, players will require 2 close proximity USB ports instead of one. If your PC is one which already has a large variety of devices plugged into it, you might need to make some room.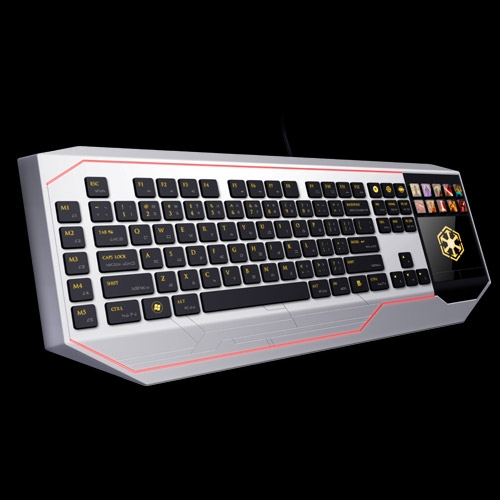 Despite the steep price tag, for the avid fan of Star Wars the Old Republic, the Razer SWTOR keyboard is a must have for their gaming armoury. Besides boasting great functional advantages, it's also visually appealing and a unique gaming experience in and of itself. The remarkable number of customization features also makes it a product that can be tailored to be strictly unique and individual to the gamer using it. This remarkable piece of technology will see many players cruise to more comfortable victories in any Star Wars MMO arena whether they be PvE or PvP. Unless you're against a Wookie. In which case: "Let the Wookie win."