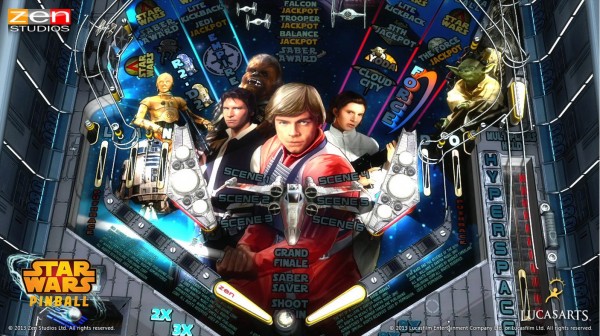 Star Wars Pinball
Developer: Zen Studios
Publisher: Zen Studios
Platform: Playstation 3
Release Date: 27th February, 2013
Price: $9.99 – Available Here 
Overview:
Zen Studios have made a name for themselves with their incredibly polished and addictive Pinball game series known as Zen Pinball. The Zen Pinball series has seen its fair share of iterations with a variety of popular franchises getting the Zen treatment. The latest of which is Zen Studios take on the Star Wars franchise, Star Wars Pinball.
This is not the first time Zen has ventured into adapting a popular franchise to the Pinball table, having previously brought the world of Marvel's Avengers to players to great success. After such a run of successful Pinball games, how does Star Wars Pinball compare?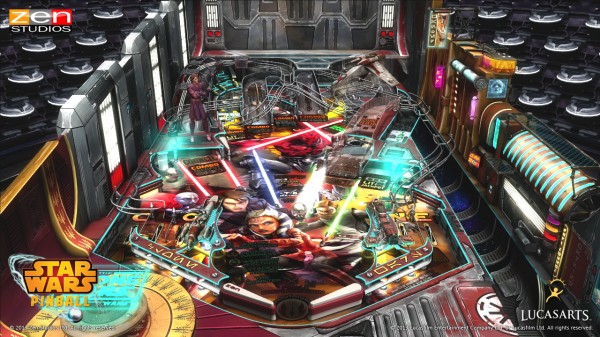 Gameplay:
Star Wars Pinball comes with three tables for players to sink their teeth into. Each table has quite a different feel and layout to it. One is based upon The Empire Strikes Back, another based upon Clone Wars and the last one is based upon the character Boba Fett. They all make for interesting pinball tables and provide their own challenges and strategies.
What Zen Studios have done with Star Wars Pinball is polish the existing formula they have crafted for the Zen Pinball games and given it a new coat of paint in the shape of Star Wars. Now this isn't a bad thing whatsoever, if you have played the Zen Pinball games in the past you will know what to expect, but at the same time you shouldn't expect to be surprised as it is really more of the same. More of the same is good however considering the overall quality of the Zen Pinball games.
The game does feature some fairly compelling multiplayer gameplay which can be played in several different ways. The first option is simple split-screen multiplayer which is great to play locally and challenge a friend in a game to reach a certain score or a game of whoever can get the highest score in the allotted time. You can also play in a hot seat mode which requires use of one controller and switching between players. I think that this mode was a great addition as it allows for multiplayer for those with only one controller, its an ingenious move on the part of Zen Studios. The final multiplayer mode is of course your standard online fair through the PlayStation Network.
At its core Star Wars Pinball is nothing we haven't seen before from Zen Pinball. But there really isn't anything else you could ask for in a pinball game. Zen has spent quite some time perfecting their formula and should be commended for that and if they continue to pump out pinball games as fun as this then it doesn't matter if its the same old song and dance. Its a good working formula and at this point deviating too much would be a detriment. Sometimes staying the same is better and in the case of Zen Pinball that much is indeed true.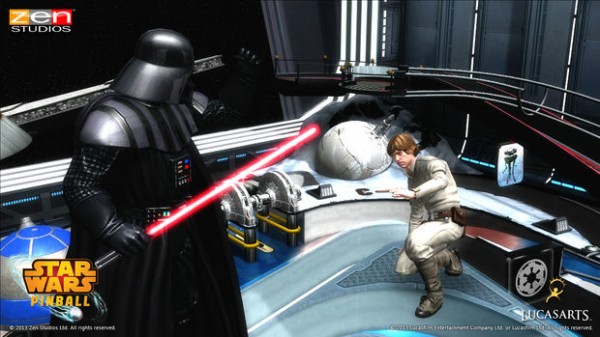 Visuals and Audio:
Aesthetically Star Wars Pinball is very nuanced, employing many little stylistic touches that will undoubtedly play on Star Wars fans nostalgia to great effect. Each table has its own unique visual style and feels like a pinball table embodiment of what it is based upon. The game also features a number of characters from the series with characters such as Darth Vader appearing in the Empire Strikes Back table and even Boba Fett appearing on the Boba Fett table. The character designs are well done and show that Zen have put in a great deal of attention into accurately depicting the Star Wars universe.
The game's soundtrack is also done very well and captures the spirit of Star Wars with resounding success. Besides your standard background music there is a lot of character voice acting as well which is accurate to the characters and adds an extra layer to the atmosphere that you don't usually get from a pinball game. This added level of detail is what makes Zen Pinball so special.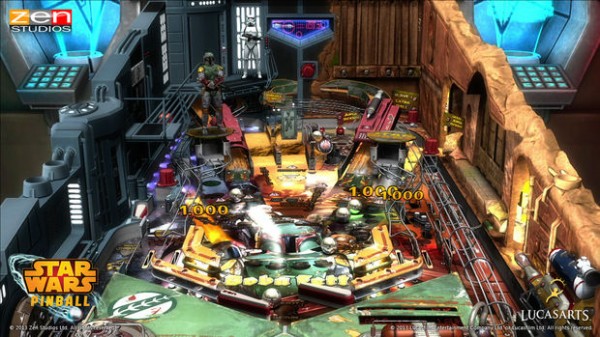 Overall:
Star Wars Pinball is a great example of why Zen Studios are so damn good at what they do. They make brilliant pinball games, the likes of which are simply unmatched. Star Wars Pinball seamlessly takes a beloved universe and turns it into three addictive pinball tables. If you love Star Wars or simply love the game of pinball then this is definitely something to check out. Zen Studios are really good at what they do and Star Wars Pinball may just be their finest work to date. It is polished, engaging, challenging an most of all it is a lot of fun. If you have yet to check experience the Zen Pinball phenomenon, now is the time, the force is strong with this one, Star Wars Pinball is out of this world.
Capsule Computers review guidelines can be found here.