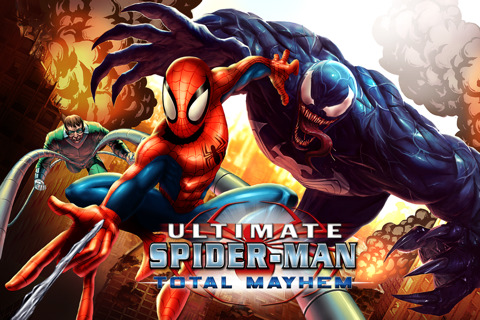 Spider-Man: Total Mayhem
Company: Gameloft
Release Date: September 1, 2010
Price: $6.99
Story:
Spider-Man: Total Mayhem is based in New York City, of course, and the goal is to save the city! Stop the biggest breakout of Super Villains from spreading a poisonous virus and save New York City! It's a fun game with lots of action and great Spidey-moves. This game can easily be played for hours.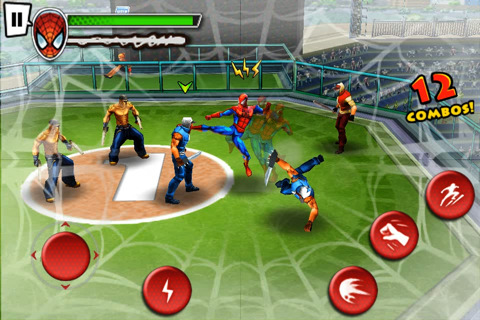 Sound and Graphics:
The sound is great for an action-adventure like Spider-Man. All the sound effects are similar to those found in other Spider-Man games and the movies. The game looks great. The graphics in Spider-Man: Total Mayhem were made to look like the comic Spider-Man, making it more of an arcade-style game. This happens to be better than them choosing to base it off the human Spider-Man because it's more fun to play with comic-style graphics. This game looks good while fighting and I didn't notice any graphic glitches. My 91 hit combo just a second ago looked pretty good. The webs look good, the villains look ok and Spider-Man looks great! I'm a little surprised that the villains look so choppy compared to the rest of the characters in the game. I would have liked them to have a little more detail. I'd like to see who I'm knocking out. Other than that, this game is amazing. The soundtrack and sound effects are Spider-Man. You'll know what this means when you play it. You hear every hit, every combo, everything. You'll recognize the music the second you start playing. This is a great adventure and the graphics and sound only make it better. At first, I thought the graphics would be terrible, but I realized these graphics improve the game and make it all a much better experience. I'm happy Gameloft chose to go this way with look of the game.
[pro-player width='480′ height='385′ type='video']http://www.youtube.com/watch?v=htbBkGG2Sak[/pro-player]
Gameplay and Controls:
Even though the controls look very small, they are quite responsive and easy to access, except for the Spidey-Senses action button. The little lightning bolt button is sometimes hard to press in time because it's located in between all the other buttons and you have to decide which hand to tap it with. Anyway, the controls on this are great. You can jump, make a web, grab a guy in a web, spin the guy around, attack villains, beat bad guys up and so much more! Now, the gameplay is not much different from my opinion of the controls. It's great and you can do everything written a sentence ago. IF you don't remember it, here it is again. You can jump around, grabbing guys in your web and spinning them into each other. You can beat up villains with huge combo attacks and enjoy attacking in every way you can. I'm a little upset that there is no free roam or multi-player. Multi-player Red vs. Black Spider-Man would have been amazing. Hopefully, this will be included in an update or sequel. I have to say I didn't want to spend money in this game, but it came out to be worth even more! I'm still playing it while writing this review. It has great action, adventure and the controls are great which makes it fun to enjoy. It has some arcade-like features, such as the graphics when it comes to the look of Spider-Man and how he does his combos, including all the sound effects. It just makes this game better. Well done, Gameloft and I recommend this game to Spider-Man fans everywhere and anyone looking for a great game.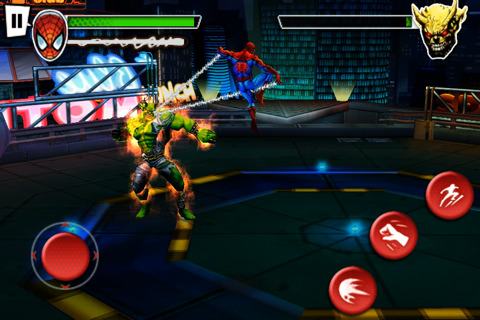 Summary:
Spider-Man Total Mayhem is a great combination of graphics, controls, gameplay and audio. It's fun to play, which makes it so much better. Other games you play to beat. This game makes you want to play just to enjoy it. I mean who doesn't want to kick some villain butts? I've been playing it for hours and I can't stop, except to write this review on an amazing game. If it had free roam, that would be nice. It would be great if it had multiplayer. Based on that, and the fact that this is such a fun game, I give Ultimate Spider-Man: Total Mayhem a VERY GOOD rating of 9 capsules. I would've liked to see a little more, but this a great game for the first release on the iPhone and iPod Touch.