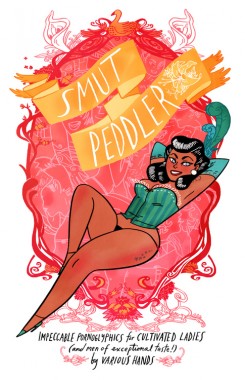 Smut Peddler
Author: "Various Hands"
Publisher: Iron Circus Comics
Release Date: September 2012
Price: $30 BUY HERE
Overview:
Smut Peddler was a short lived digest-sized minicomic series released in 2003 by Saucy Goose Press. It was a sex positive comic series written for female interest in sex, and for men looking for something different from the usual smutty goodness of the erotic comic market. Now we have a new edition to the series, "Smut Peddler: Impeccable Pornoglyphics for Cultivated Ladies (and men of exceptional taste!)". Comic books are far from having normal things in them, and even further when you look at erotic comics. This book does not cover things that are completely new to the comic industry, there are stranger and stranger thing every day, but it does cover them with the intention to appeal to both (all?) genders. If you have lived a rather bland life in terms of discovering sexuality, this book is pretty safe for getting a glimpse into a lot of different things.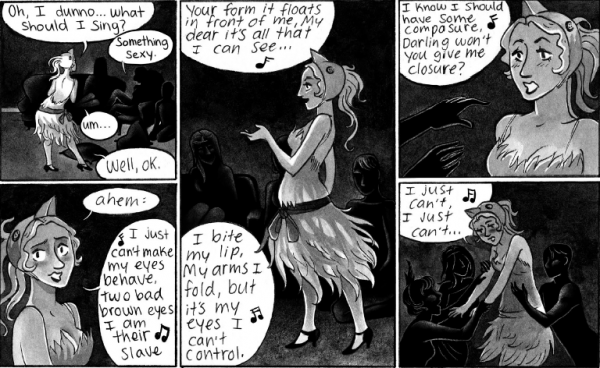 Story:
Smut Peddler is a collection of short stories in graphic novel form. It covers a huge array of settings from fantasy to scifi to things set in the real world. There is a disabled man having his first gay sexual encounter that depicts the fear, hesitance, and confusion along with the intimacy and happiness that comes along with such an experience. A forest nymph comes to terms with how she is different from the others, and finds someone who is compatible with her special features. There is hetero space trucker sex, robot lesbian sex, gay old timey sex, old timey transgendered gay sex (I think), hetero incubus sex, lesbian tree sex, hetero we are trapped on an alien planet sex, and so much more. My point being is a lot of different types of sex is covered, not just one kind with one type of coupling.
The stories are what many people would consider to be "safe" or "trigger free" to read, in that even when there are times of dominance or questionable consent the story goes out of its way to show that every character enjoys their part in the story. On top of that, you are actually interested in the development of the story and characters even within the short time you are able to know them. Some stories have no dialogue at all, while others have talkative characters. Both ways tell the stories they want to tell in interesting ways. Many erotic comics often have no intimacy in them where the point of view is simply just seeing a woman and a faceless man, or a floating penis that impales things/people while the narrator says supposedly sexy things. Not true in Smut Peddler. You are always reading the story of a couple (or more) developing some sort of connection be it for a moment or permanently.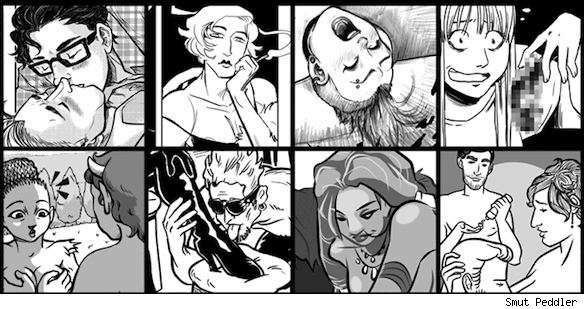 Visuals:
Smut Peddler is not colored, but the artists do not make me feel like I am missing anything. Each short story is written and drawn by a different artist, so they each have their very own way of drawing. One comic can be drawn realistically, while the next will be highly stylized.  It is wonderful how the style of drawing actually adds to the setting of each story, and makes each one memorable instead of it all being mixed together post reading.
There is a style of drawing for every taste out there: Over simplified, manga style drawing, retro comic style, one is even reminiscent of the Archie comics style. It is amazing to me how each style perfectly fits the setting and tropes of each story. The manga style comic fits with it's Hentai like story (sorry no tentacles), while a cuter more innocent story will be drawn more cartoony.
Overall: 
Smut Peddler is a solid set of stories that dabbles in many different worlds of sexual fantasy, but never dives too deep. It is a great introduction to new things for people new to the comic scene or new to "the scene". Each story pops from each other, but none are less interesting than the other. The characters are relatable and easy to connect with as you read their short stories, and makes the collection as a whole less scary to approach. This is a really safe entry for anyone willing to try new things.