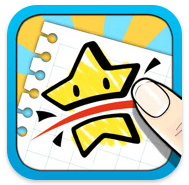 Slice It!
Company: Com2uS
Release Date: August 31, 2010
Price: $0.99
BUY NOW!
Story:
The point of Slice It! is to slice an item into a specified amount of equal parts with the amount of slices you're allowed to do. In other words, cut something into a bunch of equal parts with a specific amount of parts. It's fun and can become quite addicting, which is surprising for this type of game. For only 99 cents, it's got a great plot.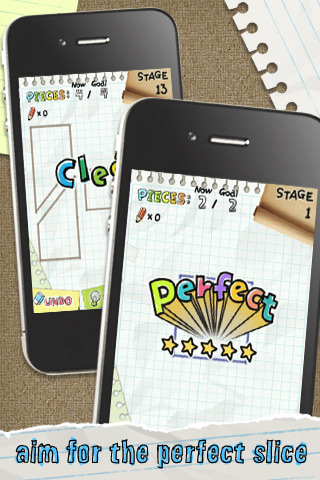 Sound and Graphics:
When I say this sounds like a fun game, I mean it literally. The background music and sound effects are all amusing and entertaining. It's got an upbeat soundtrack and it makes you and your family want to play this, while becoming smarter. The graphics, for this genre of game, are great. Everything is smooth and looks nice. There are no choppy edges or little glitches that similar games have. This game may be called cute, for it's colored-in-crayon look. It looks like a bunch of children helped design the game which makes it a more fun experience to be a kid again. It also makes this a family game. There are many games that go for this style and look, but none come close to Slice It! This game looks and sounds much better than most of the other games in this category. If you're looking for something that looks like and sounds like a fun children's game, then this may be  the right one for you.
Gameplay and Controls:
Gameplay is simple, then it gets a little harder and moves into the really hard zone. You draw a line or many lines across an object to slice it into many different pieces with a limited amount of separation lines. You Slice It! That's the name of the game and that's exactly what the game is! The controls? Your finger. You use your finger to place the cutting line across the object and then let go to set it and Slice It! Although this may sound like a simple game, it is not. The objects just get more complicated and your limits on the amount of cuts you're allowed to use change for almost every design. There are Hints that you gain access to, that help you through the game if/when you're stuck! This game can keep you playing for hours without realizing it. It helps stimulate the brain, which makes this a great game for a child or yourself. It's a game that you can always have fun with, while helping you become smarter. Yeah, you can get smarter by having fun. Isn't that worth 99 cents? If you're into kid's games, doodle games, brain/thinking games, smart games, symmetric games, line drawing or almost any type of game out there, then this is a great game for you because every level you play just becomes more and more fun. So keep having fun and make yourself smarter. Maybe they should have set their motto as "Raise Your IQ While Having Fun". Anyway, this game plays well and is definitely something I'd recommend to buy. Great for any time of the day. You could be playing on a train, in your office or anywhere. It is a great app to have for that little break you need from life.
[pro-player width='480′ height='385′ type='video']http://www.youtube.com/watch?v=CryH-PIwito[/pro-player]
Summary:
Most games that are similar to this one get very low ratings. Somehow, Com2uS has created an amazing game and is only selling it for 99 cents. This game is fun for the whole family, it plays well, works smoothly and is a lot of fun. I was surprised that I actually enjoyed a game like this, and it's all thanks to Com2uS. They changed my perspective of these "smaller" games. It's a lot of fun, something I'd play when I don't have anything to do and I give it a VERY GOOD rating of 9 capsules because it's great, but it is a smaller game and I don't see much replay value.