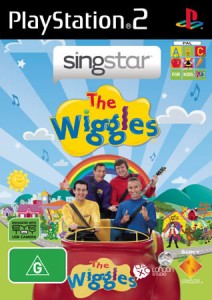 | | |
| --- | --- |
| Developer | Sony Computer Entertainment |
| Publisher | Sony Computer Entertainment |
| Platforms | PlayStation 2, Playstation 3 (via SingStar disk-swapping method – requires ownership of a PS3 SingStar game) |
| Release date | May 27, 2010 |
| Buy | Wiggles Singstar Buy NOW |
Do you have a hankering for hot potatoes? How about some cold spaghetti? Or maybe some mashed banana?
If you're from Australia or have a small child you know exactly what I'm talking about… but if you don't meet that criteria I'm sad to say there is probably very little for you to enjoy in SingStar The Wiggles, the latest edition in the long-running console karaoke series.
For people who ARE in the target audience though, this game is better than deep-fried gold. SingStar The Wiggles features an extensive playlist going all the way back to the very early days of the Wiggles. No yellow-washing of their history here, Greg features in all of the songs you'd expect him to, with Sam only appearing in the more recent songs.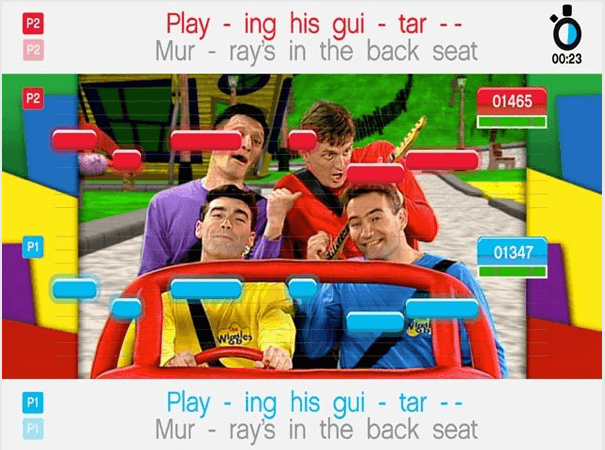 Looking at it from my son's perspective the 20-song tracklist has most of his favourites: "Hot Potato", "Fruit Salad", "Toot Toot, Chugga Chugga, Big Red Car", "The Monkey Dance", and much more. The tracklist is very Greg-heavy, with only a few Sam-era songs appearing ("Dr Knickerbocker", "Hot Poppin' Popcorn", "The Shimmie Shake"). My only complaint about the tracklist is that it doesn't feature enough of the newer songs – I would have been happier if there were more songs from "Hot Poppin' Popcorn". There are no songs at all from "The Wiggles Go Bananas", which is disappointing. That said, trying to please everybody 100% with a tracklist is impossible!
Gameplay is exactly you'd expect from a game in the SingStar series, with the songs inserted into the same engine that players of past versions will be familiar with. One change is with the scoring/accuracy; it seems that the scoring points aspects of play have been scaled back a lot to accommodate the presumably younger target audience of the game.
Parents be warned – unless your children are old enough, this is not a game you can set up and then leave. In some ways I think that for a lot of the Wiggles fanbase (children under 4 years old) this game will be used more by parents performing songs for their children. The karaoke aspect is certainly not going to come into play for that age group as they won't be able to read the lyrics!
Overall, this game really requires two ratings – one for the general public, and one for parents of small children. So with that in mind, I would award the game 2 out of 10 for the general public. If there were more recent tracks to balance out the catalogue of songs, SingStar The Wiggles would be a perfect 10, but as it stands I award it a solid….