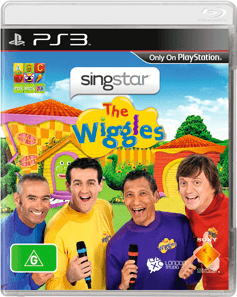 | | |
| --- | --- |
| Developer | Sony Computer Entertainment |
| Publisher | Sony Computer Entertainment |
| Platforms | Playstation 3 |
| Release date | November 25, 2010 |
| Buy | Wiggles Singstar Buy NOW |
SingStar Wiggles for PS3 is the upgraded version of the PS2 version (read the review for it here) released earlier this year. As such, it's pretty much the exact same game, with the addition of some bonus tracks.
Having said that, playing the game on PS3 did give me the opportunity to enjoy the experience a lot more. When reviewing the PS2 version I played using the "disk swap" method where you start a PS3 version of SingStar, hit Select, and then load the tracklist from the PS2 game. Playing the game this way means you get to play the tracks from the PS2 version, but the interface is still linked to the PS3 SingStar game you originally loaded (in my case, SingStar ABBA ;)). That was all a bit of a mouthful, so to cut a long story short, with the PS3 version of SingStar The Wiggles I got to see the interface the way the developers intended!
First thing I noticed was the interface, very colourful and candy-like, and fits perfectly with the Wiggles theme. My son LOVED it, and he was entertained enough with the song-select screen alone.
The other thing that immediately stood out was the way the song handles the judging and marking of performances. In the other versions of the game a low score is usually dealt with fairly harshly (the braying donkey sound comes to mind). In SingStar The Wiggles however even a zero point performance will get an encouraging message from Dorothy the Dinosaur or one of the other characters.
The tracklist features all of the songs from the PS2 version, plus an additional six PS3 exclusives:
Dorothy (Would You Like To Dance?)

Ooh It's Captain Feathersword
Go Santa Go

Here Come The Chicken
Over In The Meadow
In my preview for this game I promised to test the game out for SingStar Guitar compatibility, and I am sad to report that NO, you will not be playing your guitar with Murray. I also checked for DLC, and the answer is "not yet". I really hope that Sony do create some downloadable tracks for this game as there's still a lot of holes in the collection of songs for die-hard Wiggles fans.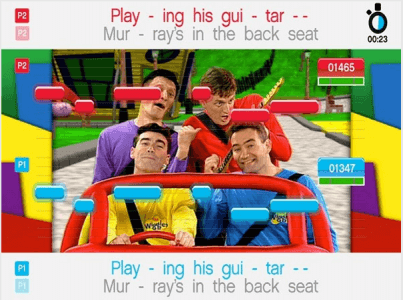 My mark for SingStar The Wiggles PS3 doesn't change from the score I gave for the PS2 version of the game. To recap:
"Overall, this game really requires two ratings – one for the general public, and one for parents of small children. So with that in mind, I would award the game 2 out of 10 for the general public. If there were more recent tracks to balance out the catalogue of songs, SingStar The Wiggles would be a perfect 10, but as it stands I award it a solid…."