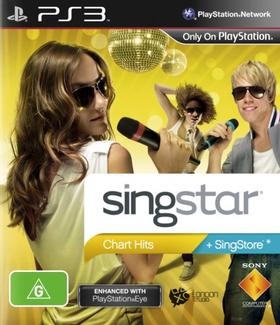 | | |
| --- | --- |
| Developer | Sony Computer Entertainment Australia |
| Publisher | Sony Computer Entertainment Australia |
| Platforms | PlayStation 2, Playstation 3 |
| Release date | July 1, 2010 |
SingStar Chart Hits is the latest in the SingStar franchise, allowing you to sing along to your favourite songs in the privacy of your own home.
If you've played any of the previous SingStar games you know what you're getting with this latest edition, with the object still being to sing the songs and match the rhythm and pitch to the original as well as you possibly can. Based on your performance you'll be given a score.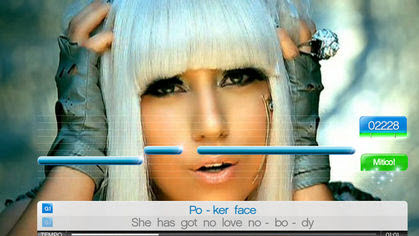 Much like the Guitar Hero franchise, the only thing that really changes from title to title is the tracklist, and your decision to purchase will come down to whether or not you like enough of the songs on offer.
This time around the focus is on "solid gold hits" – a subjective term which depends largely on your taste (or lack thereof) in music, featuring a mix of mostly recent tracks, around half of which are by Australian artists:
1. 3Oh!3 – Don't Trust Me

2. A.R. Rahman feat The Pussycat Dolls – Jai Ho! (Your Are My Destiny)

3. Alex Lloyd – Amazing

4. Ben Lee – Catch My Disease

5. Colbie Caillat – Fallin For You

6. Empire Of The Sun – Walking On A Dream

7. George Michael – Outside

8. Guy Sebastian feat Jordin Sparks – Art Of Love

9. Kate Miller Heike – The Last Day On Earth

10. La Roux – Bullet Proof

11. Lady GaGa – Poker Face

12. Lady GaGa – Love Game

13. Michael Buble – Haven't Met You Yet

14. Mika – We Are Golden

15. Natalie Bassingwaighte – Alive

16. Nelly Furtado – Turn Off The Light

17. OneRepublic – All The Right Moves

18. Pixie Lott – Boys And Girls

19. The Living End – White Noise

20. The Presets – This Boy's In Love

21. The Pussycat Dolls – Hush Hush

22. Vanessa Amorosi – This Is Who I Am

23. Vitamin C – Graduation (Friends Forever)

24. Wes Carr – Feels Like Woah

25. Wes Carr – Yeah

Additional tracks exclusive to the PS3 version of the game:

1. Lady GaGa – Bad Romance

2. The Pussycat Dolls – When I Grow Up

3. Natalie Bassingwaighte – Someday Soon

4. Milli Canilli – Blame It On The Rain

5. Wolfmother – New Moon Rising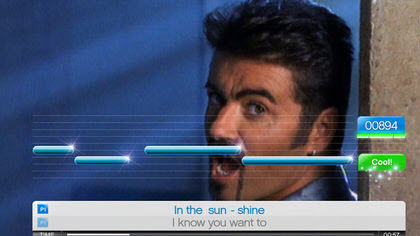 If that tracklisting has you salivating then get out there and buy the game immediately! For me though, it feels like a lot of the Australian songs aren't really "hits", they are just there because they are local. It's also strange how most of the songs are reasonably recent, but then there's an inexplicable throwback to a 20+ year old Milli Vanilli track, along with older tracks from George Michael, Alex Lloyd and Ben Lee. I can understand why Alex Lloyd and Ben Lee get a run, and those songs were unquestionably popular in their day, but the apparently random inclusion of the other two tracks just seems careless, almost like the thought process was "chuck in some Aussie artists and fill the rest up".
The SingStar mechanics are still very good, so in summary: if the tracklist appeals to you, this game will be an 8 out of 10 AT LEAST. But if you're like me and this tracklist doesn't appeal to you at all, then give the game a wide berth! 4 out of 10.