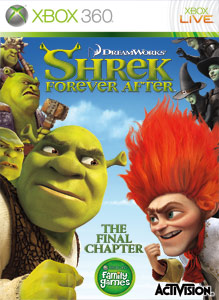 Game Name: Shrek Forever After
Platforms: Xbox 360
Publisher(s): Activision Blizzard
Developer(s): XPEC
Genre(s): Family
Release Date: 5/18/2010
ESRB Rating: E10 (Everyone 10+) Cartoon Violence Comic Mischief Mild Lyrics
Price: $49.99 (USD)

Story
"The number one animated franchise of all time is back with Shrek Forever After™ The Game. Team up with your friends in the ultimate Shrek® game, based on Dreamworks Animation's final Shrek movie. Play as Shrek, Fiona, Donkey, and Puss In Boots to out-smart, out-fight, and out-play that crafty Rumpelstiltskin!" [ Via Xbox.com]
The Shrek Franchise has always been accessible to audiences of all ages. Cute critters for the kids and jokes that are funny for adults. While Shrek Forever After follows closely with the movie, the game's demographic is for younger kids. I'd suggest watching the movie before even playing the game otherwise the game might ruin the movie for you. Ill refrain from giving any of the story away and focus more heavily on the gameplay aspect of the game.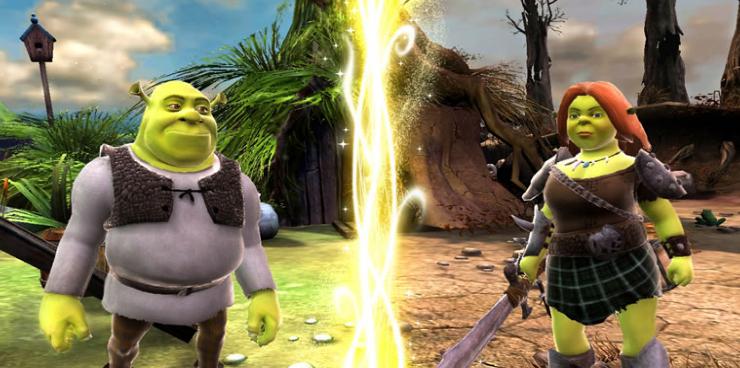 Gameplay
Shrek Forever After is perfect for families with a whole bunch of little kids. Kids will love this game; every part of the game is catered towards them. While the game is enjoyable for older kids they won't get as much fulfillment out of it as kids between the ages of 8 and 12.
There are a lot of puzzles in the game that are pretty easy but can challenge a few people. If the puzzles become too challenging you can pay the three blind mice to give you a hint. The hint system is perfectly executed in order to give a small loss for actually asking for help. By paying a small amount of gold, you can gain assistance in the puzzle; but if you solve the puzzle by yourself you can spend that gold you saved on other items in the store.
Between most levels there is a store you can buy upgrades from. These upgrades can be unlockable items that will be dropped by enemies or an improvement to the powerups you can pick up. The stuff you can buy is completely optional and the game is pretty easy to beat without upgrading anything, but you get tons of money in the game and there isn't anything else to spend it on so you might as well buy upgrades.
As you progress through the game you will run into some puzzles that can't be solved at that moment. Returning to these puzzles after you unlock the ability to successfully complete them will give a large reward in gold. Hidden items and treasure chests are scattered everywhere in the levels, some in plain view while others are tucked away in hidden spots. Collecting everything takes time but is possible and simply requires patience. The first time you play through the levels, you won't even be able to collect everything. After beating the game though, you will have every ability unlocked and can then return to the places that were once inaccessible.
There are four characters that you can play as: Shrek, Fiona, Donkey and Puss in Boots. The ability to jump into the game with a second controller at anytime is a lot of fun and helps to keep the players within the story. There is no need to go to the menu and do a whole bunch of stuff to get the second controller into the gameplay. With up to four people playing at one time, Shrek Forever After is a fun party game. Each character has their own abilities that you must use in order to progress through the levels. The need to switch between all four characters in order to solve the puzzles encourages out of the box thinking as well as communication between friends.
The combat in the game is an extremely simplified beat 'em up style. One button press is all that is required. The game seems to try to spice things up by warning you when an enemy is about to attack but it fails horribly. Most of your attacks will stun the enemy or even kill them before the enemy has a chance to attack. Due to these problems, the combat in Shrek Forever After is repetitive and seems pointless; especially since every level ends with a combat phase. The constant requirement to kill everything draws the game thin on the combat aspect.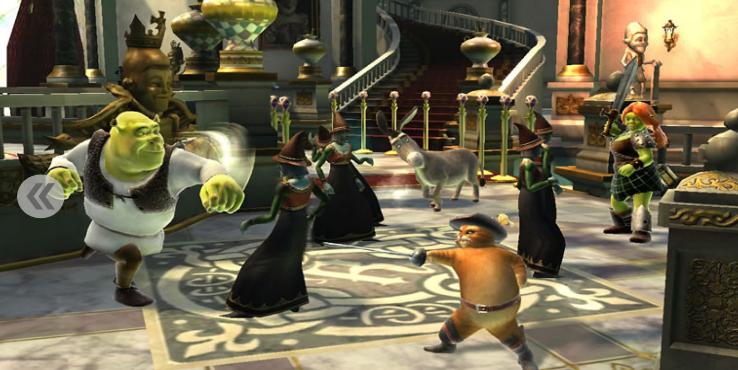 Achievements
There are 35 achievements in Shrek Forever After and every single one of them are extremely easy. This is a kids game, so you can't expect a super hard challenge. It would have been nice to see one or two semi challenging achievements, but all the achievements below can be achieved with minimal effort. The hardest achievement is literally filling up your ogre power meter to 100% and even that only takes a few attempts. The rest just take time and you actually exploring the levels to find every single chest. Other than that they are all easy, and getting all 1000 gamerscore in this game shouldn't be a problem; unless of course you are 5.
Click here to view the achievement list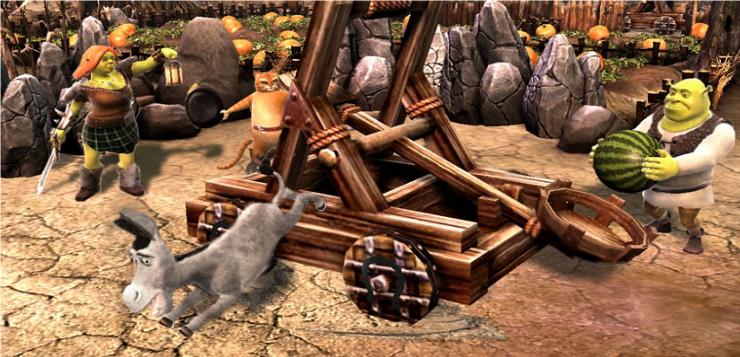 Overview
Shrek Forever After is a pretty fun game. Play as Shrek, Fiona, Donkey or Puss in Boots as you try to lift the curse. The game is easy but that is because the game is focused at a younger age group. This game is perfect for young kids between the ages of 8 and 12. The reason for this is because the challenges aren't challenging at all, but I'm also not 12 anymore. The drop in anytime you want co-op makes it easy to bring friends into the game without any hassle. With multiple puzzle concepts and a beat 'em up play style the game is awesome for younger parties. As for older kids, the game should take you less than 5 hours to complete and it won't leave you very satisfied. If you are under 12 or know someone who is under 12 buy Shrek Forever After, they will enjoy it.
I give Shrek Forever After

Pros
Fun for the whole family

Drop in and out co-op

Follows the movie adventure
Cons
Spoiler alert! The game gives away the movie

The game demographic is for younger kids

Repetitive combat