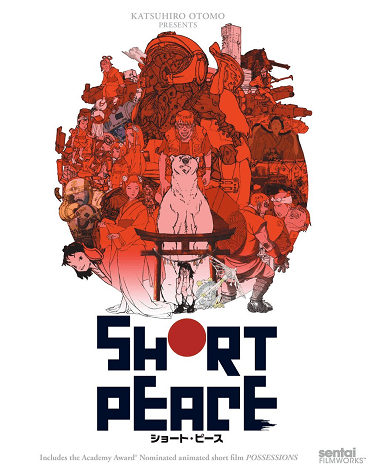 Short Peace
Studio: Sunrise
Publisher: Sentai Filmworks
Format: DVD, Blu-ray (Reviewed)
Release Date: August 5, 2014
Price: $29.98 – Available Here
Overview
Anthologies can sometimes be memorable and amazing while they can also be bland and forgetful. Katsuhiro Otomo has had experience in the past bringing an anthology of short films together with his release of Memories. Now once again Otomo has brought us a new anthology called Short Peace that focusing on four separate stories called Possessions, Combustible, Gambo, and A Farewell to Weapons. The question is, does this anthology deserve a spot on your shelf?
Story
Short Peace begins with a small intro involving a young girl following a rabbit into a strange looking building and finding various strange and fantastical looking places within. Then the focus shifts to the first story, Shuhei Morita's Possessions. Possessions follows a lone traveler in old Japan as he travels through a forest and must seek shelter from a powerful storm.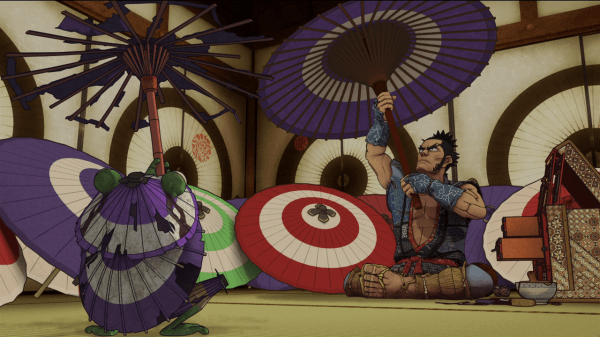 As he takes shelter inside of a dilapidated shack full of discarded items, he falls asleep only to awaken in a strange tatami room where various objects have sprung to life based on the legends of Tsukumogami. This little tale is an interesting one to watch as it follows the man repairing various objects and accepting the use of these items while also demonstrating how people tend to throw away objects important to them, even though all they might need is some minor repair.
The collection then shifts to Katsuhiro Otomo's Combustible which is set in a time where firefighters were not people who tried to put out fires with water in Japan, but people who destroyed buildings in the fire's path in order to prevent it from spreading. This tale follows the sad tale of star-crossed love between childhood friends, one of which grew up to become a beautiful lady and the other leaving his family to follow his dream of becoming a firefighter. While Combustible's story is probably the most emotion driven story of the collection, it also felt like the weakest of the bunch because of the way it is handled.
Moving on from that is Hiroaki Ando's Gambo. Gambo takes place in the past during a time where Japan had acquired arquebus and follows the story of a village that has been tormented by a giant red Oni. This Oni has taken all of the women from the village and with only one little girl left alive, a large white bear appears to fight against the Oni and protect the village. This story is a bit deeper than it seems on the surface and although it never goes farther than that, it is easily the second best story of this release as it focuses on an impressive battle sequence and man and nature working together to defeat a terrifying foe.
Finally the last story is based off an Otomo short story and has been handled by Hajime Katoki and it is titled A Farewell to Weapons. Unlike the other three stories, this one takes place in a post-apocalyptic world where a team of workers has been assigned to recover or demolish any weapons that they find. The team has been sent into the remains of Tokyo but along the way they run into a powerful autonomous tank that proves to be more than they can handle.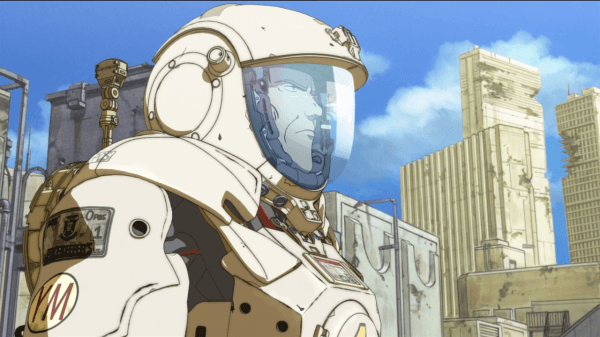 Of the set, A Farewell to Weapons is the best story of the lot, as it does flesh out the characters a little bit and their actions of comradery as they struggle against the tank, even if a few cliché flags are planted early in the short.
Visuals
While all of the animation and artwork for the stories on Short Peace are handled by Sunrise, each story has a unique look to it. Possessions mostly makes use of 3D animation there is a nice level of detail found in the presentation while A Farewell to Arms blends the use of 3D animation and normal animation together in a fluid and gorgeous looking presentation, especially during the action sequence in A Farewell to Arms.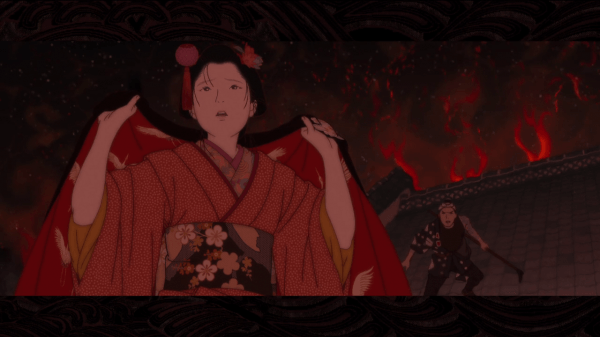 Both Combustible and Gambo are presented using highly stylized artwork that is extremely similar to what one would find in old Japanese ink paintings. Combustible has numerous haunting looking scenes that make use of this style effectively while Gambo is a more subdued looking affair, it also features some bloody violent sequences once the battle between the bear and the Oni begins.
Audio
Sentai Filmworks has given all of the stories in Short Peace an English dub though in many of these shorts, the story is presented not through dialogue but through actions and visuals, with the exception being A Farewell to Weapons. All of the English voice actors fit their roles perfectly with A Farewell to Weapons really standing out in this regard, though if viewers wish to listen to the original Japanese voice work; it is included in the release.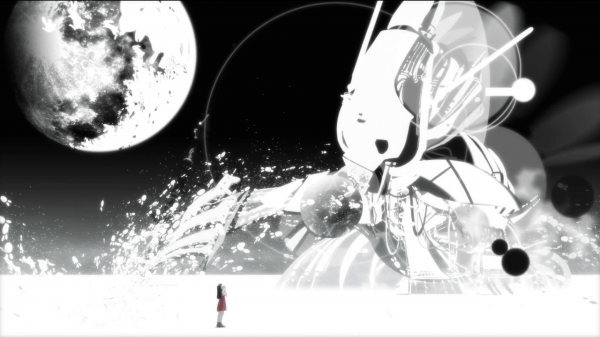 There is some very haunting and memorable background music used throughout these stories, with each of them having a unique theme and memorable theme. Again however I must say that A Farewell to Arms' background music, especially at the beginning, works perfectly with the setting.
Extras
This release comes with a slip case featuring some stylized artwork different from what is actually on the Blu-ray case which is a nice touch and there are four postcard sized art cards, one for each of the shorts, included in the release. As far as special features are concerned, Short Peace only comes with disc credits, a trailer for the release, and trailers for other Sentai Filmworks releases.
Overall
Short Peace is a collection of very memorable and unique stories that work well together, though only A Farewell to Arms and Gambo really stand out in any major way. The other two stories are still rather enjoyable, although one of them is fairly forgettable, and the entire offering features amazing looking animation and visuals that you won't find in anything else.


Capsule Computers review guidelines can be found here.