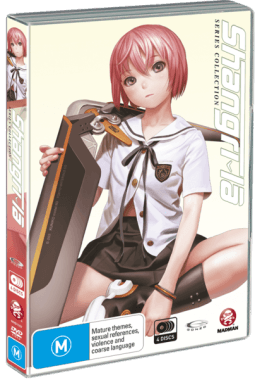 Shangri-La Complete Collection
Studio: Gonzo
Publisher: Madman Entertainment
Format: DVD (Reviewed) 
Release Date: 19th February 2014
Price: $59.95 – Available Here
Overview
"Shangri-La" started out as a light novel back in 2004, written by Eiichi Ikegami and illustrated by Ken'ichi Yoshida. In the January of 2009 the light novel series was adapted into a Manga series by the same name, this time illustrated by Tasuku Karasuma. By April of the same year, "Shangri-La" was then turned into an anime series directed by Makoto Bessho and written by Hiroshi Onogi. Despite its popularity as both a light novel and a manga series, the anime met with mixed reviews and an all around average response.
The story, revolving around a young girl in a science-fiction world, would usually be met with open arms by audiences but it seems as though, this time, that wasn't exactly the case. This all happened over six years ago and now, in 2014, Madman Entertainment has decided to release it down here in Australia hopefully with a better reception than when it first aired. Follow me on this adventure through a mixed up class system, a destructive AI, a young girl who just wants the best for her people and a world that wont give it to her easy. Follow me as we head towards "Shangri-La".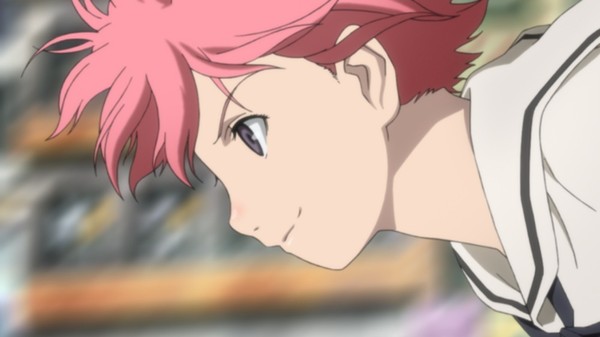 Story
Living in a world ravaged by the effects of global warming, world citizens have been forced into the most severe kinds of class systems; most live in poverty but some of the lucky ones get to live somewhere safe from earthquakes and hail storms, a place called "Atlas" which stands on the destroyed foundation of Japan. Kuniko, a young girl with a huge imagination and a stubborn mentality, lives in the slums of "Duomo" with most of the other unfortunate Japanese people who have been forced into a pauper's life. "Duomo" is a small town surrounded by forest land that continues to grow week after week, eventually it will take over the town and that, mixed with the earthquakes and the hail storms, is just going to make life all the more harder to live.
She and her comrades in the rebellious group called "Metal Age" are in constant conflict, not only with the forces behind the relocation of citizens to "Atlas" but also the Japanese military. They're done with living life in fear and have begun suspecting that the people behind the "Atlas" project aren't exactly doing their best to help the lower classes reach some sort of economical stability. Kuniko and friends fight for their people with the hopes that, one day, they can all lead a great and comfortable life in "Atlas", their very own "Shangri-La".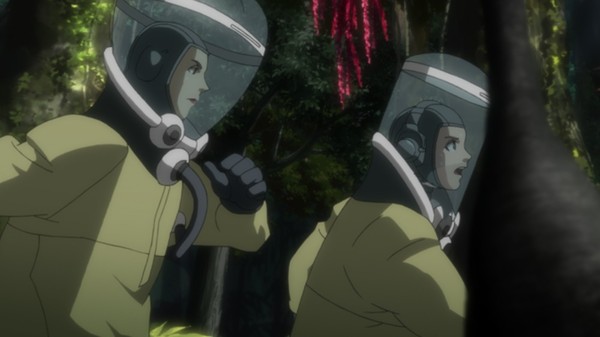 The problem with this series is not that the story is bad because it has all the fundamental qualities of a fantastic sci-fi adventure series, its problem is that it tries far too hard to be an intelligent anime but falls flat because of its simple lack of discipline. Despite following Kuniko's uprising, the series also follows a great deal of other characters and small storylines that interconnect, fact is, most of those stories are full of holes and seem incomplete which makes one think; how is this story supposed to make sense in conjunction with other stories when it barely makes sense within itself?
"Shangri-La" tried its best to do many things but failed at pretty much every single one of those things which is actually extremely unfortunate because it had promise, it could have been something great if the writers just took a small step back and didn't try so hard to be "the next best thing". The series dealt with real-life issues like global warming and carbon tax but mixed it with supernatural themes which made absolutely no sense. Had this been an anthology-type series where each of these events took place within the same world but focused around different characters and issues, that would have been fantastic! Instead they chose to cram everything they could into a 24 episode series which didn't end up making that much sense considering barely anything was explained or fleshed out. It was a case of simply not finishing what they started.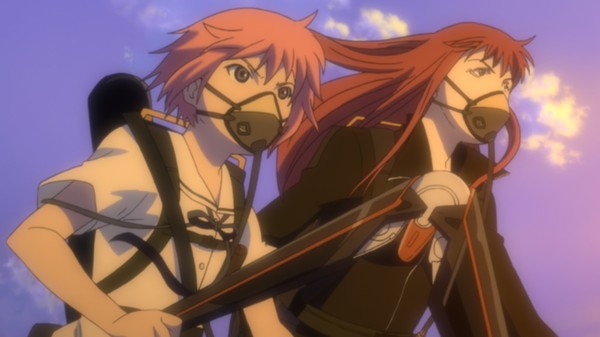 Unfortunately for the series, the characters didn't exactly help the story, they actually made it worse. The addition of a sexually-charged transsexual character in "Shangri-La" was clearly not a decision that had much though behind it. I'm not saying the character was bad simply because she is transsexual but when a character like that is written this terribly it not only brings down an anime but also the community that the particular character belongs to, that's due to an over-used anime trope that – at this point in time – should be long dead.
This character, alongside pretty much all the other characters, was written in a devastatingly poor manner; constant sexual innuendo even in times of great distress (most notably in the very final episode where everything is "coming to fruition") is NOT good character writing. Constant use of outdated clichés is down right offensive and I think that maybe this lead to the mediocre response that this anime got when it was first released. Unfortunately it was not only Momoko (the transvestite character) that was written terribly…it was basically every character but it just so happened to be Momoko that got the brunt of the bad writing.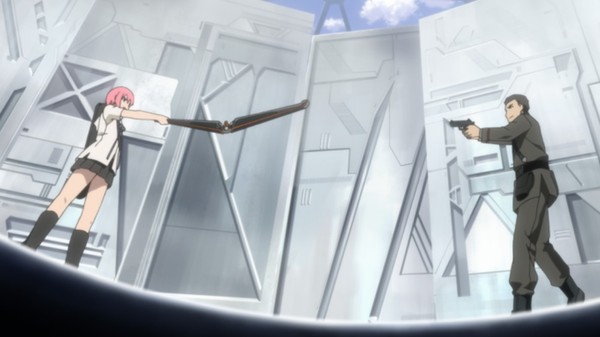 Visuals
Visually I'd say that "Shangri-La" was pretty good at best. It had some fantastic scenes where shots of the forest or of the city could be seen in full and they were beautiful but they were few and far between. The first episode had some brilliant animation especially when it come to the climactic action scene but its dip in the animation quality that was present in episodes after the first let me to believe they blew a lot of their budget almost instantly. While that may not be entirely true there was obviously a small drop in quality that was fairly noticeable…well, at least, it was noticeable enough for me to bring it up so I assume it will be the same for everyone else watching.
Characters weren't designed too bad but you could definitely see who the important characters were seeing as the main character had bright pink hair while most of the normal citizens were…normal. That may be good for some anime watchers but for me I think it shows a lack of care, the series tries to be somewhat real but makes characters look outlandish and it just doesn't quite match. The animation quality did occasionally get good during the action and climactic scenes but unfortunately they didn't come around that often so you were waiting a while to see something great.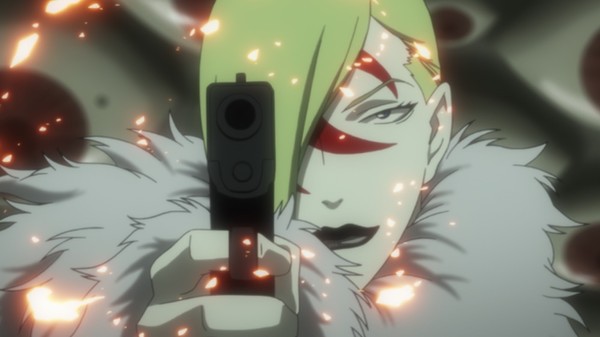 Audio
I will give "Shangri-La" a great deal of credit for having a fairly good soundtrack but takes points away for having an average English voice cast. The score for the series is mostly orchestral and it doesn't often stray from that genre though in some cases the series does surprise by throwing a gritty RnB or rock style song at the audience that works well to disarm and surprise. The orchestral score suits the series well, usually I'm not too big of a fan of this kind of music style but when it fits this well I just have no choice but to give in and appreciate the music choice. It worked perfectly well with most of the scenes and did what it was supposed to do which is to add a heightened sense of feeling to audience members and I can't give it any crap because it did exactly that, the voice acting on the other hand…it was not great.
Fact is, much like everything else in this anime, it was incredibly average; some characters were voice acted well at times but bad at other times and other characters were just down right terrible, there was no consistent quality of voice acting and it could have been the element that would have saved this series. Not all the blame can be placed on the voice actors though because, as I mentioned, at times they were brilliant – I think maybe it was just the lack of good writing that brought them down. It was a real shame to see because there were some scenes where characters actually spoke in quite a real manner, they swore, they used modern terms and they seemed to be having fluid conversations but these scenes were scarce and quite rare to come across which left me yearning for them as the series came to a close.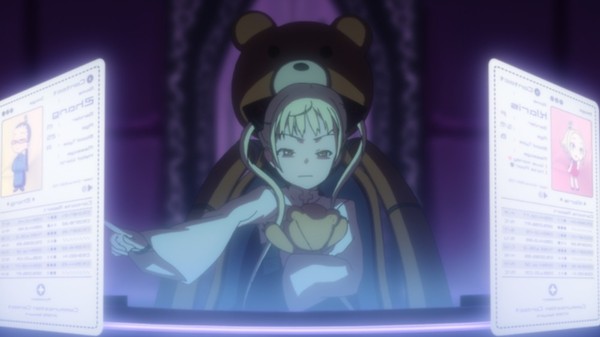 Extras

"Shangri-La The Complete Collection" didn't have a great deal of extras and really only offered us the bare bones, much like most standard anime releases. The nice thing about the extras is that it came with episode commentary, something that is common yet at the same time somewhat uncommon. It's nice just listening to a podcast-style conversation between some of the cast and crew and it does kind of make you appreciate the series a little more. There's also a nice little piece of artwork on the flip-side of the front cover of the disc case which, while having no practical use, is brilliantly illustrated. Once again I'm not exactly going to take points away for not having any great extras because this seems to be the norm for anime.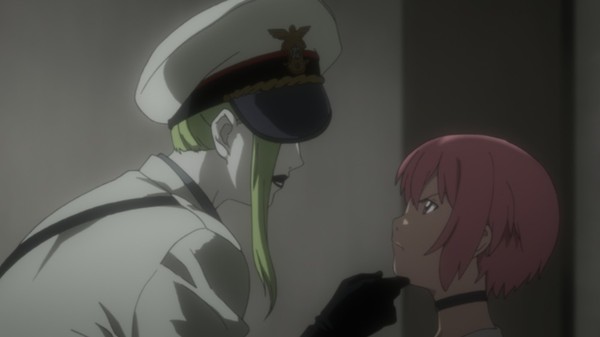 Overall
At the end of the day, "Shangri-La" is a powerfully average series. Nothing about it is overly good yet it has elements that make you think it really isn't that bad. I think if this story idea was put into the hands of a more "capable" team of developers it would have come out so much better than it did. The addition of unnecessarily unrealistic characters and silly plot points that get lost along the way are just two examples of series aspects that "Shangri-La" could have gone without. It still gets points for trying its hand at making an incredible story but it looses a lot of them by not having enough follow through to actually make sense with it.
I'd say that fans of both the light novel and the manga would also be fans of the anime, I'm not sure how much the story differs from its previous iterations but one would assume it wouldn't stray far enough away from the original story to have fans not follow it over onto the next medium. It's just a series that lost its way somewhere in the middle but these are my opinions so maybe it is worth a look for all of you out there who have read this and are still somewhat interested. I'll leave you all with this: A little attention to detail goes a long way.

Capsule Computers review guidelines can be found here.