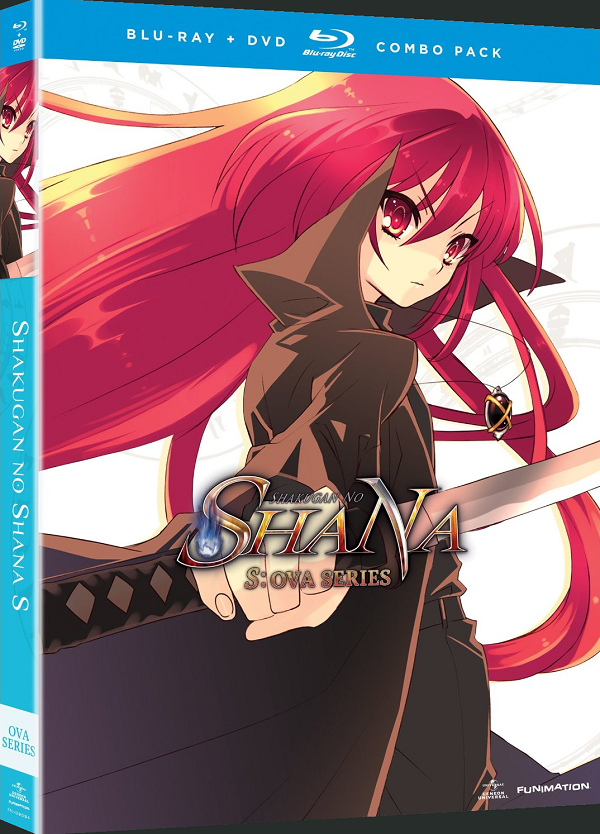 Shakugan no Shana S
Studio: J.C. Staff
Publisher: FUNimation
Format: Blu-ray/DVD Combo Pack
Release Date: January 22, 2013
Price: $34.98 – Available Here
Overview:
Whenever there is a large enough gap in-between releases of any media, it is should be expected that publishers may be concerned that fans may start to wander away from the series. This is especially true when it comes to the anime world where many alternative programs air as competition every four months. As such, a three year gap between anime seasons could be devastating. To avoid this issue, J.C. Staff chose to create another release of Shakugan no Shana, called Shakugan no Shana S between seasons 2 and 3. Now that FUNimation has brought this OVA collection overseas, is it worth your time? Let's find out.
Story:
As I mentioned earlier, the Shakugan no Shana S series is an OVA series. What this means is that the four episodes found on this release are actually short side-stories based off the Shana universe. As such, of these four OVAs only the two "Overture" episodes follow an actual plot while the other two simply follow the life of Yuji and Shana when Denizens or Crimson Lords aren't breathing down their necks.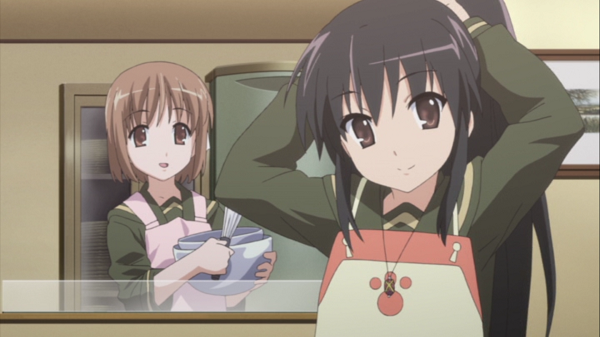 The first of these OVAs finds Shana and Yuji sifting through the massive collection of treasure tools that Friagne happened to gather in his life time. While sorting through these treasures, a special tool called Reshuffle activates and Shana and Yuji's bodies are swapped. After learning about their situation, the two must try and fix the situation, however doing so may be harder than they think. This OVA follows plenty of gender/body-swapping clichés where these two must try to act like one another and also deal with being in the opposite sex's body. This results in plenty of comedic and awkward moments and some mild development for Shana.
As for the second OVA, we find Wilhelmina concerned over Shana's strange secrecy lately and after coming to her wits end, she enlists the help of the person she dislikes most, Yuji, to try and figure out what Shana may be up to. This time around we see Wilhelmina taking the spotlight alongside Yuji and it is certainly interesting seeing these two have to interact closely for once.
Finally the last two OVAs tell one complete story where viewers see Shana hunting down a Denizen in the recent past. This is before Shana ever met Yuji and therefore still features a cold personality. To get into the case, Shana rather horribly steals the life of a young girl who had become a Torch because of the Denizen and begins to track through her memories and close relations to find the culprit.
The story told within these two OVAs is hauntingly similar to what may have happened in the case of Yuji if only a few factors had been different. As we see Shana assume the role of this young girl who once had her whole life ahead of her, it is hard not to feel saddened by the loss of life and happiness of those around her. For in the end, viewers know the ultimate fate of a Torch and those around them, but even with this knowledge it is hard not to be emotional once everything is said and done.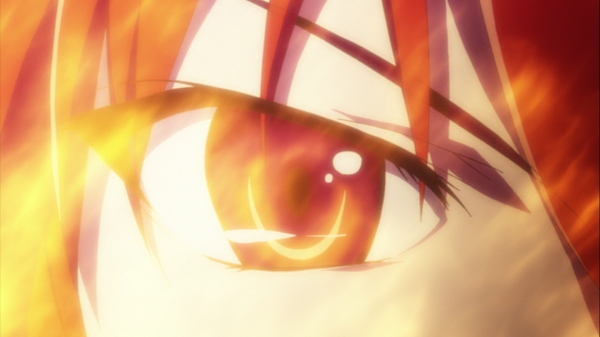 Ultimately, Shakugan no Shana S feels like a miniature slice of what makes the Shana series enjoyable as a whole. Half of the offering focuses on slice-of-life events mixed with romantic comedy and the other half deals with mystery, a bit of action and plenty of drama. While there pretty much is no combat found within this release, this slice of Shana is certainly worth checking out as not only do fans receive more of the Shana and Yuji action they have come to expect, there is also an enjoyable story concerning Shana's past. Thanks to this however, except for Wilhelmina all of the side-characters are pushed to the side for only bit-parts and at this point, only extremely well-versed viewers will understand the events in this release. Also it is worth noting that while the exact placing of each OVA in the story can be difficult to place, viewers are left with a clear transition and hint into the third and final season of Shakugan no Shana.
Visuals:
Considering the fact that Shakugan no Shana S was originally released in Japan as an OVA series, each episode was released roughly four months after the previous one. As such J.C. Staff had plenty of time to make sure that these episodes came out with the best quality possible. The amount of attention paid throughout these OVAs is clear as not only are the visuals crisper, especially noticeable on Blu-ray, but they also feel more modernized and colorful.
While the first two anime seasons felt a bit rough around the edges whenever anything slice-of-life was focused on, the basic quality presented in Shakugan no Shana S remains quite high and improves greatly for dramatic sequences. While minimalistic in action, the overall attention to detail throughout these four OVAs is higher as the animation team appears to have avoided cutting corners in facial animations and other character details due to time constraints.
Audio:
With the release of Shakugan no Shana S, as always, viewers can expect to find both the original Japanese voice track as well as the newly recorded English voice cast by FUNimation. Over the course of reviewing the past movie and complete second season of Shana, Josh Grelle's voice work as Yuuji either has grown on my or he has found the proper way to get into the character as he seemed to fit well as Yuuji's voice.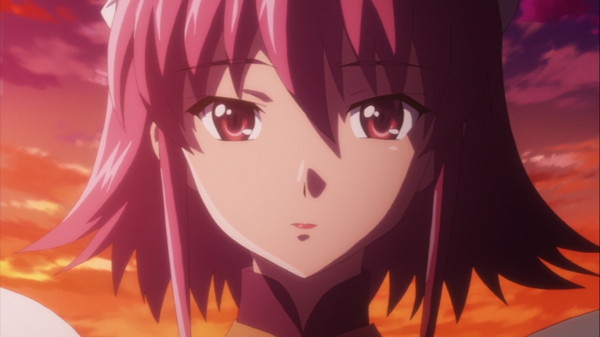 As for the rest of the cast, it was enjoyable hearing Carli Mosier's Wilhelmina take a leading role this time around and of course, Cherami Leigh continues to impress as Shana's voice actress. Also, special mention should go out to Josh and Cherami for their work with the character voices during the body-swapping incident.
The background music found throughout Shakugan no Shana S is more of the standard fair that viewers have heard throughout the series at this point and is suiting at best. Though the inserted song "Portamento" by Kawada played during a dramatic moment in the Overture arc hits hard. As far as the opening and ending go, both songs are once again performed by Kawada as the opening is titled "Prophecy" while the ending is titled "All in Good Time." Compared to past themes, the opening theme feels a bit out of place but suitable enough for dramatic reasons while the ending theme fits well.
Extras:
As far as bonus features go, FUNimation has provided a small set of extras for Shakugan no Shana S. There is you're standard textless opening and closing songs as well as trailers for other FUNimation releases but there are also four Shakugan no Shana-Tan specials, totaling roughly twenty five minutes long, found within this release.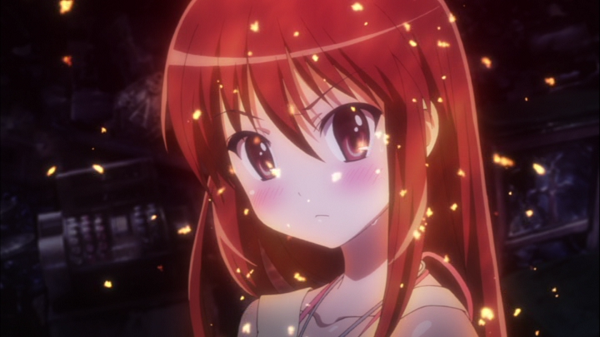 If you've seen the Shakugan no Shana series before then you may already know what to expect, but for everyone else these Shana-Tan specials feature a chibi-miniature version of Shana going through certain parts of the story with more attitude than before and the rest of the main characters also are placed in strange situations. It is worth noting that these Shana-Tan specials only feature the Japanese dub and of the four, only one serves to provide a little bit of backstory, however it is mostly for comedic purpose as it focuses on Tanaka and Satou while the rest of the cast boos. With this collection of Shana-Tan bonuses nearly running the length of an entire episode, there are plenty of laughs to be had as these bonuses are downright hilarious at times.
Overall:
Shakugan no Shana S feels like a proper title for this collection of OVAs, as the release feels like it could simply be called Shakugan no Shana Slice or Shakugan no Shana Sample. Viewers are treated to what could have been four standard episodes mixed into the standard Shana seasons, as we receive equal amount drama and mystery as well as romantic comedy and slice-of-life events. With the English voice cast hitting their stride with the Shana series, Shakugan no Shana S is a bundle of everything that makes Shana great. With the English voice cast hitting their stride and the finale on the way, the Shakugan no Shana S: OVA release couldn't have done a better job reminding fans why they enjoy the series.

Capsule Computers review guidelines can be found here.