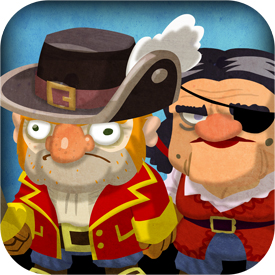 Scurvy Scallywags
Developer: Beep Games
Publisher: Beep Games
Platforms: iPhone, iPad (Reviewed)
Release Date: Out Now
Price: $1.99 – Available Here
Overview
From the Legendary creators of Monkey Island and Voodoo Vince, comes Scurvy Scallywags and the Quest for the Ultimate Sea Shanty. Scurvy Scallywags is a match-three game in the vein of Bejewlled or Candy Crush. However it stands out from its brethren due to its rich and engaging RPG elements. The unique RPG spin on one of the world's most played game genres, combined with visuals and sound that set the tone and theme perfectly, it is definitely a game worth checking out.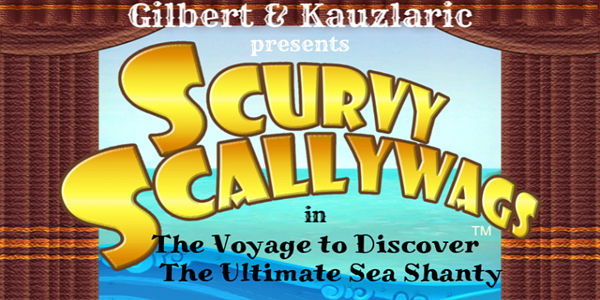 Story
It is unexpected to talk about the plot of an iOS puzzle game, but Scurvy Scallywags' plot is the foundation behind which this great game stands. You take the roll of a pirate who is in search for the Ultimate Sea Shanty, which has been torn up and spread all over the seas. Whoever finds all the pieces of the shanty will be bestowed unimaginable powers. The story doesn't stop there however, as this story is actually a Broadway-style musical, complete with a panicky director who gives you instructions backstage between levels.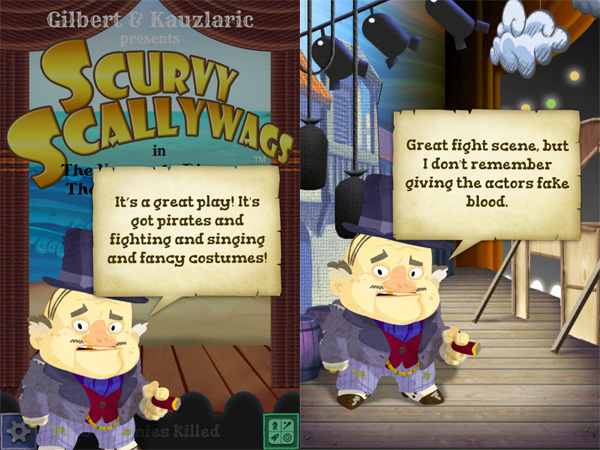 Gameplay
From screenshots alone you would be forgiven for thinking that Scallywags is your ordinary match-three puzzler. It isn't until you actually play that you begin to see and understand the depth that really lies underneath its casual exterior. You design your pirate, who is placed randomly on the board at the start of each stage, and by matching 3, you cause the board to shift and fill in the blanks, subsequently moving your pirate around. As you play, enemies will enter the stage and it is your job to maneuver your pirate adjacent to them so that they can do combat.
Combat is fairly simple, where you just swipe to swap your pirate with the enemy. The character with the most battle power wins the fight, and if it is you then you claim your reward. Battle power is increased by matching pairs of three swords, with every trinity adding one point to your pirate's battle power. What starts out as a simple game of match-three soon turns into a strategic process, where you have to move and swap tiles in certain places and orders so as to move your pirate around the board in order to best combat the situation at hand.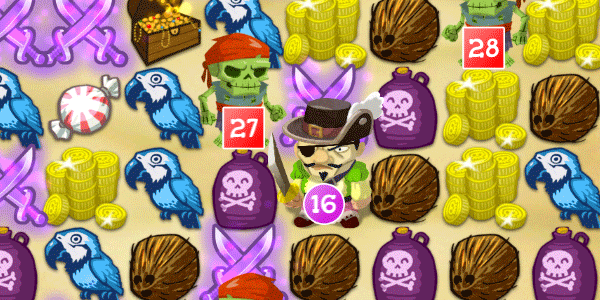 In addition to combat, you can also gather gold, ship parts and costumes for your pirate to wear. Gold is used to purchase upgrades and special abilities from the in-game store between levels, while building new ships and wearing new clothes will bestow benefits to your pirate such as increased power, higher critical hit chance etc. As you defeat enemies, you will also gain EXP which enables you to add additional bonus points to your character.
Putting it simply, the gameplay is fun. It starts off simple and casual, allowing anyone to pick up and play this title with little to no trouble while at the same time giving players who are yearning for more depth in their iOS games something they can also enjoy.
The only hiccup I have with the game is that its multitasking isn't well integrated. If you leave the app for any reason, returning to it forces you to load up the entire game again, even going through the trouble of confirming that you don't want to change your pirate's appearance. Once you get past this though, the game continues where you left off saving your place after every move. The problem isn't big in the grand scheme of things, but if you are playing on a phone and have people SMS or send you a Facebook notification, it can become very tedious, very quickly.
Visuals
Everything in Scallywags is bright, distinct and just makes you think "pirates". From the way the gold is drawn, through to the different costumes you can unlock for your pirate; everything just feels like it belongs on the pages of Treasure Island, or on-screen in Pirates of the Caribbean.
Monkey Island's art style shows through a tiny bit here, with a distinctly cartoony-style throughout the whole game. However, Scallywags manages to take this artistic inspiration and still end up with something all of itself. The characters are all short and stubby, with over sized heads and exaggerated expressions, while the gold and other items on the game board are all well drawn and coloured differently so that even at a glance the player will know what move to make next.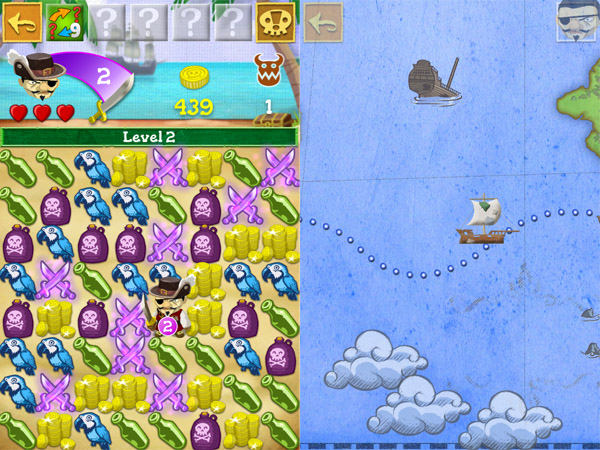 Audio
The audio in Scurvy Scallywags is fantastic. There is really no other word for it. There isn't any big orchestral compositions or hard rock music. Instead, what makes the sound truly stand out is how perfectly it captures the feel and energy of the game. The music all sounds "piratey." and by that i mean, it sounds like it would be fitting in the background of any pirate themed movie or TV show.
In addition, the game has you collecting pieces of the Ultimate Sea Shanty, and each verse you collect is played to you to enjoy and (hopefully) sing along to. Once you have unlocked a piece of the Shanty you can go back and listen to it as many times as you want, and the game places them in order so you can sing the Ultimate Sea Shanty to yourself.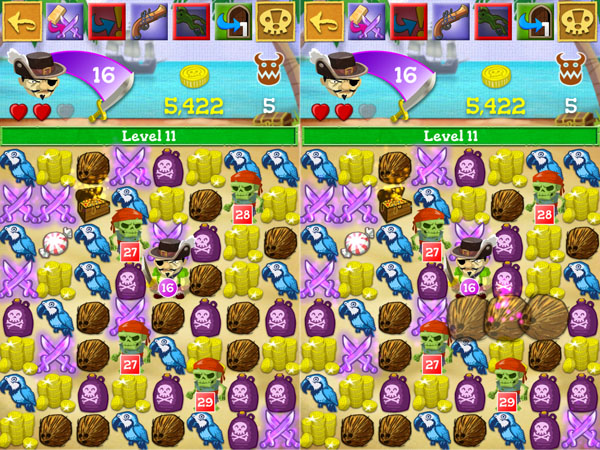 Overall
Scurvy Scallywags is a game that far surpasses the others in its genre. What appears on the surface as a simple match-three puzzler is really just the buried chest of this game. Inside the chest is the real treasure – a deep, yet accessible RPG that will have players hooked in minutes.
Aside from the multitasking issue, Scurvy Scallywags is without fault. It combines its beautiful visuals and sound with its engaging and downright fun gameplay to make for an experience that should not be missed. Definitely download this one, and if you are tired of your friends and family sending you requests from Candy Crush, then turn them onto it as well; soon everyone you know will be singing along to the ultimate sea shanty.
Capsule Computers review guidelines can be found here.