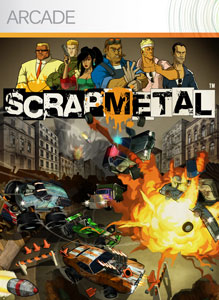 Scrap Metal
Publisher: Slick Entertainment
Developer: Slick Entertainment
Platforms: Xbox 360 
Release Date: March 10th, 2010
Story
"Drift around corners with guns blazing and take out legendary competitors in the fast-paced, top-down racing game Scrap Metal™. Fight your way through explosive, action-packed missions and defeat cunning bosses to add their vehicles to your garage. Customize your newly-acquired cars and then return to the track to blast through more enemies. Jump online with Xbox LIVE ® to race against your friends and crush their cars with the wheels of your monster truck in pulse-pounding online multiplayer matches." [Via Xbox.com]
Drive around destroying your opponents in order to beat the levels and finish off the bosses. Every car you wreck while racing goes to your junkyard and enables you to drive that car. Defeat the bosses in order to gain that land and own it all!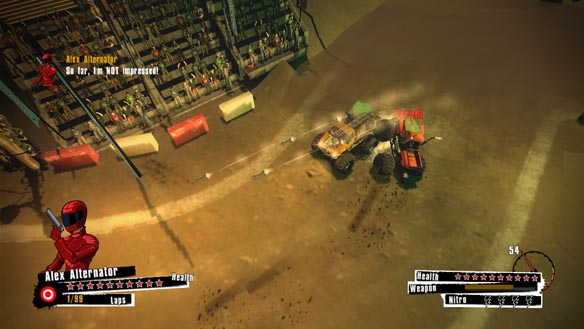 Gameplay
Scrap Metal is a Top Down racer with weapons thrown in. Race and shoot your way through the levels and beat them all! Multiple Car Types, such as muscle cars, bulldozers, sports cars, and even tanks; customization them with with paint jobs and accessories; and finally Race them to victory.
When you wreck a car in a race you get that car in your junkyard for you to choose from. You also get upgrade points by placing in 3rd (10 points), 2nd (20 points), or 1st (30 points). Use these points to make your cars even better, and make winning those races easier.
There are two sets of controls, the easy set up where the direction you point the joystick is where you go, and then the advanced controls where you drive your car like a remote control car. Since I drive a lot of remote control cars in real life I prefer the advanced controls, the advance controls also enable you to reverse and use an emergency break for extra precision. The controls are still extremely hard to get used to, and with other cars trying to shoot you the game becomes extremely hectic and anything can happen.
In the video below I demonstrate some aspects of the game. Some key points are:
The first part shows the junkyard as well as the customization of your vehicle, as well as upgrading of one.
The first race is an elimination race, weapons are disabled and after every lap the person in last place is destroyed. Other races have weapons enables, and it leads to a whole new level of difficulty.
As you can see, car debris stay on the road and it become hazardous to drive. Every scattered part is a hazard that could make you lose.
One of the biggest annoyances is getting knocked off of the path right as you are about to pass a checkpoint, causing you to miss the checkpoint and have to go backwards to go through it.
The Second Race is a demolition derby, where you try to destroy as many cars as possible within the time limit.
Different Cars have different weapons. I was using Machine Guns x2, but there was also a computer using a flamethrower, and another using a saw blade.
You can also pick up power ups by shooting them, this will help a lot. All the power ups I got in the second video I simply shot at.
Audio
Engines revving, guns blazing, blades spinning; Scrap Metal focuses more heavily on the sound effects over the soundtrack. The menu's have a nice theme, but while playing you will be focused on what is going around you, which is gun fire, vehicle driving, and vehicles ramming each other.
Achievements
A majority of the achievement list is based on completing the story. The online ones can be achieved with friends, so those are decently easy too. The hardest achievement is getting a gold star on every level, which is pretty much obtained by getting in first place in every race or derby. Even this one is easy if you take the time to get upgrade points and upgrade your vehicles as much as you can. Overall the achievements in Scrap Metal are easy to obtain.
Scrap Metal also contains 2 avatar awards.
An Awesome Scrap Metal Shirt – Complete the first chapter
A Scrap Metal RC Car! – Complete all missions in the single player game to win this costume. (It says costume, this could be a typo)
The Achievement List is:
Kicking the Tires – Complete the Single Player tutorial mission.
Mr. Awesome – Defeat the Awesomeland End Boss.
Sal – Defeat the Gastown End Boss.
Semi Slapshot – Defeat the Coal Harbour End Boss.
Alex Alternator – Defeat the Motordome End Boss.
Petrove Piston – Defeat the East District End Boss.
Cletus Clutch – Defeat the Wetlands End Boss.
Rick Bricktop – Defeat the Downtown End Boss.
Bling Bling – Achieve all gold medals for all Single Player missions.
King of the Hill – Win first place in an Xbox LIVE King of the Hill match.
Dominator – Win first place in an Xbox LIVE Race match.
Scrap Yard – Take out 20 or more opponents in an Xbox LIVE Derby.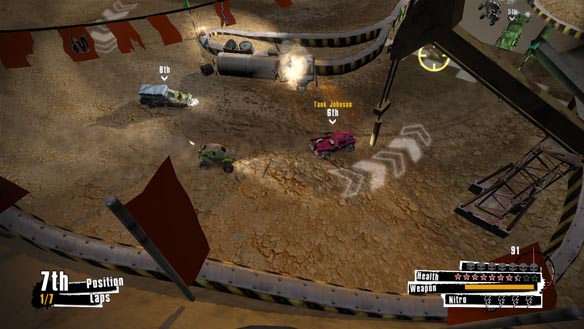 Overview
Top down racer fans rejoice! Scrap Metal is a fun top down racer with loads of customization possibilities. The game does have a tendency to get repetitive due to a lack of different game types, but on the other hand there are loads of different cars, upgrades, power ups, and customization options that will lead to endless hours of racing and destruction for those who purchase Scrap Metal (1200MSP / 15$ USD). Scrap Metal is a fun, bullet flying, car destroying experience and I give Scrap Metal 8 Capsules out of 10.
Pros
Customize your cars, and get new cars by destroying your enemies.
Many Tracks, Cars, and power ups for hours of fun.
The classic feel of a top down racer with the added benefits of guns.
Leaderboards enable you to compete for best scores with the world.
Cons
Like all arcade games, the online community will probably not last very long.
The game has a tendency to get repetitive, since every level requires you to kill someone, run away from someone, or be faster than someone.
Driving can be a nuisance sometimes because you can't get a clear view of what is around you at all times.
WANT A COPY OF SCRAP METAL?
This week's most active community member will win Scrap Metal on the Xbox Live Arcade. Every Friday we give away a Xbox Live Arcade game or Steam code to the the most active member. For more information click here.