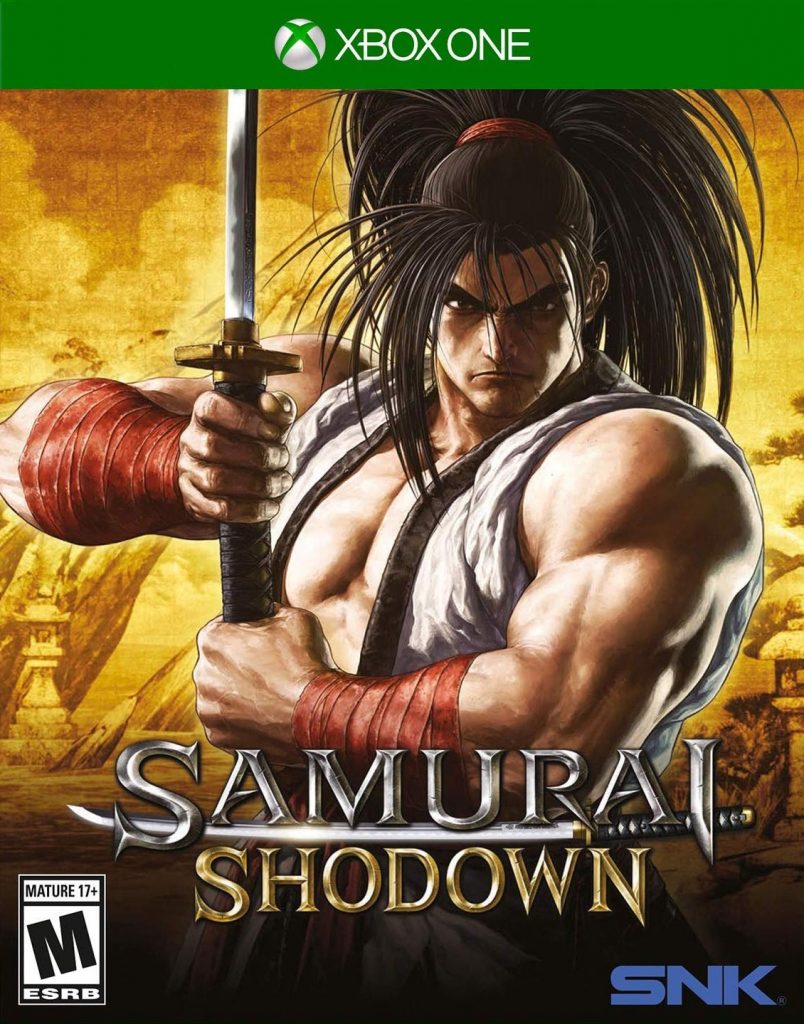 Developer: SNK
Publisher: Athlon Games
Platforms: PlayStation 4, Xbox One (Reviewed), Nintendo Switch, PC
Release Date: Available Now
Price: $59.99 USD – Available Here $89.95 AUD – Available Here
Overview
Once seen as a fairly popular fighting series, Samurai Shodown struggled with its last few releases to the point that SNK had left the series sit for some time. Now after letting it rest for over a decade many were surprised to see that the series would be returning with a revival that is aimed at both reintroducing the game to newcomers and bringing in longtime fans with weapon based technical combat that is unlike many other fighters out there. The question is, has this time at rest let Samurai Shodown come back with a fine finish or has it only gathered rust?
Story
Being a series that originally debuted back in the early '90s it may initially seem like Samurai Shodown would be a hard game for newcomers to try and enter but as mentioned before, rather than being a sequel this entry instead can serve as a new starting point for the series as it is technically set between a prequel, Samurai Shodown V, and the original release of Samurai Shodown in 1993.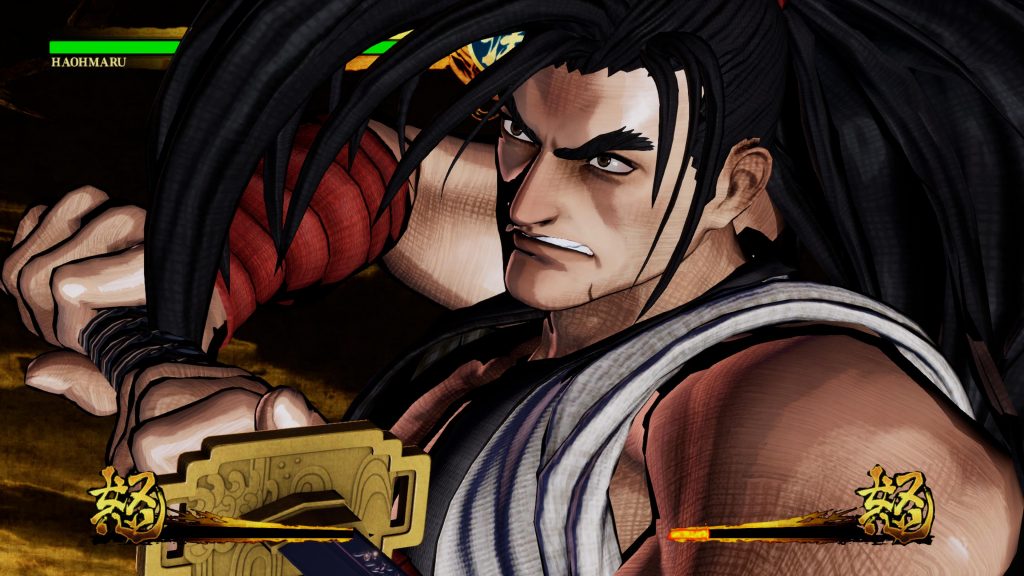 While this release does feature a story mode it is instead similar to the standard arcade experience. Players will have the option of playing as any of the members of the roster who initially have their own set of goals that they journey after, leaving a pile of bodies in their wake. Rather than trying to tie these stories together each character will end up facing off against a final boss that is the same as others, though some of the in-between fights do give the characters a chance to interact with one another, ever so slightly.
This classic arcade style sequence does offer a decent enough narrative for most of the cast, especially since the new face of Darli Dagger and other characters get the same treatment as longtime cast members, but with only sixteen characters at launch it does leave some fan favorites such as Cham Cham and Mina left out of the roster entirely. As such, while it may be serviceable, the relatively archaic approach to a story a bit lacking.
Gameplay
In many ways Samurai Shodown plays in a way that newcomers will find rather easy to at least grasp the basics of but also incredibly complex due to the fact that matches tend to play out incredibly different from other games in the genre. Fighting is fairly simple as players have access to light, medium, and heavy slash attacks that use the fighter's weapon as well as a kick attack. To go along with this players will build up a Rage gauge when they receive damage and this gauge can be used to either trigger a Rage Explosion that will significantly increase the damage your character does or perform a powerful Weapon Flipping technique that not only does a massive amount of damage to your opponent but also disarms them.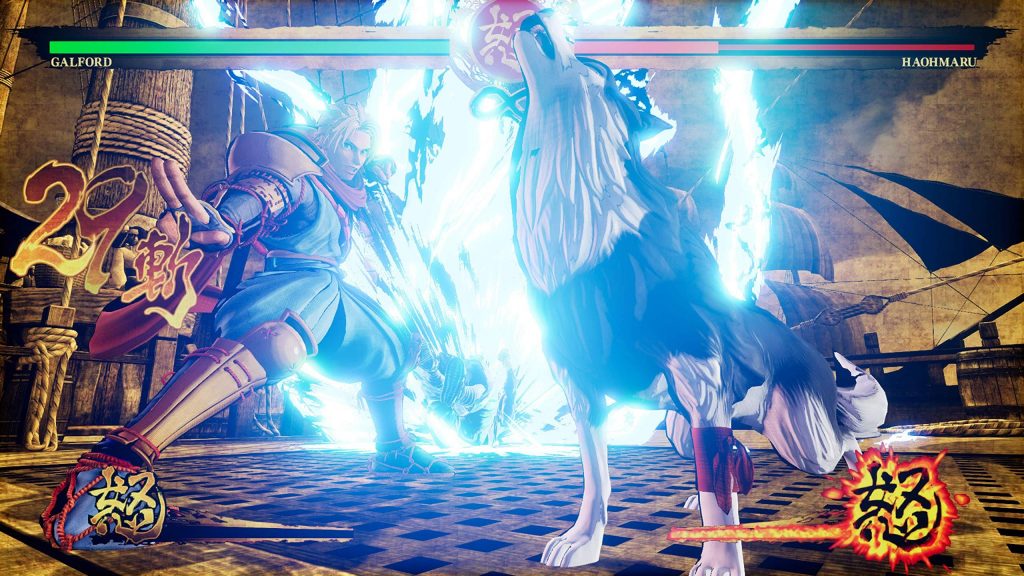 It is worth noting that the Rage gauge also allows players access to a Lightning Blade attack that can only be used once per match during a Rage Explosion. The interesting thing about Lightning Blade is that it can deal a staggeringly large amount of damage to your opponent to the point that it can shave off up to eighty percent of their health off with a single strike but should a Lightning Blade miss not only is it not usable for the rest of the fight but your Rage Gauge will also remain gone throughout the fight.
With such a powerful move at the player's disposal it quickly will become evident to those unfamiliar with the franchise that Samurai Shodown is a far more strategic fighter than a brawler. In many cases there have been rounds decided with only three strikes being exchanged between the combatants since some attacks deal such high levels of damage. While special moves are available to every fighter and technically fairly easy to pull off for many of them, battles are more about properly positioning yourself, timing an attack, and retaliating at the proper moment. Punishing a missed strike can increase the damage of a blow by a significant (and shown) percentage and while it is possible to perform precise blocks to nullify damage, player's can even attempt to parry a blow and send their opponent's weapon flying to the ground, leaving them open to be punished. Of course, should they manage to perform a blade catch, then both fighters will be left with only their fists and kicks until their weapon is retrieved. That being said, playing defense can also turn against you as non-damaging throws have been implemented that break a fighter's stance and leave them open to a punishing blow if caught.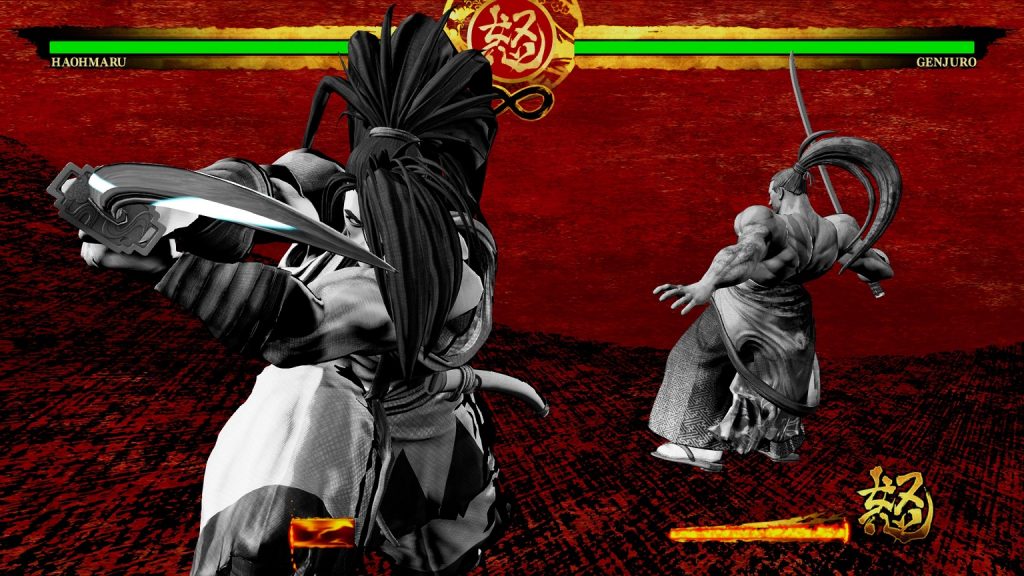 This more nuanced style to fighting can be a bit difficult to get the hang of at first, especially since there is an unfortunate lack of a proper character tutorial or training system outside of the basic tutorial and training area against an AI, but once you manage to learn the style of Samurai Shodown's fights your battles against the AI and other players will feel all the more rewarding. Baiting a potentially large strike only to either parry or block the blow and deal devastating damage back becomes a real test of patience and technique. In a way this makes the game quite accessible since many of the best moves in the game don't require complicated button inputs just knowledge of when to push an advantage or hold back for an opportunity.
With sixteen initial characters on the roster Samurai Shodown may not be as packed as many would expect for such a long running series but each character has a unique feeling to them. With no potential duplicates the roster makes great use of a wide variety of weapon styles and makes every character feel unique in some form. In fact, some fighters can still deal a decent amount of damage even if they are unarmed as Darli Dagger can unleash a powerful armored strike if she resorts to her fists. The high risk and high reward feeling of combat along with the wide variety on display with the roster makes for some great fights, if only there were some more complicated modes to actually fight.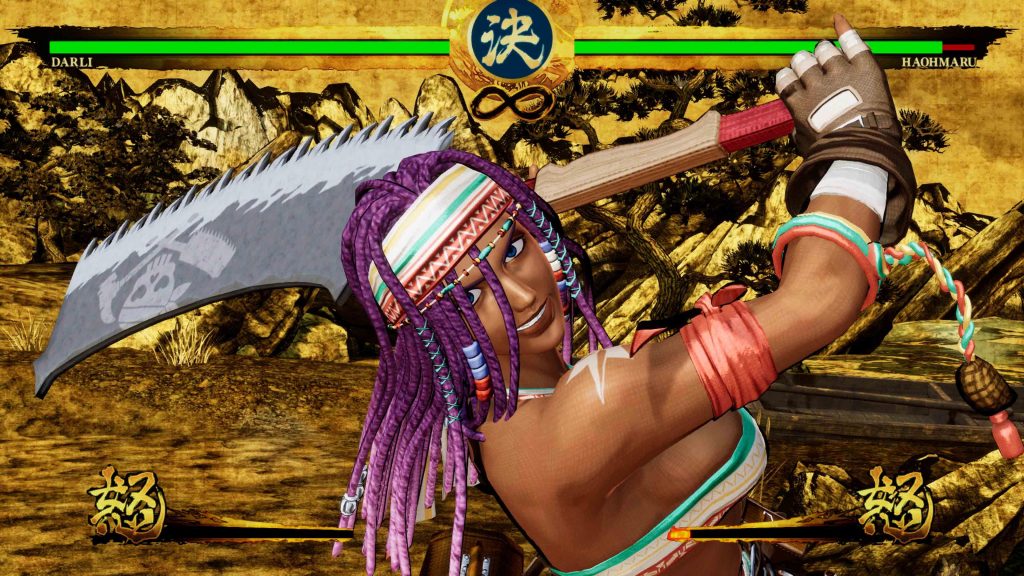 Single player content is kept pretty basic as players are treated to the aforementioned arcade Story Mode that features probably one of the cheapest final bosses the genre has seen in years, a survival mode that tests your skill against fighters while managing your health, time attack mode, and a gauntlet mode that puts the player up against the whole roster in a row. There is also a Dojo mode that will allow players to take ghost data accrued from their own playstyle or take on ghost data from other fighters online to test their skills against. While unique sounding in theory, the learning mechanics of these ghosts seem incredibly poor as nearly every battle against them sees them randomly jumping, backing into corners, or using special moves with no chance of hitting leaving most battles incredibly one sided.
Should players want to test their mettle against others there is the option to fight locally with a friend or of course take your skills online. There are casual and ranked matches that players can take part in and for the most part the net code in Samurai Shodown holds up incredibly well, which is essential given how precise players want to be when trying to win in this technical fighter.
Visuals & Audio
Initially there was some worry about how Samurai Shodown looked upon release but now that it has come out fans of the series have nothing to worry about as this oil painting style presentation is absolutely gorgeous to see in motion. The character animations feel fluid making fights flow together well and the models for these characters are nicely detailed with a handful of color options for each fighter and flashy finishing moves for each of them should they be pulled off. The stages players battle on are also varied enough to feel impressive with even the training dojo featuring a background character that tracks hits. Interestingly enough the game also allows players to have a dynamic damage option that will show a character's model getting bloody throughout the fight but this level of detail doesn't go too deep outside of some special finishes here and there and the random dismemberment that always appears the same way.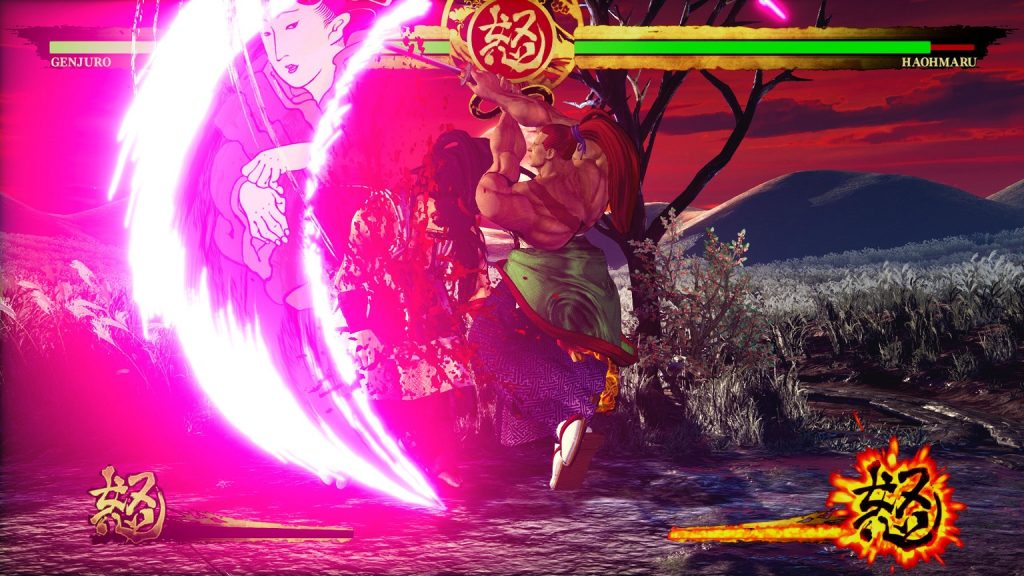 The soundtrack for the game features a wide array of music that is a mix of both brand new bits of music that fits the theme and time period of the game to tracks that have been remixed from earlier releases in the series. It is worth noting that while the game offers numerous subtitle options for languages, the only voice work is in Japanese though this is handled more than well enough that players will be pleased.
Overall
After taking some time to retreat from the public eye Samurai Shodown proves that SNK still has what it takes to make a great fighting game. This is especially true in the case of this game as it delivers something different from the norm as players are expected to play at a slower more technical pace while also using the brand new mechanics to their advantage. This leads to the game being a successful revival that both brings the game to the newest consoles as well as introduces it to a whole new set of fans while keeping longtime fans pleased with its consistent style of combat.
Capsule Computers review guidelines can be found here.