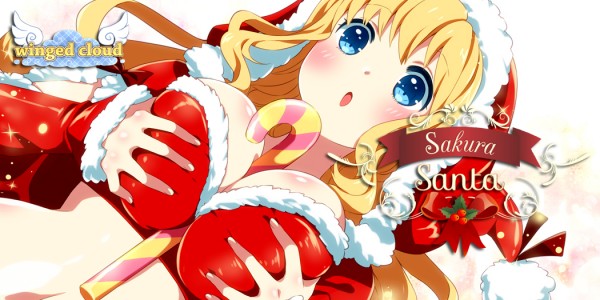 Sakura Santa
Developer: Winged Cloud
Publisher: MangaGamer
Platform: PC
Price: $9.95 – Available Here
Overview
Since making their debut back in mid-2014, Winged Cloud has made a name for themselves by releasing visual novels with some outstanding character designs but these graphics usually come at the cost of a poorly planned storyline. This winter Winged Cloud partnered with MangaGamer to release a holiday themed game Sakura Santa. The question here is whether or not Sakura Santa will offer more than just some eye candy this time around.
Story
Koji is a young college student who moved away from his home in order to further his studies. Despite being settling into his new apartment nicely, Koji's focus has been entirely on his schoolwork which means that he has made no friends while away from home. To make matters worse, Koji's parents and brother both already have plans away from the country as they are all spending the upcoming Christmas season taking trips.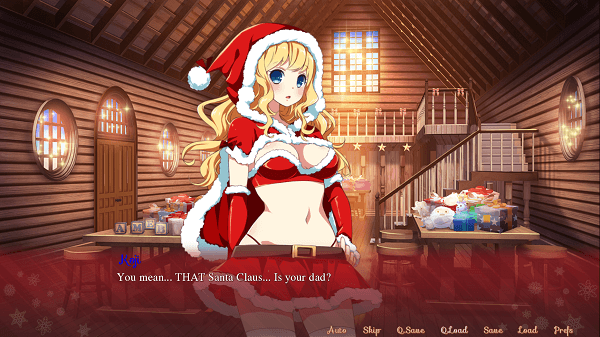 As such, poor Koji finds himself alone on Christmas break with no one to spend the holiday season with. In an effort to shake off some of his loneliness, Koji decides to visit the town and to avoid all the happy couples, he ventures to an unpopular shrine where he ends up making a small wish, to find someone to spend the holidays with. After making the offering and assisting the old priest with some maintenance, it seems that Koji's wish is about to come true as he soon finds himself encountering three girls who fall head over heels for him in an incredibly short time.
Before leaving the shrine he encounters Akina, a cheeky fox spirit whose perverted actions are a perfect match with Koji's perverted mind, who promises that she will fulfill his wish. Shortly after this Koji encounters an old friend that moved away in Middle School. Her name is Itsumi and although she hasn't seen Koji in years, she quickly recognizes her childhood friend and is more than willing to show off her shameless side to him. Finally the third girl that stumbles into his life is none other than a blond girl named Santa who declares herself as the real deal despite her sexy costume and proves it with some holiday knowledge that only the Claus family could know.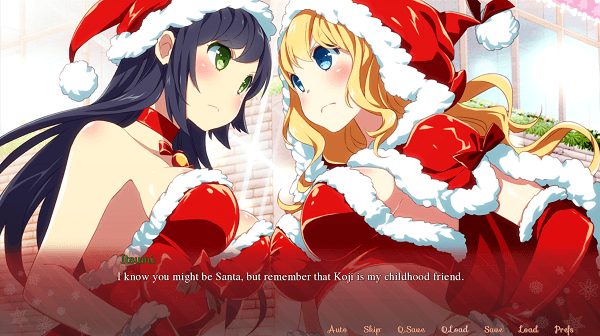 Despite having no previous knowledge about mystical beings, Koji only briefly questions the idea of a fox spirit before accepting her as more than an enthusiastic cosplayer while Santa requires actual demonstrations of her abilities before believing her. After these introductions are taken care of, Sakura Santa is about as straightforward as a visual novel of this type can get. The three main girls are rather cookie-cutter when it comes to their personality types and actually selecting which girl to pursue is as easy as can be.
For a few days prior to the arrival of Christmas Koji is given three different options of what to do with his day. This generally means either visiting the shrine occupied by Akina, traveling into town to see Itsumi at her work where she is generally always wearing a new lewd outfit, or staying around the apartment and being visited by the clumsy Santa. Choosing which of these girls to pursue simply involves selecting their activity repeatedly until the ending appears or mixing things up to aim for a harem styled ending.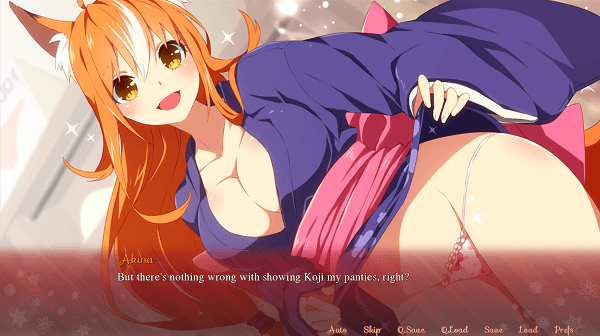 The girls themselves are indeed charming in this game and do have a decent bit of personality, though they rarely move past their basic character elements while interacting with Koji and their storylines aren't handled much better. Akina is the mischievous flirty girl with powers that she uses primarily to mess with Koji as the two grow closer, Itsumi flaunts her body and aggressively pursues Koji in the pursuit of a childhood romance that never got off the ground due to her moving away, and finally Santa who uses her abilities to try and cheer up those around her and bring festivities into Koji's life while making numerous mistakes along the way that the two work together to fix.
All three of these storylines feature standard moments of drama near the end where something comes between the chosen girl and Koji but these moments lack any real impact since they are resolved incredibly fast and lack any type of punch due to how light-hearted the interactions between the cast are throughout their storylines. This means that there is some comedy to be had here, especially if you take the "lucky pervert" aspect of Koji always landing himself in perverted situations with the girls as humorous, but for the most part these routes all feel incredibly routine.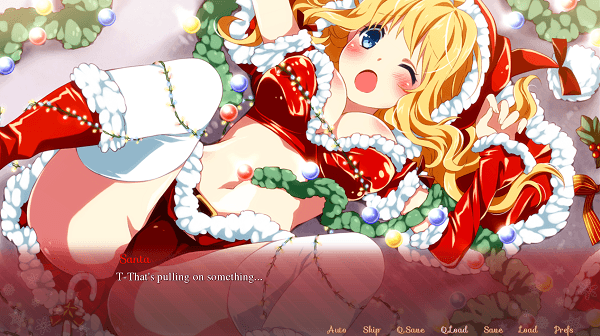 Only the harem route seeing any form of interaction between the girls in any type of format, since they are locked into their own routes otherwise, and it is when they interact with one another that we actually see them come to life a bit more, something that ultimately is lacking in Sakura Santa's straightforward presentation and storylines. Usually in a visual novel, harem endings pay off in other ways but in the case of Sakura Santa it pays off by delivering the best actual storyline of the four on offer.
Gameplay
As mentioned previously, Sakura Santa is about as straightforward as they come with visual novels. There is one early choice that makes a small dialogue difference near the beginning but plays little role into the way the story unfolds as these choices all depend on which girl they wish to visit. This means that throughout the game's roughly three hour long run time depending on your reading speed, it is possible to see all different versions of the game's ending and unlock every CG with very little trouble.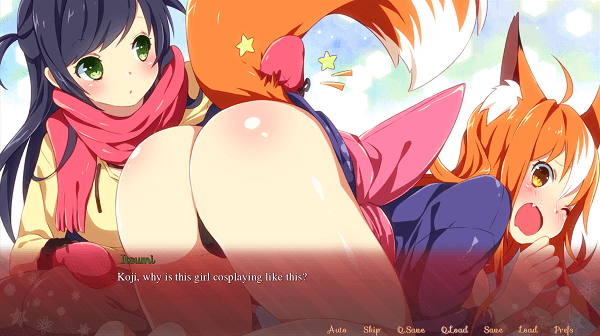 The title supports the most basic of extra features by allowing players to view previously seen CG art and unfortunately that is really all there is to it as there isn't even an option to listen to the game's background music, though more on that in a moment.
Visuals & Audio
One of the best aspects of the Winged Cloud titles are the way they handle the girls in the series are handled and that remains true in Sakura Santa as each of the girls are incredibly well drawn and highly attractive. Of course the entire cast is large busted so those looking for a bit of variety there will be disappointed but there is a lot of variety present in the outfits worn by the cast as we see plenty of sexy santa costumes, lewd poses featuring a fox girl, and a variety of outfits from the cosplaying childhood friend. This means that the game is indeed a treat for the eyes as the CGs are impressive while the background artwork is also handled nicely with certain wintery elements and holiday decorations popping up when appropriate.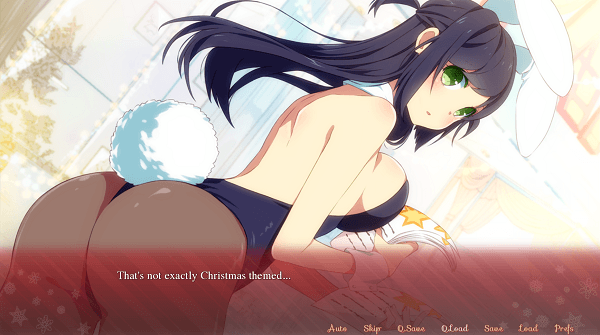 On the other hand, Sakura Santa completely drops the ball on background music. Despite being a holiday themed title, there isn't an ounce of holiday spirit found in the game's soundtrack. While not off-putting, the background music throughout this title would easily have fit in with any standard visual novel and considering there is no voice work, the addition of at least some type of Christmas styled sound effects or similar sounding music would have been nice.
Overall
Sakura Santa tries to offer a festive themed experience in a rather strange package. While it certainly delivers the yuletide spirit with Santa, both Akina and Itsumi are handled in a manner only vaguely related to the holidays and feel as if they could easily have been placed into any other work. As such what we have here is a visual novel that, while enjoyable for what it has to offer in the way of gorgeous character art, doesn't really deliver much in the way of memorable storytelling or even character development since even the smallest amount of drama is solved within a minute.
As such those who are looking for something really memorable from Sakura Santa will find themselves disappointed while those simply looking for a bit of good fun will still find Sakura Santa a run of the mill experience with some holiday fluffing.
Capsule Computers review guidelines can be found here.