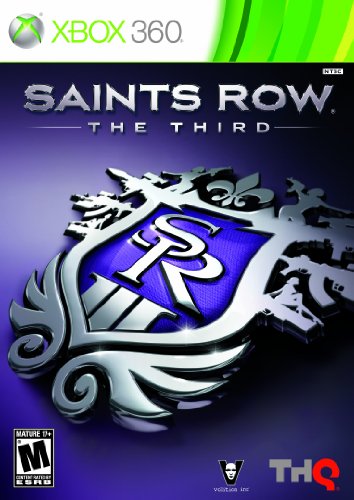 Saints Row: The Third
Developer: Volition
Publisher: THQ
Platform: Xbox 360 (Reviewed), PS3, PC
Release Date: November 15, 2011
Price: $59.99 – Available Here
Overview
There are very few games that could pull off such ridiculous ideas as well as the Saints Row series has done. 5 years on from the original, Saints Row: The Third has really solidified the position of the series in the world of gaming. It has seemingly moved out of the shadow of GTA and other sandbox titles, offering a truly unique and fun experience in addition to becoming a much more polished, complete game. But how well does the story and depth of the game compete with the countless chart topping titles available at the moment? Well you're going to have to read the review to find out.
Story
Following suit from the previous two games in the series, Saints Row: The Third is essentially about you and the 3rd Street Saints regaining control of the city. Since Saints Row 2, the gang had established a media empire in addition to controlling Stillwater and becoming international icons. However following an unexpected turn of events when attempting to rob a bank, the Saints leaders find themselves in jail and their control of the city threatened.
The Boss (who you control and customise to your hearts crazy desires), Shaundi and Gat get released from prison as a result of a bribe from International crime organisation The Syndicate, only to be taken to the leader of Phillipe Loren. An offer is made to the Saints, with the expectation that they will give up two-thirds of Stilwater's revenue. You reject this offer and in true Saints style set off a gun fight as you make your escape from Loren's private jet.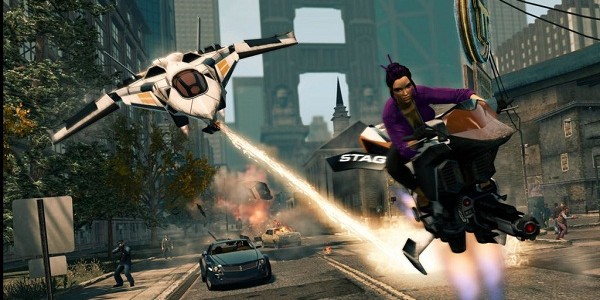 Without giving too much more away, you eventually set foot in Stillwater again, finding most of the control has been taken by The Syndicate, and it's now of course your job to lead the Saints back to supremacy. The Syndicate is composed of three new rival gangs, The Luchadores, Morningstar and The Deckers.
Sounds pretty similar to the previous two games, right? Unfortunately it's true, they haven't strayed too much from the structure of the first two games, however that being said, by result of the three rival gangs combining to form The Syndicate, the story develops with greater fluidity and overall turns out to be pretty engaging. Instead of driving around and picking a gang to target, thereby muddling up storylines with each other, you get a far smoother story.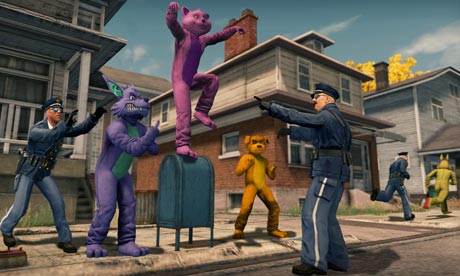 Gameplay
Freedom is something that Saints Row: The Third really thrives on. You can play the missions at your own pace and wreak havoc whenever and however you please. Access to vehicle and weapons is generally pretty easy, with most special vehicles you use in missions being added to your crib garages for unlimited use.
If you've played the previous two games, you won't find it all too different in terms of controls. There have been a few button switches as well as the inclusion of some more character abilities and pretty cool combat moves (not to mention the parachute that you can make appear whenever you fall or jump from high places).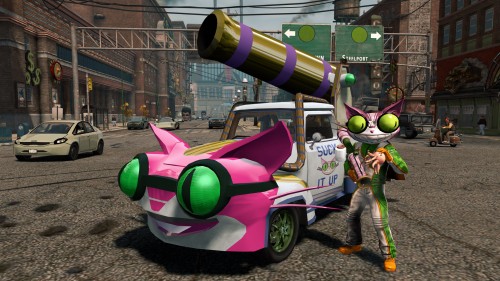 The missions on a whole are pretty similarly structured to Saints Row 2 but there is still a fair bit of variety to make it very enjoyable. The missions account for about 14 hours of the game, which may seem short but given all the activities and city-wrecking you can do, as well as the novelty Whored mode, you won't find yourself getting bored too quickly.
One of my favourite additions to this game is the upgrades. Your cash is now a lot more useful than previously, with the option to improve a whole variety of things including physical abilities and weapon upgrades. You now get an hourly income from the city (not real time), which you can improve through purchasing stores and buildings as well as by completing missions.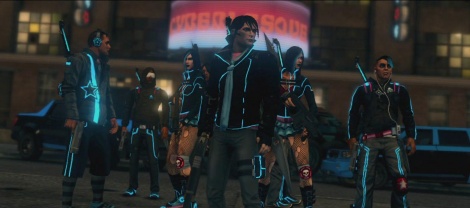 Disappointingly, AI hasn't really improved much. Although things get pretty crazy when you're surrounded by enemies with various explosives flying around the place, they don't really make much attempt to stop you from taking them out. That being said, the inclusion of "specialists" helps a bit as they tend to be slightly more difficult to take out.
"Brutes" are also a new addition. They are Syndicate clones of Oleg, an eastern European genetic beast of a person who becomes your "homie" pretty soon into the story. The Brutes take a fair amount of ammo to kill, and will sometimes come equipped with flamethrowers or mini-guns (both of which you can pick up after you've killed them to use as a temporary heavy weapon). Taking out a brute is rough, taking out multiple all the while the enemy gangsters are firing away at you is not such a cakewalk.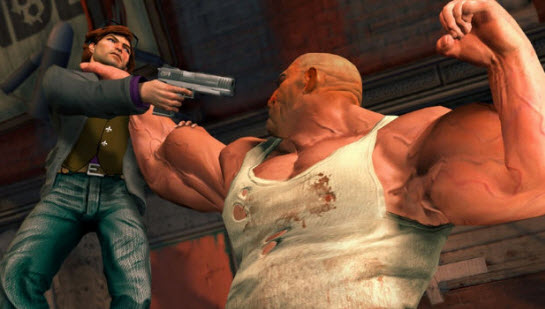 Visuals
To be honest, this is probably the weakest area of Saints Row: The Third. The visuals aren't bad by any means, but they just aren't up to the same standard that we're growing accustomed to.
The character models look quite good and the cut scenes are animated very nicely in most cases. However, as in the previous versions, there is a real lack of continuity and detail in the environment. Cars still fade into obscurity once off the screen, as do the people walking the streets. It's not a major problem but it's that sort of detail that would elevate this to an excellent game rather than just a great one.
The customisation options really help spice up the visuals, with a vast array of clothing choices, not to mention skin colours. Having a nude metallic green, bearded transvestite with a zombie voice really supports the whole craziness angle this game is going for, and that's before he/she is wielding a oversized, fatal dildo.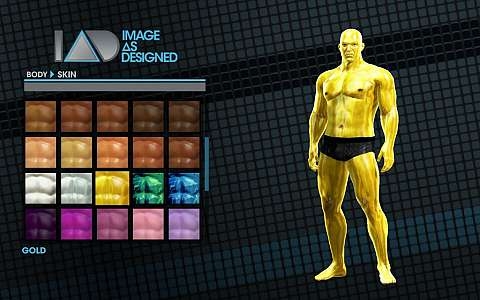 Audio
As always the game boasts a great variety of music on the soundtrack for the radio stations, including Kanye, Deadmau5, Benny Bennassi, The Bloody Beetroots and of course some funny ads, news reports and spoofs for good measure.
The voice acting in the game is another great component, featuring Daniel Dae Kim, Sasha Grey, Danielle Nicolette and of course Hulk Hogan. Your character as well has the choice of 7 voices (3 male, 3 female and 1 fun-loving zombie), allowing for some differentiation in character personalities and fitting into the scripting really well. Overall
Assuming you're not a sex-fearing square and you like a bit of humour thrown in with your games, then you'll love Saints Row: The Third. It's daring, it's violent, it's oh so silly but most importantly it's fun. You can no longer write it off as an attempt at copying the GTA series as it has really come into its own with this release, and has firmly positioned itself in the game market. The story is engaging enough and the activities will keep you playing for hours, and when paired with the Co-op and Whored mode it really does offer good value for money. Of course the visuals are still somewhat lacking and there seem to be a few kinks that will need to be resolved with a patch, but overall it's a well-polished, well executed and hell of a fun game to add to any gamer's collection.