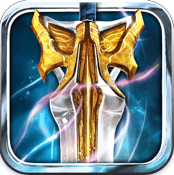 Sacred Odyssey
Developer: Gameloft
Publisher: Gameloft
Platform: iPhone(reviewed)/iPad
Genre: Action/Adventure/RPG
Released: 02/02/11
Price: Free – Download Now – Or Buy NOW Price $8.99
Overview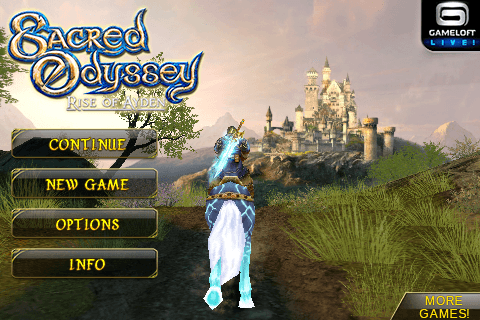 Inspired by Nintendo's Zelda franchise, Gameloft's Sacred Odyssey: Rise of Ayden, is a stunning action/adventure game for iOS. Unsuspecting villager, Ayden, has been chosen by the god Uryah to save the kingdom of Lasgalen from the Apocalypse (sounds familiar). While the narrative behind isn't all that original, and is pretty typical of fantasy/RPG/adventure genre, the gameplay of Sacred Odyssey is what makes the game so impressive for an iOS based game. With impressive graphics, easily mastered controls and a reasonably engaging narrative, Sacred Odyssey: Rise of Ayden is well worth investing some time in.
Gameplay
While saving the kingdom of Lasgalen is the ultimate quest in the game, along the way there are side quests. These are signified by different types of punctuation, question marks and exclamation marks for different types of quests and to indicate if the person is relevant to the current quest or not. In this sense, Gameloft have made it really easy to distinguish between important characters and non-playing characters. Some of the quests are a little annoying to undertake, such as finding people to give them items, while others are great fun, like smashing through hoards of Orcs while riding on the back of your faithful steed. While at times these side quests or even the main quests don't really seem to contribute to the overall narrative, they really help to give the player that freedom that is so enjoyable adventure games – something that isn't really done often enough in iOS based games.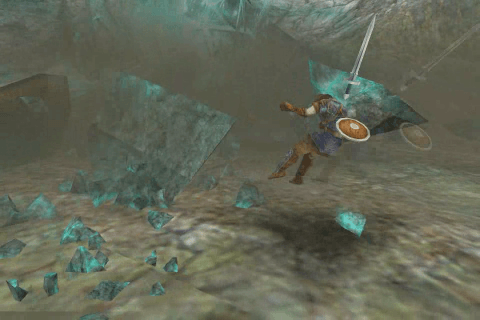 The game itself has a nice flow to it. Often when moving across different areas the game will pause for a few seconds, if that, to load the next portion of the environment. This is the only lagging experience to occur throughout the game, which is perfectly understandable considering the size of the world the player is traveling through and the size of the device in which they are playing the game on. This is all helped by how easy the controls are to learn. To the left of the screen there is a V-pad to move the character, and action buttons on the right (usually sword and shield but you can change weapons later on). It doesn't take long to master these basic controls and in a matter of seconds you can be out thwarting hoards or Ocrs to whatever villains cross your path. While the controls are easy, I take issue with the way the menu operates. It isn't a particularly bad menu interface, I just feel it isn't as user friendly or graphically dynamic as the game controls, but hey, that could just be me.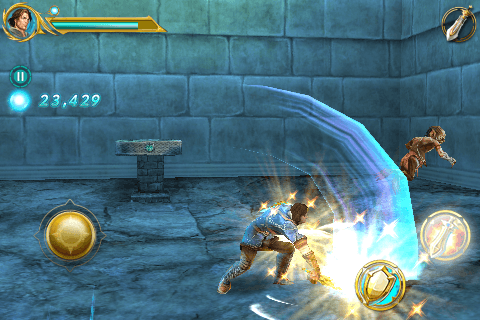 An issue I always had with Zelda game titles, especially the Twilight Princess, was that Link could store so many items, and yet didn't carry a bag any bigger than a small handbag. Imagine my surprise when our hero Ayden could mysteriously store his horse for immediate access! Gaming paradoxes aside, the ability to quickly summon the horse and ride off into the distance is one of my favourite features of Sacred Odyssey and has really come in handy for just exploring the map and familiarising myself with side quests.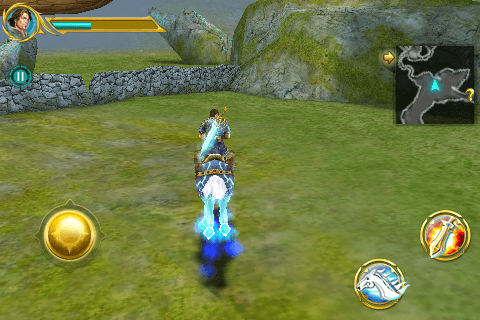 Graphics and Audio
To be brief, the graphics of Sacred Odyssey are brilliant. Gameloft have done a fantastic job creating such a stunning landscape and character models for such a limiting device in terms of graphics. I am so impressed with the graphics during game play that it is almost a shame to have to view it on such a small screen. The only concern I have with the graphics is the menu is a little lack luster in comparison to the rest of the game. In particular the map section, I often have trouble determining where I am meant to be going or how to get there through the map function. However, to end on a positive note in regards to graphics, I'll repeat myself, brilliant!
The musical score of the game is great. It really makes the immersion into a fantasy world complete and pushes the narrative forward. The sound effects all fight perfectly to the games action. A plus is that key characters in the game will actually speak. While the dialogue might be a bit cheesy at times, it's what I come to expect from game of this genre, and it fun when taken lightly. Characters who are just passers by however don't have voices, and you are required to read the text.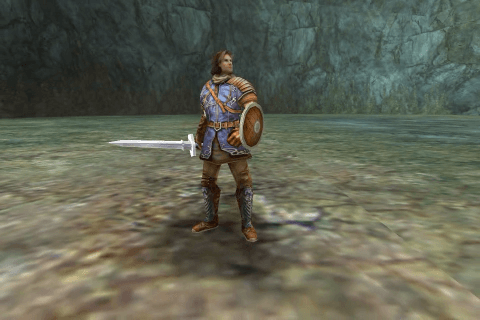 Conclusion
What makes Sacred Odyssey: Rise of Ayden particularly impressive is that it is an iOS based game. The graphics are spectacular and the action of the game is great fun. Despite similarities to Zelda in many ways, I still think Sacred Odyssey can stand on it's own as a game without too much comparison. In fact, I would go as far to say that it's completely possible to push this game past the limitations of iOS devices and put to good use on some consoles. I'd hate to repeat myself again, but I just need to reiterate that this is a brilliant game for iOS devices.
Overall I give Sacred Odyssey a 9 out of 10!