Rush Bros
Developer: Digital Tribe Games
Publisher: XYLA Entertainment
Platforms:  PC (Reviewed), Mac
Release Date: Out Now
Price: $9.99 – Available Here
Overview
Rush Bros is a slick, professional feeling indie title that sends players straight into the modern world of side scrolling puzzle racing. Players must race local, online or ghost opponents through chaotic, addictive levels packed with obstacles and traps generated by the player's own soundtrack. Players who want to jump right in can also take on a stage playing an Infected Mushroom track, which is oodles of fun in its own right. The developers recommend using a 360 pad so that's what I did, but in the name of balance, I also used the keyboard. We'll talk about that a bit later on.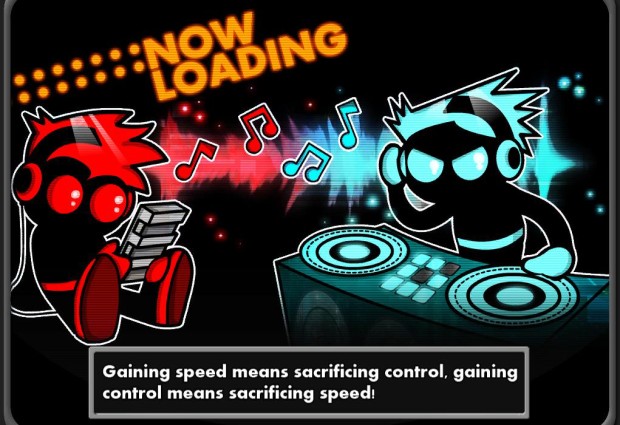 Gameplay
The gameplay here is more than your average side scroller. In fact, to call it a side scroller would be a bit unfair. It's actually more along the lines of an up-down-up-left-right-"oh wait…" scroller. The panning is smooth, the whole thing can develop quite a pace and races are often won by a hair. (There's something a little sonic the hedgehog about Rush Bros that really hits the spot.) The level design is intelligent and challenging, but also tuned to the racing format. Taking it online will introduce you to some already established competition, so its worthwhile playing the stages in solo mode to work out the navigation side of things before taking it to a competitive level.
Looking at the control scheme, it becomes quickly apparent why a pad is the way forward. Mainly because your special moves (such as sliding along the floor to skim over obstacles and traps) are fiddly to reach on a keyboard and no matter how google-fu you think you are with your key bindings, you're going to encounter frustration. With a pad, binding the slide function to a the right bumper upped the satisfaction level somewhat instantly. Suddenly I was a DJ ninja, fully in my element. I still got destroyed routinely by the ghost, but I was leaps and bounds ahead of what I was doing on a keyboard. So if you're missing a 360 pad, you may want to hold off until you get one. Especially if you're thinking of taking this online.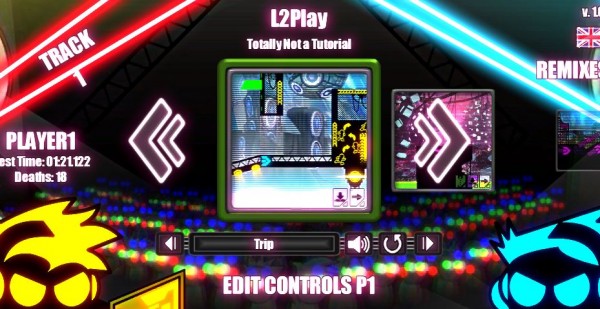 Visuals
The cell shading style textures are solid, vibrant, and easy on the eyes at speed. Visuals were clearly a key consideration here and the interactivity of the environment with the music is extremely well pulled off.  The graphics have a new age cartoon feel, a mixture of subtle Photoshop work and hand-drawn textures. It both feels nostalgic and advanced, and offers something many indie titles aren't doing at the moment, advancing the canon, as it were.
The interface is professional, simple and clean. Everything is set up ideally so as to please both game pad and mouse users when navigating the menu and settings. The built in file explorer system is very easy on the eyes and reminded me a little bit of my Foobar music player. which leads us neatly on to accessing your music.
Audio
Saving the best 'til last, the audio features absolutely hands down make this title the great game that it is. Straight after launching Rush Bros, I went straight for the audio settings, before even binding any keys. The ease of creating a playlist and sourcing my music really, really impressed me. I was expected a ton of file format related issues, but there were none that I could observe. It seems to play everything without complaint without reducing the quality and the environment just absorbs all of the bass and treble seamlessly. I reviewed this title using Dark Side of the Moon – by Pink Floyd. I also tried it with Metallica. And I suppose here's where the replay value comes from, the ability to see your music as a level in a video game is a very rare and intriguing opportunity. After an hour I found myself saying things like "I wonder what it'll do with the Ozric Tentacles?" and from there I soon realized that this is going to be one of those games that you never uninstall and always revisit.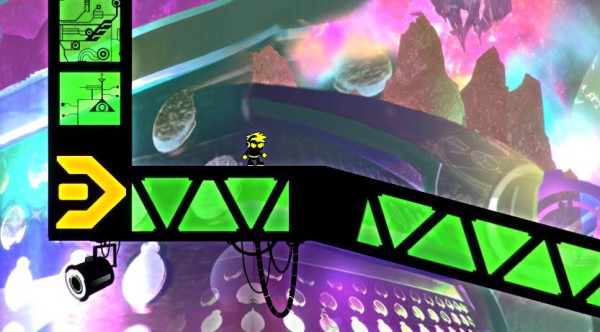 Overall
Overall, Rush Bros is a slick, addictive, inventive title packing tons of features, support and replay value. Although the price tag may seem slightly steep for an Indie title, I assure you that this has the feel of a feature release. The care, attention and style applied to this game makes it one for everyone's library. And that's another point, they music you enjoy will hugely impact the pace of play, the way you play, and the way you interact with the game. In this sense, this game has no demographic beyond those who enjoy music and games, and surely that's everybody.

Capsule Computers review guidelines can be found here.