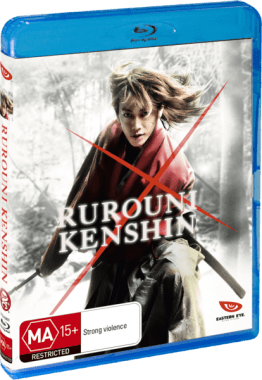 Rurouni Kenshin
Studio: Studio Swan
Publisher: Madman Entertainment
Format: DVD, Blu-Ray (Reviewed)
Release Date: March 20, 2013
Price: $34.95 – Available Here
Overview:
Some of you may know that this isn't the first time I've been tasked with reviewing Rurouni Kenshin, a live-action adaptation of the legendary anime and manga of the same name. Last year we attended the 16th Japan Film Festival screening of the film which we reviewed. The difference between watching a film like this in a theater and watching it in the comfort of your own home can be vast. The atmosphere of a theater can add a great deal to the experience and it certainly did, but the home video experience has another edge altogether – intimacy.
Rurouni Kenshin is a film that works well as an intimate action adventure film. One that is propelled by unbridled energy and pulse-pounding excitement. It has a certain sense of closeness that lends itself well to the home video platform, making for a very involving experience. An experience you'll want to relive and I can wholeheartedly say that this is a film you'll be watching over and over, it is just that much fun.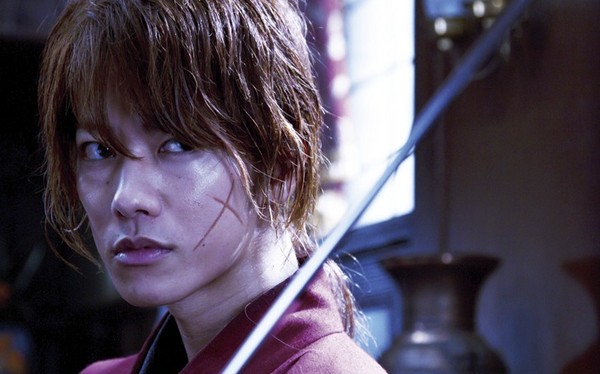 Story:
Rurouni Kenshin focuses on titular wandering samurai Himura Kenshin as he drifts through life without any true direction. Kenshin once fought in the revolutionary war that brought about a New Age in Japan, but after witnessing the brutality and senseless pain he caused he decides to never kill again. Through this, Kenshin discovers that a sword isn't meant for killing, but for protecting.
Over the course of the film Kenshin is repeatedly confronted with a situation in which his former killer persona is brought to the surface and he is faced with a question; are some people better off dead? This morality play that Kenshin finds himself involved in is engaging on a very emotional level. The audience has many reasons to believe that he should kill some of these people, but he refuses to do just that. He believes what he believes and that will not be compromised.
I've always found the most interesting aspect of Kenshin's personality was the fact that he holds so strongly to his beliefs, yet never cares to make others believe in his way of life. It is just what he believes and he accepts that others won't share those values. It is certainly one of his more admirable traits and one that Takeru Satoh brings out well in his performance.
The themes of killing are really handled quite brilliantly in this film, never forcing an opinion on the audience, instead simply giving them both sides of the coin and leaving it up to them how they feel about it.
It must be said that this film features some of the most jaw-dropping action sequences I have ever seen in film and they look even more incredible on Blu-Ray. The quality and detail of the world and actions within it are incredibly well captured on this Blu-Ray release.
Many anime and manga fans are probably curious as to how faithful this film is to its source material. Without spoiling anything I can confirm that it is a very faithful adaptation made with a clear affection for the series upon which it is based.
This film truly is an incredible action flick from start to finish. Many action films won't make you think, Rurouni Kenshin breaks that trend with its thoughtful commentary on life, death and all that lies in between. Not only does it tell and amazing story with some very well drawn characters and settings, but it is also a lot of fun. We could all do with a little more fun in our lives right? Rurouni Kenshin is just that.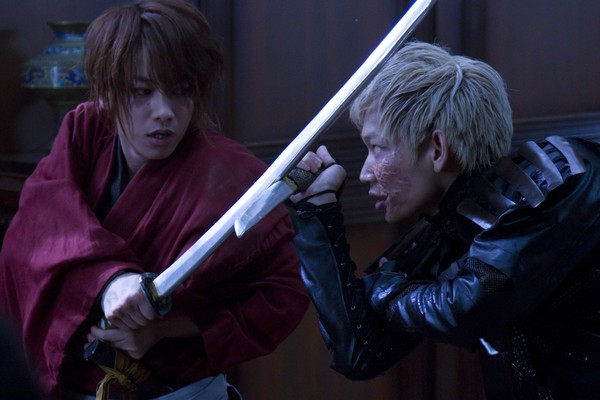 Visuals and Audio:
As previously mentioned Rurouni Kenshin has some incredible action sequences. Not only are they inventive but they are gorgeously depicted and awe-inspiring to say the very least. The choreography is impeccable making for what is some incredibly stunning scenes. In particular the battle outside the mansion features a part where Kenshin seemingly defies gravity and runs side-ways along the ground while slashing at a number of enemies.
The costume designs are also worth mentioning as they are beautifully done. They give a distinct style to the film and stay very true to the series roots. I also must say that the way this film conveys this particular time period in Japan is remarkable, with lavish locations and gorgeous set-pieces in great abundance. All in all it is well served by the Blu-Ray format which brings the best out of this film.
The film's soundtrack is also well composed, featuring some beautiful musical arrangements all timed to perfection. ONE OK ROCK's theme song they contributed to this movie titled 'The Beginning' is an infectious catchy rock tune that fits this film like a glove. It all makes for a great soundtrack from top to bottom.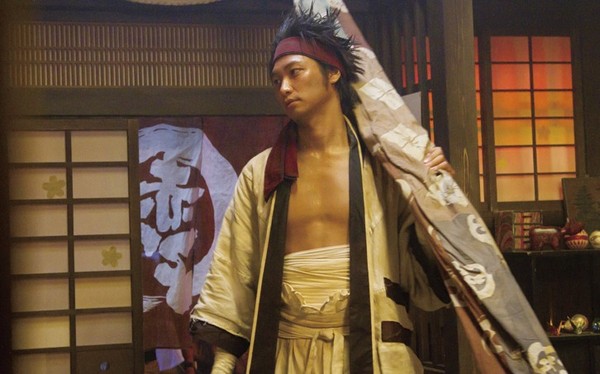 Extras:
Madman Entertainment should be applauded for this release, not only is the film beautiful on Blu-Ray but it also has some great special features for fans to jump into afterwards. Not only does the release feature your standard trailers and promos, it also includes a featurette called 'The Making Of Rurouni Kenshin' which details the making of the film. It makes for a great watch for those interested in how everything came together in this astonishing film. Madman have given us an all around great release for a truly great film.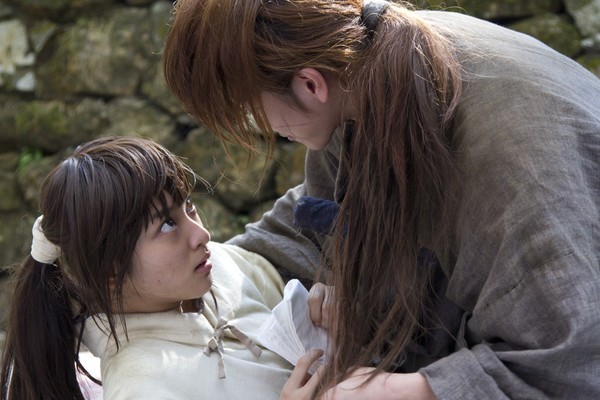 Overall:
Rurouni Kenshin transitions from the silver-screen to home-video in glorious fashion. This Blu-Ray release of this already incredible film is superb in every sense of the term. Madman Entertainment have done Rurouni Kenshin justice. I wholeheartedly believe that Rurouni Kenshin deserves a place on the shelves of anime fans and film buffs alike. This is one of those special films that bridges the gap between audiences of all walks of life and it does so with sheer energy. If you have not yet experienced this film, you're missing out on something truly magnificent. Rurouni Kenshin has carved its own special place in my heart and it just might do the same to yours.
Capsule Computers review guidelines can be found here.