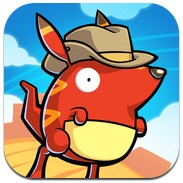 Run Roo Run
Publisher:  5th Cell
Developer: 5th Cell
Platforms: iPhone (Reviewed), iPad
Release Date: January 12, 2012
Price: $0.99 – Available Here
Overview:
5th Cell are known for their genre breaking hit Scribblenauts, a game in which you could essentially do anything. So how do 5th Cell follow up a game that you could do anything in? It's simply really; a game that you can only do one thing – Jump.
Run Roo Run is so simple in it's design, yet so creative in it's execution and style. The classic 'jump' gameplay is reinvented in this spellbinding iOS title for the post-Angry Birds era.
Run Roo Run breaks preconceptions attributed to the iOS by combining the best of the puzzle and platforming genres for the most creative casual game in recent memory.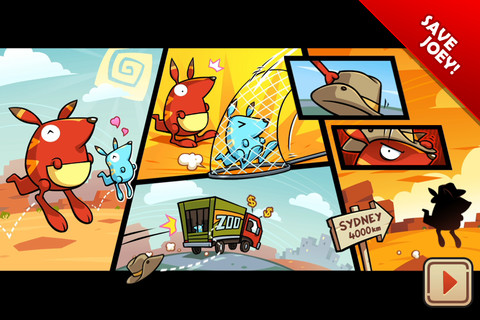 Gameplay:
This game is undeniably a simple creation. The entire game is controlled with a single touch. You play as a mother Kangaroo who decides to reclaim her Joey that was kidnapped and taken to Taronga Zoo in Sydney. The mother Kangaroo must travel from Perth to Sydney, encountering obstacles along the way.
It all a very simple concept yet it is so incredibly addictive. I found myself plowing through all 420 levels and going back for more time and time again. It is honestly the most addictive casual iOS title since Angry Birds, it also has far more content available than Angry Birds as a matter of fact.
The very core of Run Roo Run is it's attention to enjoyment. 5th Cell crafted the game to make the player feel rewarded as they progress through the game. By the time you are onto the Extreme levels and you are dying countless times, once you finally make it to the  end of the level you will rejoice as you have a true feeling of accomplishment.
Don't get me wrong, Run Roo Run isn't all difficulty. As a matter of fact the first bunch of levels are as easy as can be in order to get the player use to the games control system and play style. This ultimately makes for an overall enjoyable play experience as you grow better as you progress, never feeling under-skilled or over-skilled.
Run Roo Run is all in all an addictive gaming experience that is perfect for on the go casual gaming.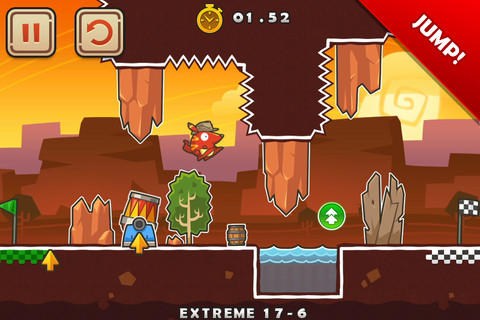 Visuals & Audio:
Aesthetically Run Roo Run retains all the charm and quirkiness of 5th Cell's previous work, Scribblenauts. There is a lot of style and personality in Run Roo Run and there is admittedly enough marketable material for this game to be the next massive mainstream casual hit.
The graphics are relatively simple, but simplicity is key here. The game itself is straight forward and the visuals match that, without ever being cluttered or messy. Its a beautiful game, at least as beautiful as casual iOS games can get.
The game's audio is catchy as hell and instantly memorable. It provides a splendid backdrop to the layers that sit upon it. 5th Cell have brough the same musical spirit of Scribblenauts to Run Roo Run, creating a pleasant listening experience all around.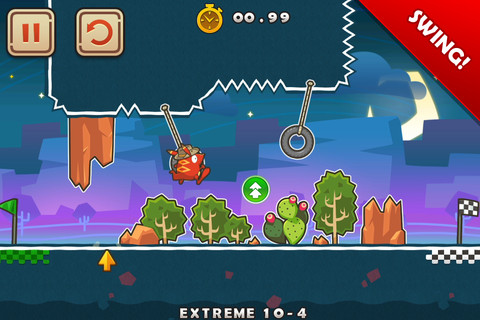 Overall:
Run Roo Run is one of the best casual games on the iOS in a very long time and it will undoubtedly go on to become a huge mainstream success much like Angry Birds before it. It is such a simple and accessible game, anyone can play it and that is Run Roo Run's greatest advantage over it's large amount of competition on the iOS platform.
The game has taken a lot of well known formulas, mixed them together and watched as the sum of all of its parts exploded on screen in an experiment that went miraculously and fortunately right. There was a lot of things that could've went wrong with Run Roo Run but in the hands of 5th Cell, it has become the next big casual iOS title.
Run Roo Run is truly brilliant and is a must buy for all iOS owners. Run Roo Run poses one question to the iOS platform as a whole, "Why Walk when you can Run?" And with that I must say, this game deserves all the success that is coming its way.

You can check out our Gameplay Video of Run Roo Run below.