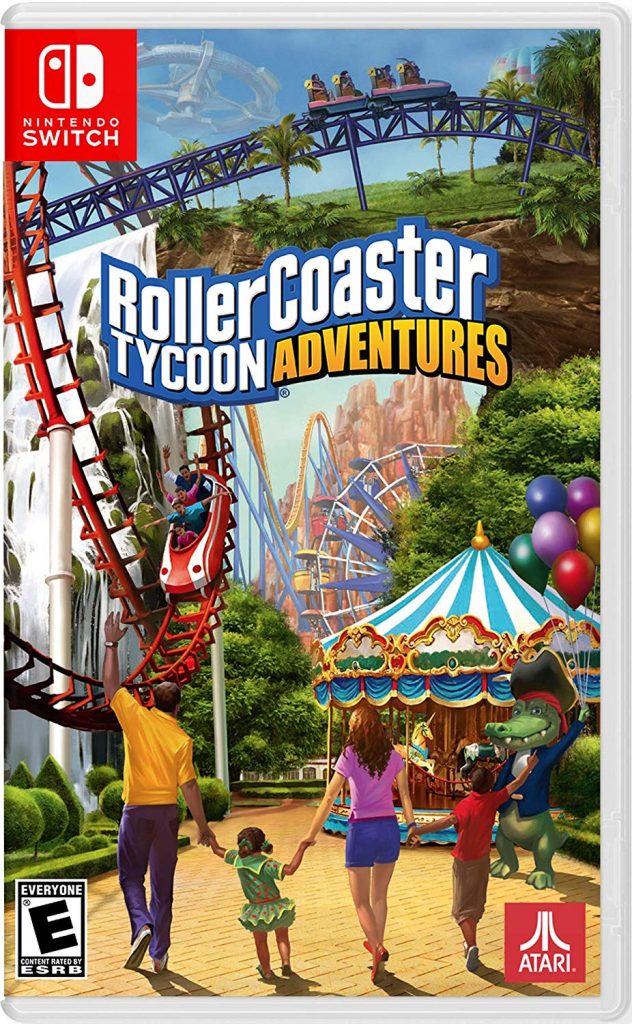 Developer: Atari
Publisher: Atari
Platform: Switch
Release Date: 13 December 2018
Price: $49.99 USD – Available Here
Overview
Nintendo Switch is a huge success and the hybrid console is also a great fit for strategy titles as the recent release from Sid Meier's Civilization VI shows. There is another genre that was very popular in the 90's and now found its way onto the Switch too. RollerCoaster Tycoon Adventures is a simulation game where you build and manage your own amusement park. In our review, we'll tell you if this is worth a ride or should save the money.
Story
You create your own story with the amusement park of your dreams. Although there are some challenges in existing parks, the biggest part of the fun is to use your imagination and create something unique with the given tools. At the beginning we're already given access to four different game modes starting with a tutorial, where you learn the basics of RollerCoaster Tycoon Adventures. After you've finished the first steps in your theme park you'll move on to the Adventure, Scenario or Sandbox modes. While the Adventure mode provides you with a starting amount of cash and only a handful of attractions for your park – the Sandbox mode gives you infinite tools to create everything you wish.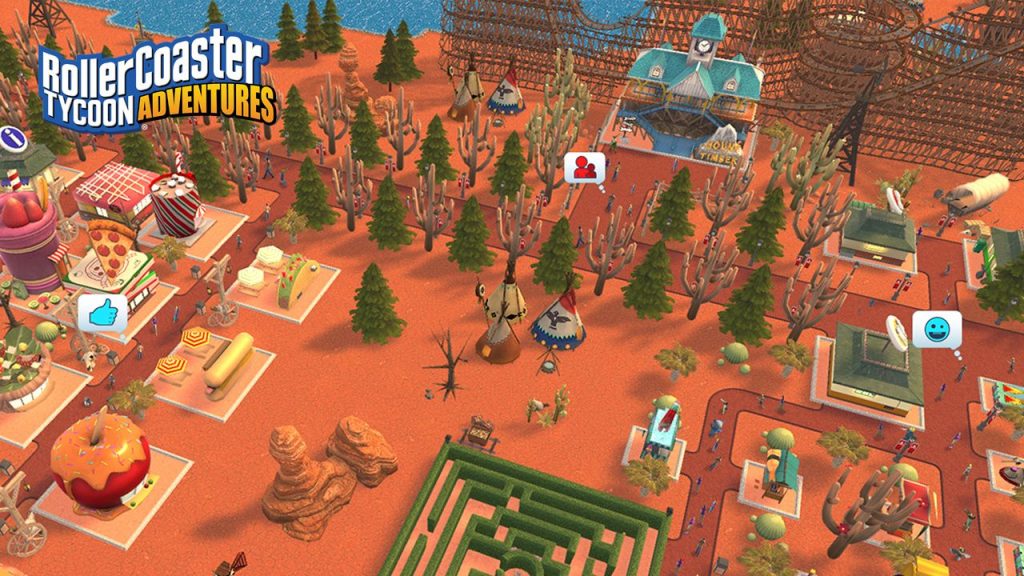 Gameplay
Diving into the Adventure game mode, we start small with the goal to get rich. Of course, a bigger park allows us to create more rides and attract more visitors which results in more income for us. If we choose Scenarios then we have to master challenges with different difficulty levels. If you just want to play for fun or try something out, Sandbox mode is the definitely right option for you. The Nintendo Switch is a great fit for a game like RollerCoaster Tycoon Adventures, but you cannot overlook the fact that you're dealing with a mobile game port. In this title of the series a lot of things are automated. If we want to fix a ride, then we need to build the necessary janitor building in the radius and the problem is gone automatically. There are no ways to evolve the workers from your park and specialize or train them in any way. Basically, the core gameplay is reduced on the research of new rides and keep your visitors satisfied.
The good thing is that there are no microtransactions involved, so you don't have to wait hours until an attraction is ready for the visitors. Unfortunately, the technical side creates some annoying performance issues that disturb the gameplay experience, especially framerate issues when there are a lot of rides. While the mobile version was called RollerCoaster Tycoon Touch, the new version for Nintendo's hybrid console also makes a great use of it's touchscreen. You have the option to individually create the rollercoasters of your dreams by adjusting the length and heights with just a few movements on the display. This is also where it comes to the fun part of RollerCoaster Tycoon Adventures. It's all about designing and decorating your park the way you'd like to. For the creation of your own rollercoaster you have access to a variety of styles, but a feature like terraforming is missing. How much fun would this be? Unfortunately, the more I played the game, more limits and restrictions were encountered while my imagination went wild, and I had all these crazy ideas.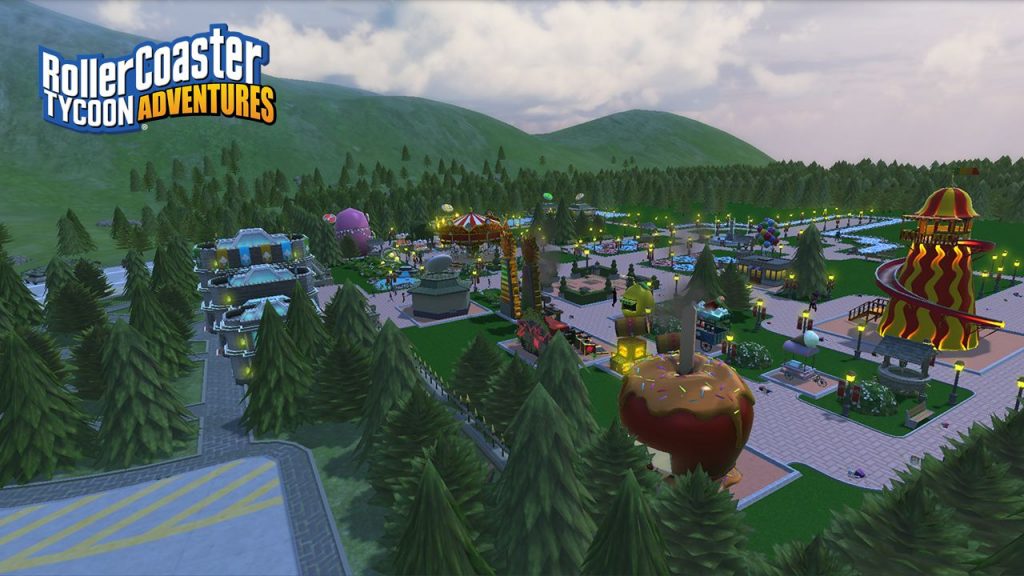 Unfortunately, in the end there is a game that I both love and hate at the same time. It brings back so many memories and it allows me to get creative, but only to a certain point. There's much more potential and I really hope they consider a completely new game of the series for Nintendo Switch. I know that the developers are working on updates and want to improve the experience on the Nintendo Switch, so it might be worth to wait for the upcoming changes and modifications. Let's hope there will also be a difficulty for experts, as the 16 given scenarios don't require a lot of building and management skills. We have a casual game here, but there are still all the old fans of the series out there! Don't forget them!
Visuals & Audio
The soundtrack catches the atmosphere of an amusement park and is quite entertaining. For the visual aspect, later on I felt that everything looked very much the same. Again I got drawn back to the limitations, which RollerCoaster Tycoon Adventures gives me. I could also mention the terraforming feature again, which could make quite a difference here. Anyway, if you're aware about the limited pool, I don't think you'll be bothered by the visuals.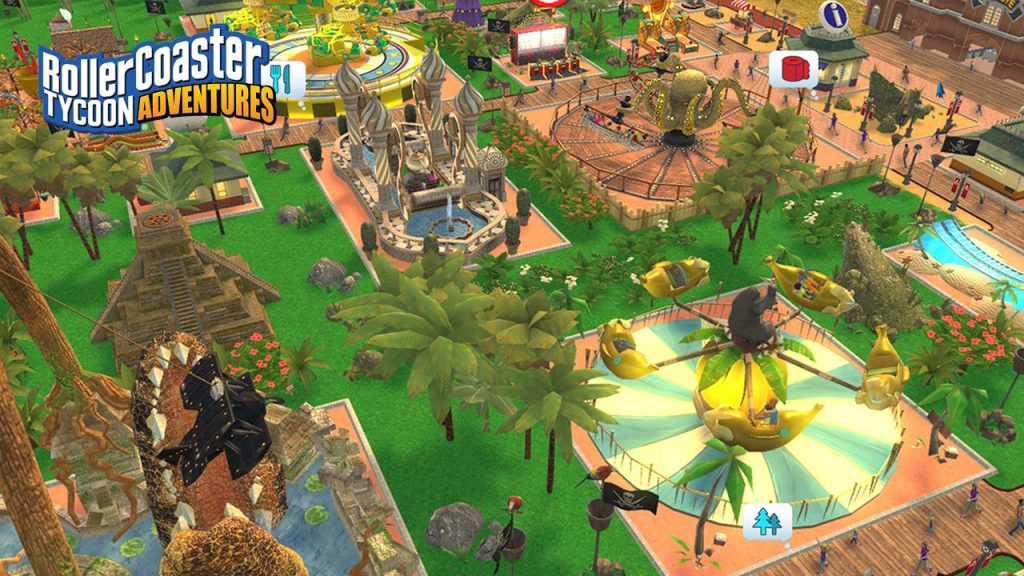 Overall
I came with no expectations at all and can say that this is definitely not a bad game as I enjoyed my time with it. RollerCoaster Tycoon Adventures shows that these simulation games work on consoles too and if you've played the classics or have interest in this genre, I'd definitely recommend it. With the developers working on updates, you'll definitely have a good time with it. Just keep your expectations a bit low and don't forget that this specific title has it's origin in a mobile game.
Capsule Computers review guidelines can be found here.