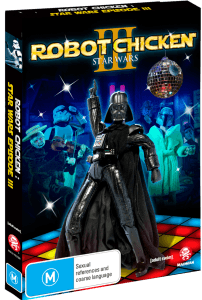 Genre: Animation/Comedy/Sci-Fi
Director: Chris McKay
Running Time: 44 minutes (Special features, 180 minutes)
Available for purchase at: Madman Entertainment ($24.95)
Overview
If you aren't familiar with the Robot Chicken series, you must either:
a) not be geeky enough to be considering watching it
b) have only emerged from your chrysalis this morning, or
c) have a phobia of robots, chickens, or both.
For those of you who are any of the above, here's the lowdown: Robot Chicken is a stop-motion series spawned by Seth Green and Matthew Senreich. The sketch comedy takes stabs at popular culture and is infamous for being random, weird, and sometimes downright crude.
One very notorious episode that began in 2007 was Robot Chicken Star Wars (also dubbed as Episode I): a combination of segments purely dedicated to the Star Wars franchise. The episode was so popular with fans that they released the subsequent Episode II in 2008, and the final instalment – Robot Chicken: Star Wars Episode III – in 2010.
Plot/Characters
While the first episode consisted of segments that were not linked by an overarching narrative, Episode II and Episode III take a different spin. The overarching story of Episode III begins with Emperor Palpatine falling to his demise. He then looks back at how his life reached this point.
The narrative does have this loose overarching storyline; however, if you've seen any Robot Chicken then you will know this plot does nothing but give a strange kind of ordered chaos to the randomness that ensues. As far as the segments go, it's a bit of a hit and miss: some are hilarious, and some make it seem like they are trying a bit too hard to be funny. However, what isn't lacking is plenty of humor and plenty of "what the f*ck moments" (in the words of the Emperor himself).
Of course, Episode III also contextualizes itself within pop culture: think singing along to Jay-Z and Rihanna's Umbrella or flashing randomly to Saturday Night Live-esque images during breaks. These all ground it firmly in context and provide that added bit of hilarity to the narrative. It's also self-reflexive ("Are we doing my story or are we doing some pointless…oh wait, it's Robot Chicken"); again, one of the signature traits of the series, and I was most certainly pleased to see it make a comeback.
The episode tracks a different range of characters, including Boba Fett and Gary the Stormtrooper. Of course, they are all spins off of their original characters, but completely altered for the purposes of spoofing the franchise. Robot Chicken pokes fun at everything, from the way Yoda speaks to Darth Vader's costume – basically, everything you thought about the characters, but never got to tell George Lucas.
Animation/Audio
Robot Chicken Star Wars Episode III's use of stop-animation is funny, charming at times, and just plain appropriate. Everything we loved about the characters, like their facial expressions and their movement, returns to greet us – what's even better is the appearance of Lego Star Wars figures. The sets are detailed, the characters' appearances match their namesake from the franchise, and moments like the Emperor falling to his demise really showcase what the animation is capable of doing.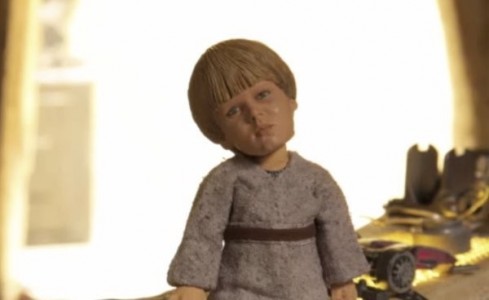 The soundtrack spoofs on the songs from Star Wars that have become a household tune, and it does it well. However, the most important part of the audio is the voice acting. Robot Chicken episodes thrive on their voice acting, and the boys really outdid themselves in this one. Tom Kane's portrayal of Yoda and the announcer was spot on, Seth MacFarlane's Emperor Palpatine was hilarious, and Seth Green just goes above and beyond every single time (he voiced more than five characters!). Zac Efron also makes another Robot Chicken appearance with his voicing of Anakin Skywalker, and does a brilliant job – even if you're not an Efron fan, you probably won't even realise it's his voice until you're laughing ridiculously hard.
Special Features
When I took a look at the back of the DVD, I was taken aback by the amount of special features that were included. The full length episode is 44 minutes (a full hour with commercials); meanwhile, the extras total at 180 minutes. Of course, this is not uncommon to any of the Robot Chicken Star Wars specials, but it is always nice to know there's plenty more than just the feature.
One of the unique extras is the addition of Chicken Nuggets: a sketch-by-sketch video commentary where you can watch the episode and press "enter" (or the equivalent) whenever a chicken silhouette appears on the screen. The episode will then briefly segue into the writers speaking about the scene, before returning to the next segment. The Chicken Nuggets is a great way to get audio commentary without ruining the actual show through voiceovers, and will be welcomed for any fans of the series. There are also other options for audio commentary if the chicken nuggets just don't float your boat.
There are also featurettes for voice-recording and the writer's room, and a behind-the-scenes look at the series' creation. Of course, these are always great if you're interested in the production side of things or just want to prolong some humor. However, my favourite features would still have to be the deleted animatics, and Sunday in the Boardroom with George –take a look at this to see everyone's favourite director and producer.
Other awesome special features (see, I told you there were tons) include a Star Wars Celebration V Robot Chicken panel, the Skywalker Ranch premiere trip, time lapses of animation and a Seth Green animation reference. Regardless of which feature you watch, you can rest assured that humor can be found in every single nook and cranny of this DVD.
Final Comments
Robot Chicken Star Wars: Episode III is every bit as funny, random, and enjoyable as the creators would have you believe. Regardless of whether you're a seasoned Robot Chicken fanatic, a person looking for some extra entertainment, or so in love with Star Wars you wear your Stormtrooper hat to sleep, this DVD has something for everyone. Pick it up, take it home, and enjoy a side of the galaxy that you have never, ever seen before.