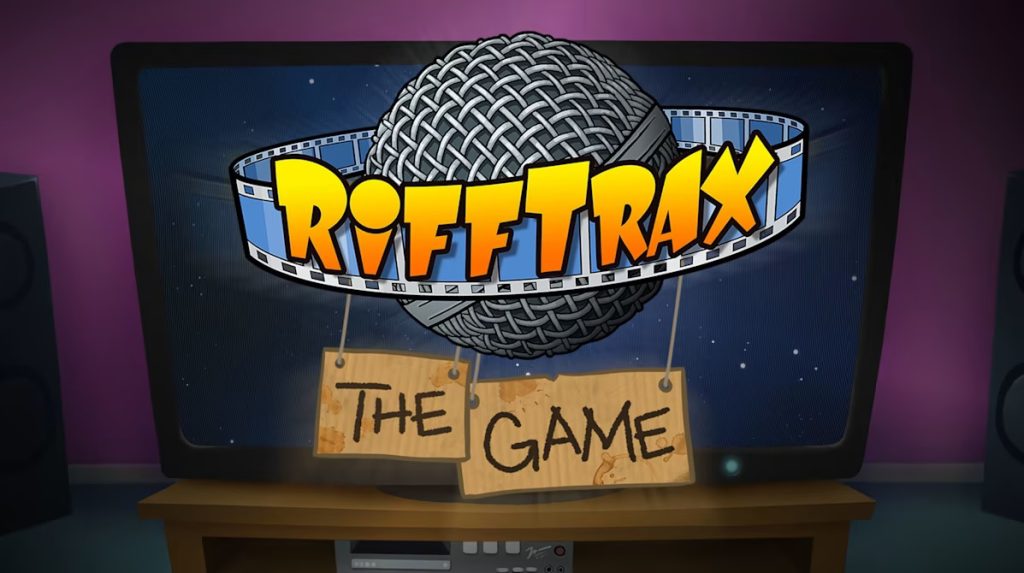 Developer: Wide Right Interactive
Publisher: Wide Right Interactive
Platforms: Switch, Xbox One, Playstation 4 (Reviewed), PC, Playstation 5, Xbox Series X|S
Release Date: Available Now
Price: $9.99 – Available Here
Overview
Wide Right Interactive caught my attention a while ago with the release of "What the Dub?!", – a multiplayer game where players had to dub over old movie clips, with the main objective being to gain votes from an audience. Rifftrax: The Game takes that concept and adds the familiar commentary from the beloved franchise, with the player now being able to add subtitles and speech of their own to brand new clips. Does Rifftrax add enough to make this title worthy of a Saturday night with friends? Let's find out.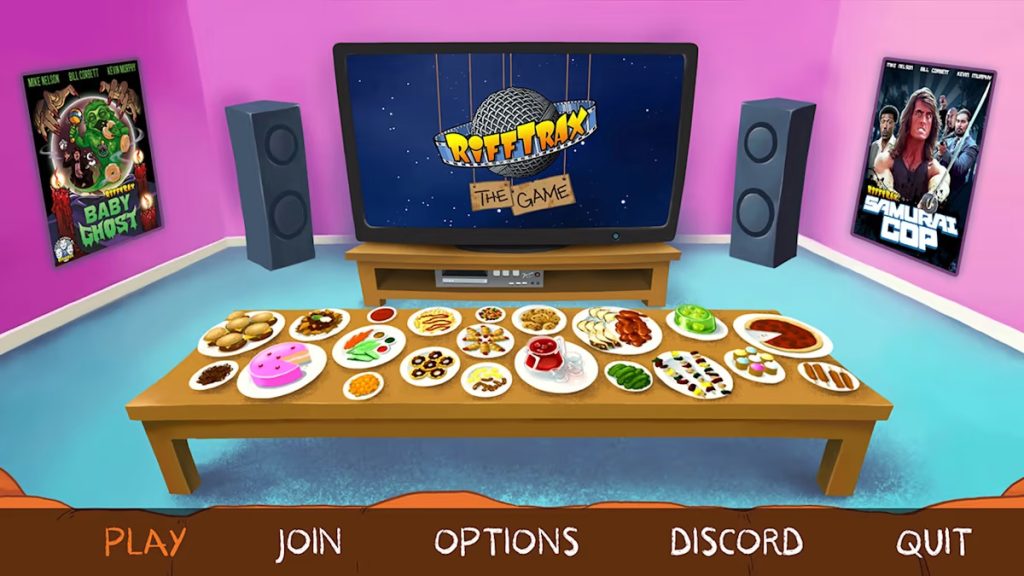 Story
Yes – the story. Well, there isn't one, but there are over 250 clips within the games from classic movies. Most of the clips come from old footage that had been riffed over the years. Rollergator, Attack of the Supermonsters, and other D movie fare add a lot to bring in laughs, while other samplings from old classroom PSAs that almost don't need added commentary to remain oddly endearing. The selection is stellar, and the editing of the premade clips allows for a lot of room for multiple plays and points of view from the crowd you're with. Sure, eventually you will run out and get repeats, but for the thirty or so games I played with friends, I only had one repeat – and seeing the clip again with all the options available felt perfectly fine with how enjoyable the concept truly is.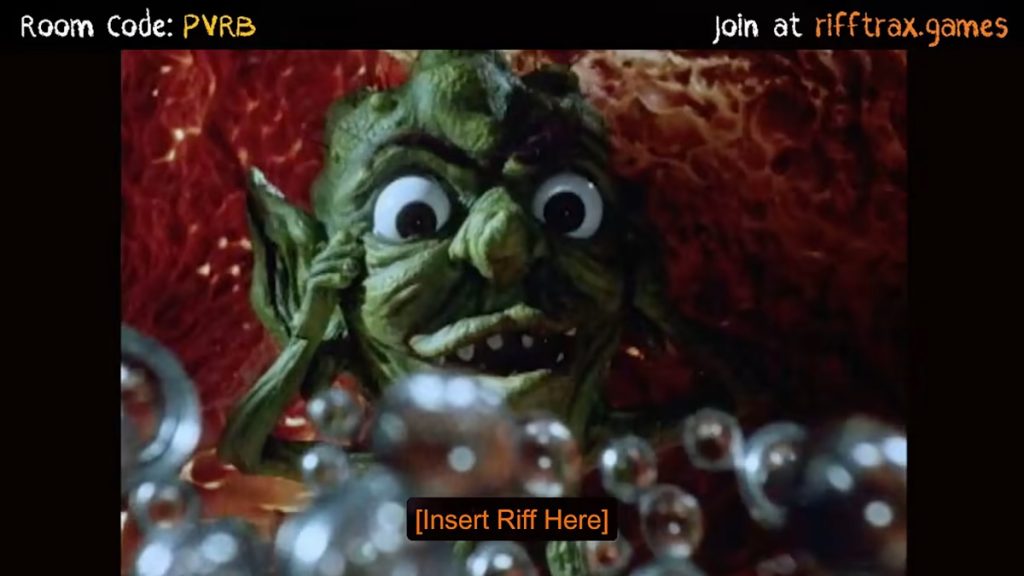 Gameplay
Rifftrax is basically another version of "What the Dub?!" with its own unique style. Players simply log in to the website utilizing their mobile devices (or PC, if you choose), and then sync together to create a session. Once rolling, a clip plays, and players must quickly enter a line or two of dubbed commentary to add context or actual dialogue to a muted portion of the scene. These scenes then play out – and users vote on the best of the best to gain points. It's a simple premise that those familiar with the Jackbox franchise will feel right at home with, as Rifftrax: The Game feels like an expanded version of one of those party titles – but with plenty of content to stand on its own legs.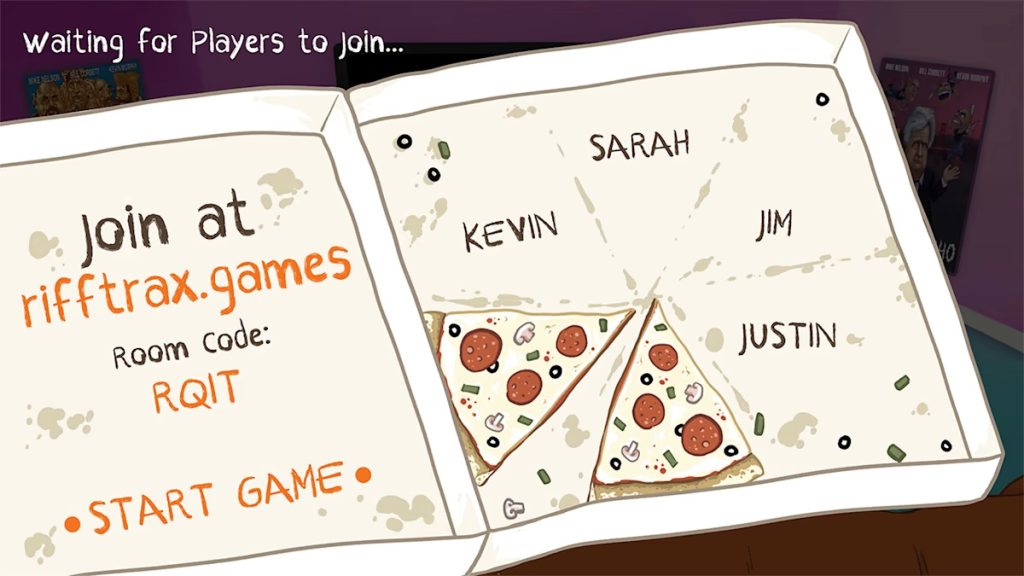 As for variety and options, every game can be customized. Players can select one of two modes. The first allows players to create their own riff, while the second has your group select from pre-recorded commentary. Sure, the second isn't as enjoyable, but I honestly found it nice to see something for those with uncreative minds in the room. Other options let you choose the quantity and length of rounds, as well as your usual choices for adding new players and adding in a virtual audience if you choose to stream. While the game is great for the most part, I did have a few minor issues at times. More than once, I had two different players' commentary play during the same clip. It was still funny, but a bit odd – to say the least. Adding in computer players that play pre-made riffs also if great for smaller groups, but the stark contrast between a computer-generated voice and one of the hosts made it a bit obvious to know who the riffer was, even if that is still just a minor gripe.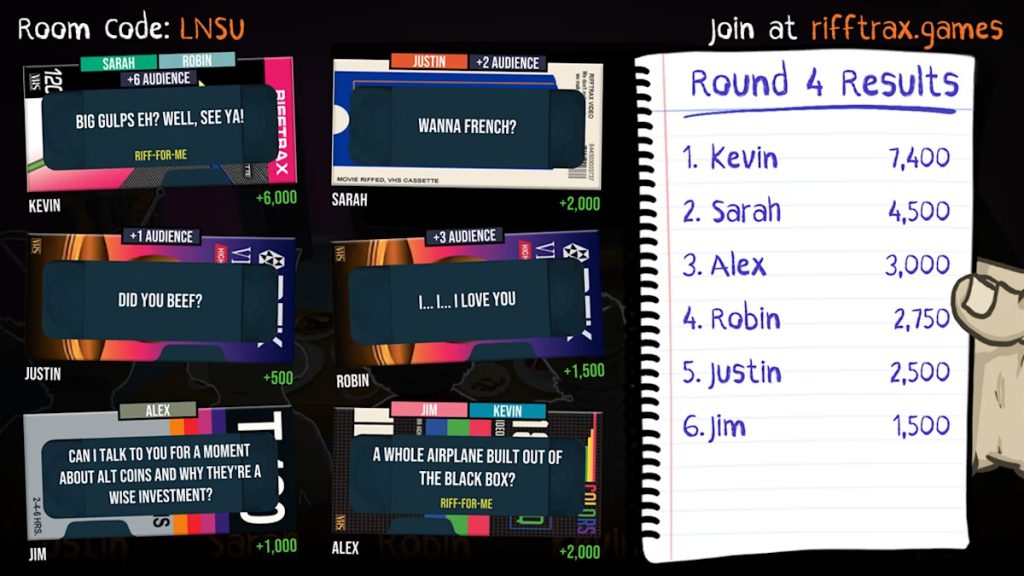 Visuals
There isn't a lot to say about the clips themselves. Due to being mostly cheap cinema and adverts, expect to see some naturally low-quality clips that seem to come off as more charming due to lack of general upgrades. The menus are fine, and while not spectacular, the subtitles do their job effectively enough. I do think the menus could use a little more fleshing out, but for what is here, most will have no issue diving into a game and understanding the basics due to the simplicity.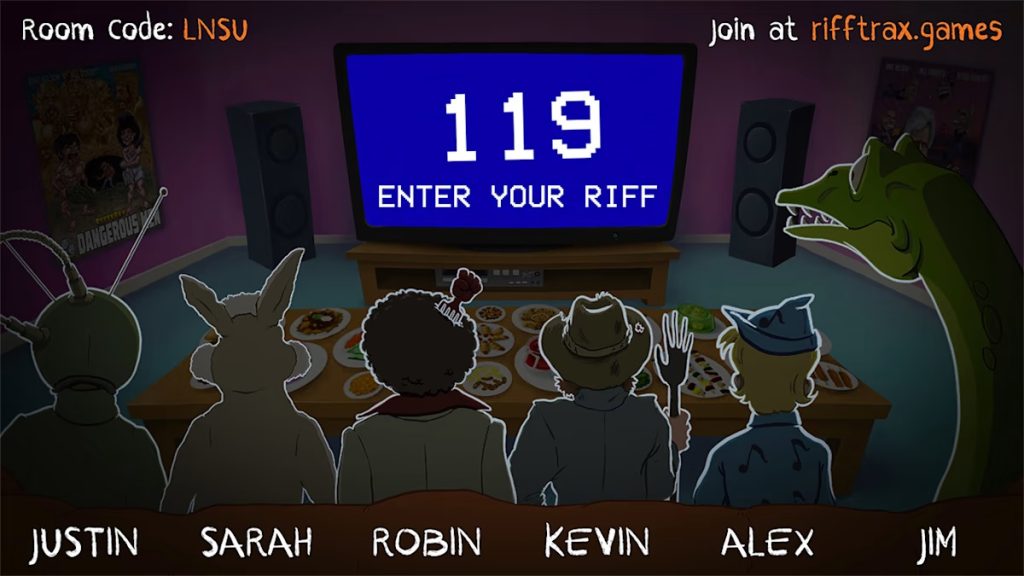 Audio
Much like the visuals, audio from the clips has a bit of that old-fashioned film sound, with voice bits that almost echo as characters are speaking due to how old some of this footage is. The commentary included is fine and was recorded well enough. That said, the dubbing being computer generated can be a bit hit or miss, with occasional mispronunciations taking the edge off a good riff.
Overview
Rifftrax: The Game is a fun time for a group of friends who want to spend a few hours kicking back and taking the piss out of some of yesterday's forgotten footage. While not perfect or even a concept that will last more than a few get togethers, my own friends and I had a blast revamping some oddly entertaining footage and I could easily see this being something I would regularly pull out of the box when having a gathering. Rifftrax: The Game delivers what's promised by bringing yet another stellar party game to platforms. 
Capsule Computers review guidelines can be found here.