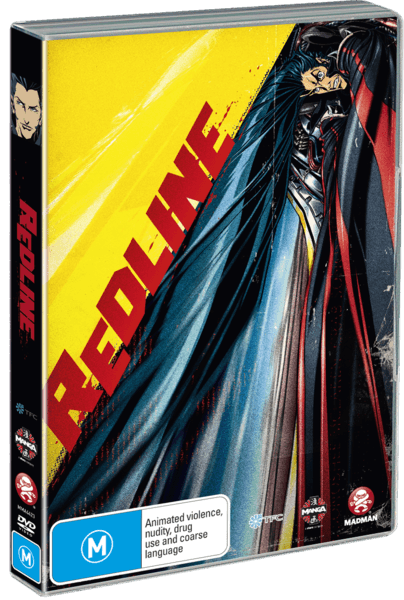 Redline
Studio: Madhouse
Publisher: Madman
Format: DVD (Reviewed), Blu-Ray
Release Date: December 14th, 2011
Price: $29.95- Available Here
Overview:
'It's begun!' – The harrowing words that embody the heart and soul of Redline. A film that defies many notions attributed to anime, as well as proving that anime is truly an art form unlike any other.
With huge action set pieces that could only be done in this medium alongside a deep and immersive universe that just begs to be explored, Redline is a master class in anime cinematography.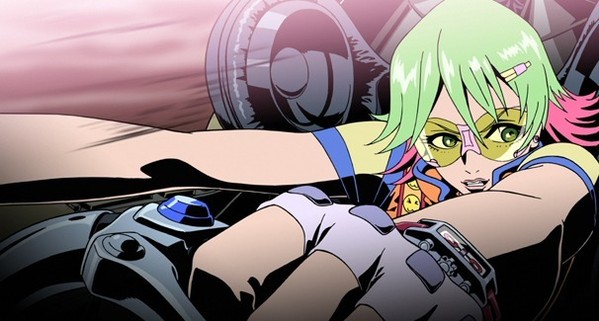 Story:
Before I start, I'd like to say that Redline isn't perfect, but it's damn near it. With such a vast world and huge cast of characters, Redline is ultimately only a half explored film. There is a lot of potential in this world and it's cast for further exploration, but in my opinion, some things are better left unknown.
The film takes place in the distant future in a time when racing is outlawed, but those with the hunger for rolling thunder enter into the black market of the racing world in hopes of competing in the universe's biggest race – Redline.
As you'd imagine the film features the Redline race, which makes up the majority of the films plot (as it should), with the rest which leads up to it introducing us to the cast and the universe they inhabit. This time devoted to the characters and world, flesh them out just enough to whet our appetites without ever fully revealing everything and that is how it should be. We don't need to know everything and in this case it works for the best.
The main theme of Redline is that we are all racing towards something, what that something is is up to us to determine and whether we reach it all not is all down to our will to obtain it. Through this tenet, Redline tells an unexpectedly romantic tale of two people who have been racing towards one another all their lives.
While to some this plotline may seem cheesy upon reading, the way it is handled is not only beautiful but also honest. It's extravagant in it's portrayal but by the time the race ends with that final shining moment the anticipation and build up pays off in a grand way.
Redline just does so much right in the way of it's plot, with superb pacing, brilliantly crafted dialogue, fully realised characters (even minor ones) and action sequences that will blast your brains into another dimension. You will leave Redline with no pants, socks or even underwear as they would all be blown away by the sheer bombastic brilliance of Redline.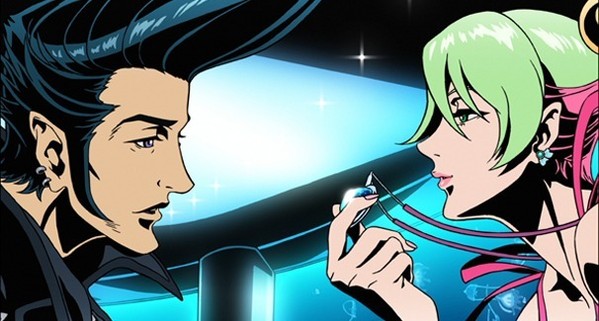 Visuals:
There is no animated film that came out in 2011, that could even stand along-side this visual masterpiece. Redline looks utterly beautiful and is a true testament to the quality of Madhouse produced works.
The film features entirely unique character designs, with memorable characters such as 'JP' and 'Sonoshee' being etched into minds of viewers long after watching.
Not only that but Redline features some of the most aesthetically stunning action sequences in years, so grand in scale in fact that there is no way such scenes could be reproduced in any other medium. It is simply you could only see in anime, there is no doubt about that.
Redline is without a doubt the most visually expressive and impressive animated film of the year and that is a title is earns with ease.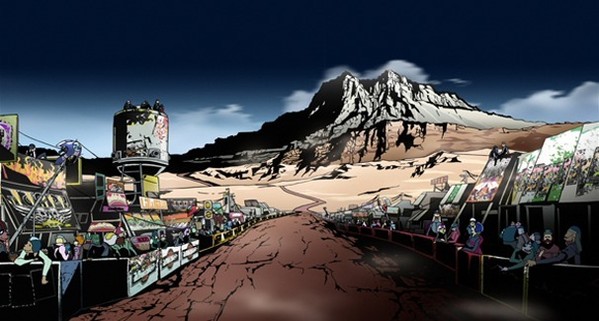 Audio:
When it comes to Redline's soundtrack you are in for an absolute treat. The film features a stunning soundtrack brilliantly composed and carefully crafted for each scene. None of which stand out more than 'Redline Day' the film's closing theme, which perfectly serves as a capper to the events of the entire movie. If you wanna hear a bit of it, watch the trailer for the film below this review.
The voice acting is well done and acted, showing that Manga Entertainment can really create some solid dubs, if given the chance. All actors portray their roles brilliantly, not only giving the viewer an attachement to each character but also a longing to be right besides them as they race through this gloriously realised world backed by a fully realised soundtrack.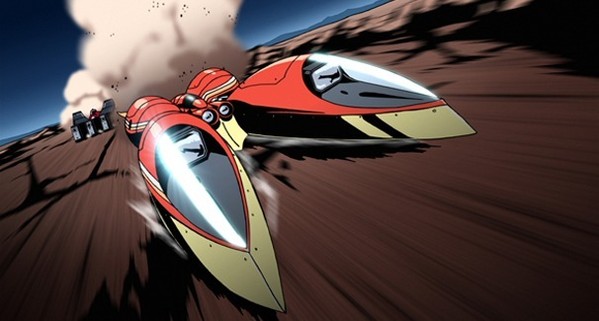 Extras:
Redline is action packed, but it's special features are just as packed. Madman have included two Redline Guides, one which is a 'Perfect' Guide to Redline and the other is 'Quick' Guide to Redline as well as the original 2006 trailer from when the film was announced.
The two guides are really nice and give a truly deeper insight into the movie and is a must watch in both forms for those of you who are looking for more information after viewing (if you're like me then I'm sure you will). There is certainly enough on disc to keep viewers satisfied after watching.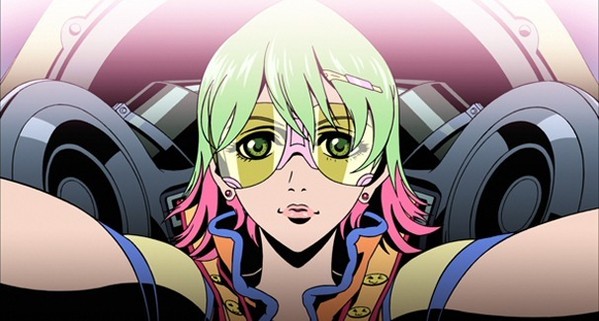 Overall:
After the engines simmer down to a final stop, Redline remains the best anime film of 2011. The only thing to even came close was Summer Wars but even that could not reach the sheer bombastic exhilleration of Redline.
If you are looking for a good action film, a good anime film, a good film in general, Redline is the movie for you. It will stir something deep within you and will resonate longer than any other anime film you would see from 2011. It is just that good. With Redline, it begun and with this review it's won.