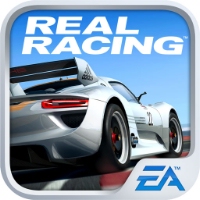 Real Racing 3
Developer: Fire Monkeys
Publisher: EA
Platform: iOS
Release Date: 14th February, 2013
Price: Free – Available Here 
Overview:
Aussie developer Fire Monkeys are carving a name for themselves as one of the most innovative mobile gamer makers on the market. Following their successful mobile version of Need for Speed: Most Wanted, Fire Monkeys are back behind the wheel this time for Real Racing 3.
Real Racing 3 takes all the fun an excitement of racing to the a level that must be seen to believed. With addictive gameplay, inventive multiplayer, thrilling races and a plethora of vehicles at your disposal, Fire Monkeys may just have created their best work to date.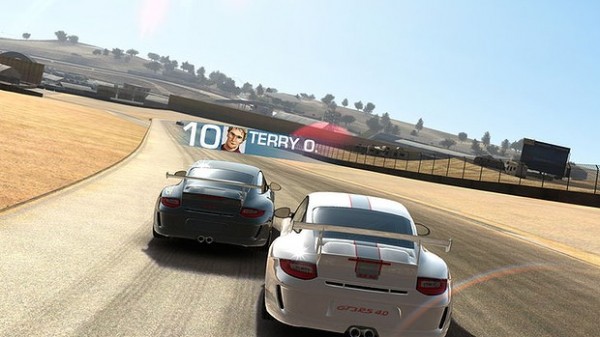 Gameplay:
When you think of the iOS as a gaming platform it is hard not to imagine the likes of simple casual games such as Angry Birds. What Real Racing 3 does is completely redefine what we view mobile platforms as when it comes to gaming. Not only is Real Racing 3 an excellent casual title to play on the go, it is also a game they can be played by hardcore gamers, it finds that perfect balance between the two extremes.
The game plays much like Fire Monkeys mobile version of Need for Speed: Most Wanted, you racing simply by tilting the device, with braking and such being on screen touch operated. This works incredibly well and is simple enough for anyone to be able to play it. Perhaps the most similar experience you could find to Real Racing 3 would be the Forza Motorsport franchise, a series that focuses heavily on providing a realistic racing experience that is simple and intuitive, Real Racing 3 is very much the same in that regard.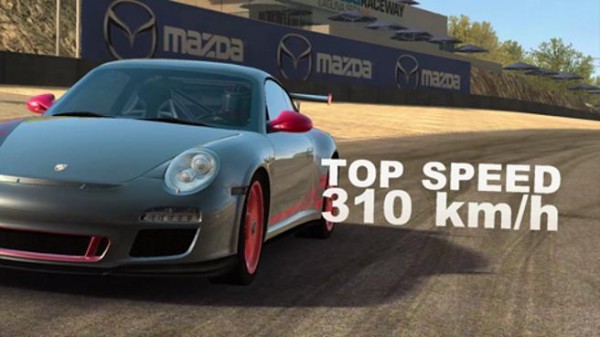 As you play through the game you slowly but surely begin to unlock more vehicles, tracks, challenges and game modes. Each race earns you in game currency that can be used to buy vehicles and other sorts of upgrades. If you so choose you can buy in game currency for a small real-life charge. In most games micro-transactions can be bothersome – a real hassle – not in Real Racing 3 though.
In Real Racing 3, micro-transactions are not a necessity, the game does not stop dead in its tracks if you don't spend cash on it, instead it just provides a gentle nudge and some real rewards for your cash. It has to be said, that there is no point in the game where you must buy something, instead you are given the option if you so choose. I got to try out two of the downloadable packs for the game which included a great deal of content for the price. I purchased the Street Spec Booster Pack and the Supercar Booster Pack and felt that both of them truly enhanced my experience, allowing me use of better vehicles (2008 BMW Z4 M Coupe and 2005 Ford GT respectively) as well as gain access to more series to race in. I felt that it was fully worth the small price of $1.99 and $5.49 respectively as it gave me more to experience, it wasn't something I needed to do, but it did add to my experience with Real Racing 3 in a real way. All of the download packs look great and are all very reasonably priced.
Progressing through the game allows you more tracks to race upon and more cars to race with. Part of the addictive nature of the game is the desire it instills to unlock and progress further within the game. There never feels like a moment where you are not moving forward, with each race you partake in you feel as though you are getting better and moving forward.
If you enjoy customizing your vehicles, there is more than enough on offer here to entice you, with the ability to upgrade your vehicle as well as respray it to a more preferred colour. In total it is said that their is 46 cars in the game, some are easy to obtain and some are very difficult, it makes for quite the challenge for those looking to collect them all.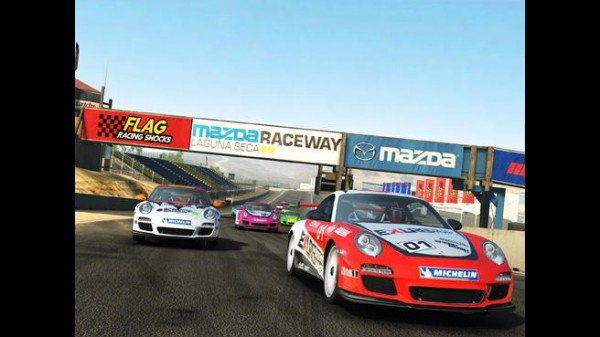 The real highlight of the game is its social aspects. Fire Monkeys have undoubtedly revolutionized mobile gaming with their TSM feature. TSM stands for Time-Shifted Multiplayer and it is one of the greatest innovations to hit mobile gaming since its inception. Basically what TSM does is creates a double of your race performance and if you challenge one of your friends they will race against your double when they themselves choose to play. The way your double functions is simply remarkable mimicking your actions although being able to be thrown off course should your opponent ram into them and change the outcome originally made. It is somewhat mind-bending to think that such a technology exists in such a polished format as this. There is so much potential here and I honestly believe that Real Racing 3 lives up to that potential and goes beyond it.
TSM is a large part of Real Racing 3 as it appears that a number of the opponents you face are other players doubles that have been saved for you to race against. It is a truly remarkable system that really changes the way one thinks about multiplayer on a mobile device.
Real Racing 3 is the perfect mix between casual gameplay and hardcore gameplay, blending aspects of games such as Forza Motorsport with the more social aspects seen in games such as Words with Friends. This addictive combination makes Real Racing 3 a truly landmark title for the mobile gaming platform.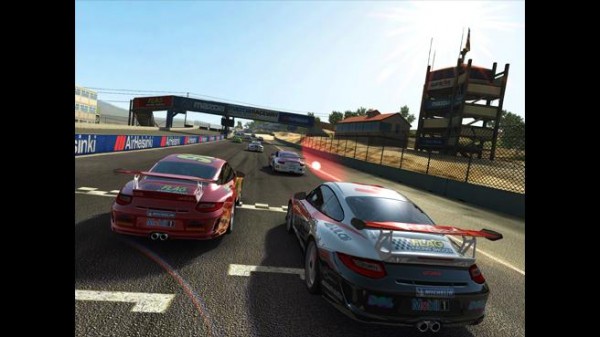 Visuals and Audio:
Aesthetically it is hard to come by a game on mobile devices more visually impressive than Real Racing 3. It takes realism to a new level with graphics that look far better than what you would find on most consoles. The shading, textures and animations are astonishing  There is an unprecedented amount of detail and attention that went into making this game such an aesthetic powerhouse. It is very obvious that Fire Monkeys wanted to create just as much of an incredible visual experience as they did an incredible gameplay experience.
Real Racing 3's soundtrack is also particularly noteworthy. Infusing smooth and relaxed beats along with the gameplay creates a chilled and soothing experience that one would expect from a mobile game. There is no overly energetic tracks that add a layer of tension to the gameplay instead the soundtrack consists of tunes that keep you calm and focused on the task at hand. Aurally the calm and cool tracks on show in Real Racing 3, are the perfect fit for this blend of casual social gaming with the hardcore racing.
Overall:
If there was any game that has revolutionized what mobile gaming means it is Real Racing 3, a monumental experience that is as fun as it is inventive. This is the game to play on your mobile, whether you are a racing fan or not, this game breaks down those boundaries making for what is the most socially engaging racing game on the market. Fire Monkeys have created brilliance with Real Racing 3, this is a mobile gaming phenomenon that you will want to be a part of.