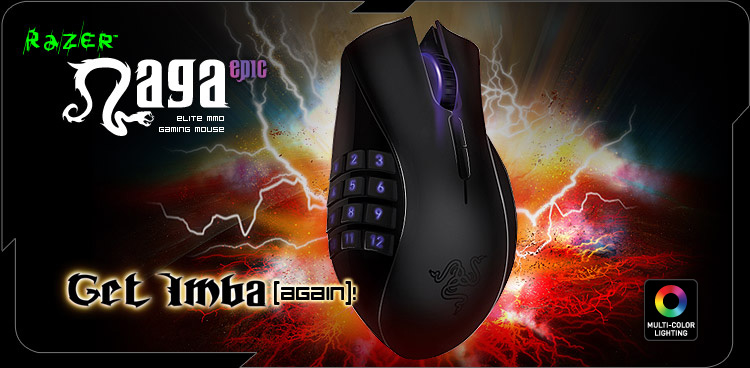 Naga Epic
Developer:Razer
Release Date: Out Now
Price: AUD$199.95, US $129.99
Gaming mouses have come a long way since Razer stepped up the mark in creating gaming paraphernalia. Razer's latest Naga Epic is no different, specifically designed for elite massively multiplayer online gaming with its unique, eye-catching 12 button thumb grid located on the mouse's left hand side. But what makes the Naga Epic "Epic" is the mouse's level of customisability to fit a player's need. The Naga Epic is features both duel wired and wireless functionality as well as three interchangeable side panels.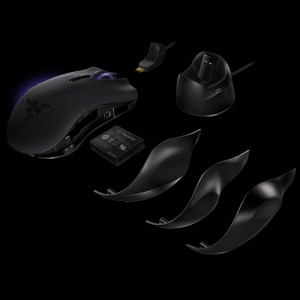 The Naga Epic comes nicely packaged in a stylised box, which Razer fans have come to know and love. If this is your first time opening and 'experiencing' Razer then you're in for a treat. Packaged with the gaming mouse is, a USB cable which can be plugged into both the mouse effectively turning your wireless mouse into a wired mouse, as well as into the wireless transmitter charger dock. Also included are two additional side panels, dubbed the 'Claw grip' and the 'Classic grip', the third 'Palm grip' is already attached to the gaming mouse by default.  All three grips are interchangeable, and are surprisingly very easy to swap in and out, you aren't going to accidently slip and break your mouse by changing grips, these things are easy to pull out and change. The grips themselves fit very compact into the mouse's side and again won't fall out accidently either once they're in place.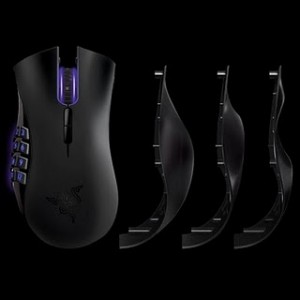 What grip you chose to use is dependent on another major feature of the Naga Epic, its unique 12 button thumb grid. As this is a gaming mouse, players will find necessary uses for the 12 button thumb grid in whatever game they choose to play. The ease , accessibility and size of 12 button located on the mouse's side does provided gamers with entirely new ways to game whether that be MMO, RTS or FPS. Whilst the mouse is specifically targeted to MMO gamers the side buttons are fully compatible and customizable with any game. Much like the interchangeable grips, you won't be accidently pressing the side buttons with your thumb as they are designed to be actually pressed for them to work, not accidentally "slipped on" to even in the most intense gaming sessions. However, some may find the additional side buttons on the mouse to be quite an annoyance as they don't really serve a purpose when non-gaming. The Naga Epic's relocated index finger buttons from just above the thumb grid as seen in the original Naga to now just under the mouse wheel. The buttons are still slightly awkward to press as you either have to 'palm' them with the lower part of your finger or quickly move your entire hand and back again to press them.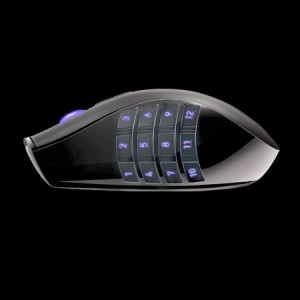 While testing the mouse out, I found that each grip greatly effects how your hand is placed on the mouse. Whilst each provides a comfortable and solid gaming experience, which grip you choose to game with depends on how you much will use the mouse's side buttons. The Palm, Claw and Classic grips each gets 'thinner' respectively, to allow for more dynamic movement for a players thumb to reach and press the mouse's side buttons. Depending on what game you choose to play I would suggest to MMO and RTS players use the classic grip as you require the most uses out of the thumb grid buttons and for FPS players, the palm grip as it provides the widest possible grip for your hand as well as access to the vital buttons on the thumb grid.  Regardless of what grip you choose to play with, playing with the thumb grid takes some time to get use to. That's not a bad thing at all considering all the potential benefits, once you get the hang of it the Naga Epic is a breeze to use.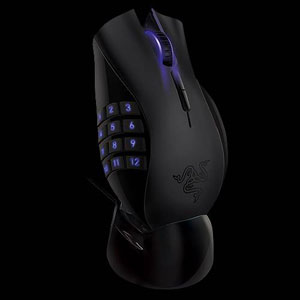 'That's all and good but how does it perform?' you ask, well in short great. Coming from Razer you know that the mouse is going to be top notch. The Naga Epic is very responsive thanks to its  5600dpi Razer Precision 3.5G Laser Sensor which enables great movement speeds 7x  that of a standard 800dpi optical sensor. Combined that with the mouse's 1000Hz Ultrapolling / 1ms response time, meaning that the Naga Epic has a response time of 1 millisecond, a vast improvement over other conventional gaming mice which have that of 125Hz / 8 millisecond. This all means that the Naga Epic provides the user the optimum gaming experience. The mouse itself is very light, ergonomically designed to fit player's hands and as well as their expectations as great mouse from Razer. But that's not all, not only does it perform great it looks fantastic as well sporting a 16 million color backlight illumination. Not only this, the Naga Epic's battery life is amazing, wireless the mouse can be used 12 hours continuously and up to 72 hours in normal gaming sessions. Of cause if you do run out of power in an extremely long marathon gaming session no worries just plug the mouse in, and you've got yourself a wired mouse.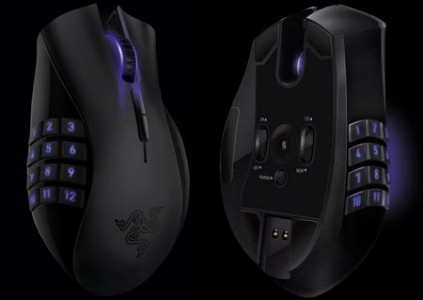 I'm not exactly sure how Razer got the Naga Epic right but they somehow did it. The Naga Epic is a mouse for any gamer not just the targeted MMO audience, but with that said MMO gamers will get the most kick out of the mouse. The three interchangeable side panes provide gamers with a level of choice and customisability to suit their specific style of gaming. This level of choice is also extended in the mouse's ability for wired or wireless gaming and switching between the two is incredibly easy. The mouse itself is presented very nicely with a slick design and backlighting which can emit 16 million different colors. The Naga Epic is what you've have come to expect from Razer in its long line of gaming mice, the mouse is absolutely one of top quality and performs extremely well, hands down one of the best gaming mouses out there today.
I give Razer's Naga Epic: