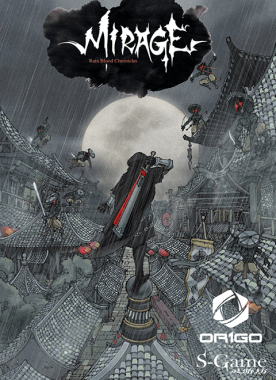 Rain Blood Chronicles: Mirage
Developer: S-Game
Publisher: Origo Games
Platform: Windows
Release Date: 11 November 2013
Price: $14.99 – Available Here
Overview
Rain Blood Chronicles: Mirage is billed as a Wuxia tale from Beijing based indie developers S-Game. The 2D platformer draws inspiration from Asian martial arts tales and Japanese hack 'n slash games to create an intense combo based experience. Players will control two skilled swordsmen as they fight their way to eliminate the shadowy organization known as Mirage.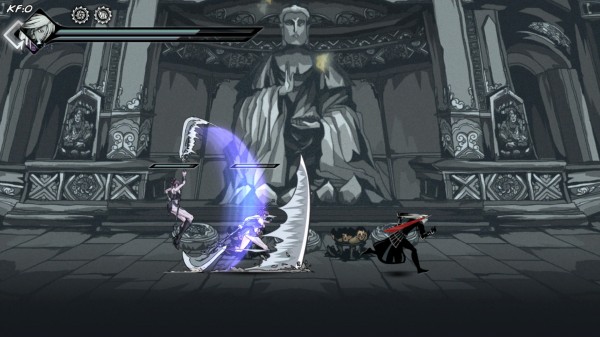 Story
Soul and Shang are two sword wielding assassins who are part of the mysterious organization called "Cabal." They have been sent to follow the steps of their fallen comrade Jade and eliminate Mirage, the organization Jade was investigating before his untimely death. Rain Blood Chronicles: Mirage's story is told through cut scenes and a few short in-game conversations. All of the voice acting is done in Mandarin with English subtitles. The translations are extremely rough, with poor grammar, some bad translations, and very little literary style. The plot is rather confusing and forgettable for the most part. I struggled to figure out what was going on until the last three levels of the game. Things definitely became much easier to grasp and more interesting during those last few levels. The story may be more captivating for those who understand Mandarin, but for English speakers, this is definitely not a game to play for the story.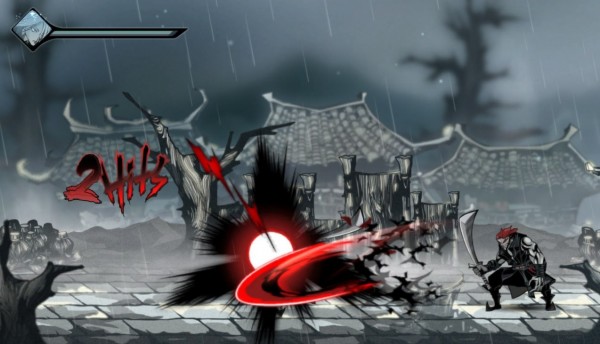 Gameplay
Rain Blood Chronicles: Mirage is a 2d action platformer with a focus on long chain kills. Players will try to build long enough chain attacks that will outpace the depletion rate of the Coolness meter. Once it hits S rank, players will be able to attack enemies for gold currency that can be traded in for a variety of other currencies in game. These can be spent on new skills, items, and upgrades. There are a lot of things to purchase and rewards are based on skill and difficulty level, so it is rather unlikely that the player will be able to purchase everything on the first play through. There are four difficulty levels in game. The game has a steady rise in difficulty level as the game progresses.
Players will play Soul, a heavy brawler who is capable of teleporting short distances to avoid attacks, and Shang, a light and agile fighter capable of summoning Kee Swords to protect him and do ranged damage. In single player, Soul and Shang can be tagged in and out which will allow players to choose the best play style for the situation. Soul and Shang handle differently enough that it is in the best interest of the player to swap them in and out as needed. Some modes like Tower, Boss Rush, and Duel can be played with two players locally with either two people sharing the keyboard or some combination of controllers and keyboards. Disappointingly, Story Mode can only be played in single player.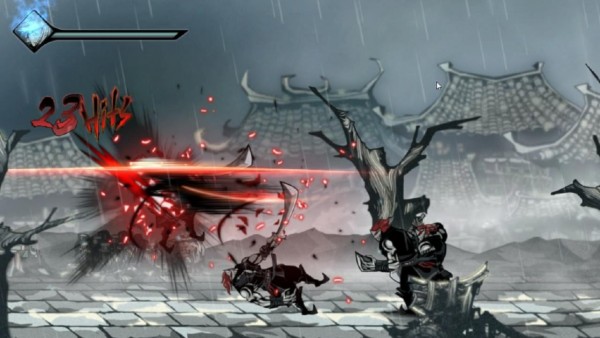 Rain Blood Chronicles: Mirage is currently rated on Steam with full controller support, which is a bit liberal on the definition of "full controller support." I find the menus rather difficult to navigate with the controller and sometimes the controller does not work at all. The store menu is probably the worst menu to navigate due to its tightly packed nature. Other than problems with the menu, I find the game's controls to work very well and they are easily customized.
The menus are mostly translated. There is one point at the end of the game where the screen prompt to move in and out of the cabins are still in Simplified Chinese characters. There is a light attack icon beside the label, so it is possible to figure out what the game is asking the player to press.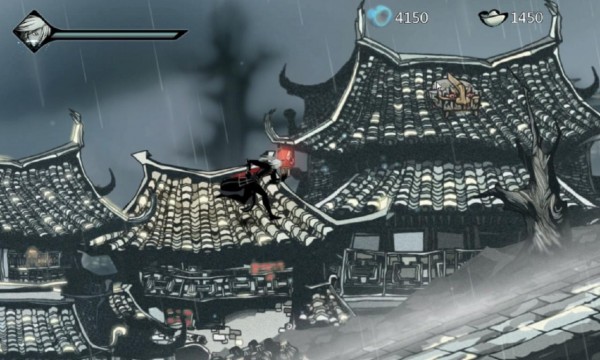 Visuals
Rain Blood Chronicles: Mirage is a pretty game. The Beijin based developers infuse the visuals with a hearty dose of Chinese influence. Although there are several standard enemy types, almost each level has their own variant of the enemies, from masked assassins to chainsaw wielding robots. Shang is very easy to discern in a big brawl with his purple clothing and bright yellow Kee swords. However, I found myself visually losing track of Soul in several levels as his clothes share a similar colour palette as most of the enemies in game.
Audio
Unfortunately, not being fluent in Mandarin means I cannot fairly comment on the quality of voice acting in Rain Blood Chronicles: Mirage. The sound effects are rather average with some excellent effects and some very poor effects. The footsteps sound very awkward, but are often overpowered by the sound of carnage and death. It appears that each character has only one or two really noticeable grunt of exertion while fighting, which becomes really obvious during combat.
On the other hand, the music in Rain Blood Chronicles: Mirage is fantastic. It is an intense and frantic listening experience that compliments the gameplay nicely. The soundtrack sounds like a Kung Fu movie soundtrack was thrown in a jar with a classic arcade fighting game soundtrack and vigorously mixed.
Overall
Rain Blood Chronicles: Mirage is a good title, but it has its flaws. The translation is flaky, the story is rather forgettable, and the sound effects could use some work. However, it makes up for its shortcomings with solid gameplay, beautiful visuals, and an excellent soundtrack. Any gamer who is willing to look over the story and focus on the gameplay will be rewarded with a great experience.

Capsule Computers review guidelines can be found here.