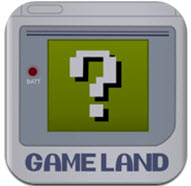 Quiz Game Land
Platform: iPhone (reviewed)
Developer: Undercoders
Release Date: November 15, 2009
QUIZ GAME LAND by Undercoders for the Apple iPhone / iTouch 
Quiz Game Land has been around for quite some time on the iPhone, Capsule Computers have covered this game and also interviewed Undercoders about this great game (check it out here) 
Simply put Quiz Game Land is a Trivia Game.  BUT a TRIVIA Game about VIDEO GAMES !!  Now Trivia games come in all shapes and sizes and different flavours.  But there isn't one as and fun, challenging, informative and addictive as this one. 
Without giving away any spoilers, in Quiz Game Land you travel on a virtual game-style board rolling a dice and moving spaces, landing on numbered tiles will pit you up against a baddie, monsters that are parody of classic games you know and love, baddies.  You start off with a set amount of hearts which represents your life, answer a question wrong .. and BAM you lose a heart, once you lose all your lives the game ends.  But lets not go there.  Let's think on the positive side.  Baddies also have hearts which are represented on the game floor tile you land on.  If you land on a tile which has a 3 on it.  You will be facing a monster that has 3 hearts and will potentially ask you 3 questions.  Answering all 3 questions correctly will eliminate that baddie and move allow you to roll again and move forward.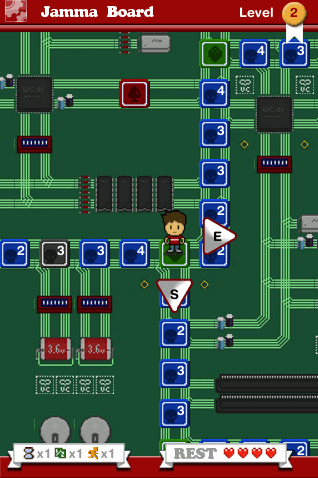 You also have specific abilities or powers if you would like to call it that.   When taking on a baddie, monster or boss you have similar options available to you like that of Who Wants To Be A millionaire.  These are : 
Stop The Timer : This will stop timer from running out and give you fair amount of time to think about your question then attempt to answer it.  It wont stop it completely as it will continue again.  So if you have to google it .. be quick 
1/2 : 50/50 this will remove 2 completely wrong questions, leaving you with the potential correct answer and a fake one. 
Skip : If the question is just too hard, then use this option.  It will just ignore the question and replace it with another one.  Who knows, the next question might be completely easy or it could be worse than the one you just had. 
The rest I will let the video review explain.  So sit back relax and watch the video review. 
[youtube=http://www.youtube.com/watch?v=g1jUSanI6jE] 
Quiz Game Land as mentioned is by far the best TRIVIA GAME for VIDEO GAMES, release so far on any gaming platform. Nothing even comes close.  Quiz Game Land has challenging questions presented to you in a variety of different ways, is addictive, and most of all really tests your knowledge of video games.  If you think you know it all when it comes to Video Games.  Then take the Quiz Game Land challenge.  Go out there and buy it. 
Quiz Game Land is created by Undercoders.  A great software studio that are dedicated and know their stuff when it comes to video games. 
MasterAbbott Of Capsule Computers gives Quiz Game Land a 9.5 Capsules Out Of 10. 
–