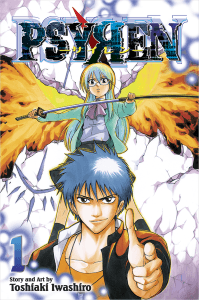 Psyren Volume 1
Author: Toshiaki Iwashiro
Publisher: Viz Media/Madman
Release Date: November 11, 2011
Price: $14.95 – Available Here
Overview: 
It isn't often that a 'shonen' manga exceeds the common conceptions attributed to the genre. Psyren, like Hunter x Hunter and Full Metal Alchemist before it, are not only well suited to the teen demographic, but also feature highly complex plot and characters alongside some rather mature content. It certainly is not a series that dumbs itself down to cater to a younger audience.
In terms of complexity and grand scale brilliance, Psyren is one the very few truly ground-breaking 'shonen' series available to manga readers right now. The first volume of Psyren promises to be merely a taste of things to come, while proving to be an exciting 7 chapter's of intrigue, action and intensity.
Story:
Psyren is one of the very few manga I have ever read that focuses it's first chapter on completely giving dimensions to it's mythology. Within one chapter, Iwashiro have explained the urban legend that is Psyren and built up for the events that immediately follow. That is an impressive feat for any manga artist and he does it with ease and style.
What follows on is an immense journey set within a barren wasteland filled with deadly creatures, wherein the series protagonist Ageha must try to survive as well as save the girl he ventured there for. It may sound relatively simple, but it is this first journey into the apocalyptic world of Psyren that promises even more intense things to come in the next volume.
This first volume is not only deep and incredibly well conceived it is also a brilliant series opener. I left the final chapter salivating at the mouth for more of this manga, left with nothing but a preview of the next volume.
There was just so many things that clicked for me in Psyren; the survival game concept that harkens back feelings of Gantz, the well drawn mythology and characters, the deft artistic talent of Iwashiro and of course the sheer fun this manga provides.
Artwork:
Iwashiro has a very distinctive art style, it is not only sleek and pretty on the eyes but it is also gritty and intense with a sense of danger to each panel he draws. He is simply an incredibly talented artist and it shows throughout every page of this volume.
Whether it is his unique character designs, incredible landscape shots, fist-pumping action sequences or even the comedic scenes, Iwashiro handles it with finesse, giving life and motion to his characters and the world they inhabit. It isn't everyday you read a manga that feels alive and it was a pleasant surprise to get that feeling from Psyren, a manga I had not known much about before reading.
Overall: 
Psyren Volume 1 is an impressive first entry into Iwashiro's manga series and one that has certainly left a lasting impression on me. The final chapter left me on one hell of a cliffhanger, with nothing but a desire to read more of the thrilling manga. Psyren is more than just your everyday run of the mill 'shonen' action series, it is deep, engaging and above all pure fun.
Honestly, I can hardly wait for the second volume of what looks to be an utterly brilliant action series all around. If  Iwashiro can keep up this level of quality that went into this first volume (which I wholeheartedly believe he can), Psyren could easily become true 'shonen' classic.