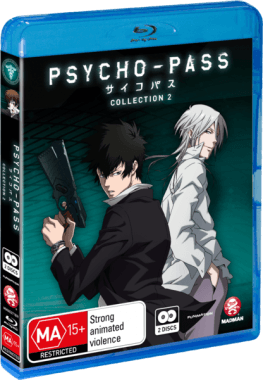 Psycho-Pass Collection Two
Studio: Production I.G.
Publisher: Madman Entertainment
Format: DVD, Blu-Ray (Reviewed)
Release Date: May 21st 2014
Price: $59.95 – Available Here
Overview
Every once in a while a series like "Psycho-Pass" comes along that shakes fans of anime to the very core. Usually these series' are filled with likable character, they take place in an interesting location and they have a story that people can become engulfed by…"Psycho-Pass" is no exception to this. It had it's original run back in 2012 to an amazingly positive reception and to this day is still revered as one of the very best contemporary anime series' to have been released. Thanks to the lovely people over at Madman Entertainment, I have been given the chance to review "Psycho-Pass" in all it's high-quality, English dubbed glory. Let's see just how much I loved the series a second time around.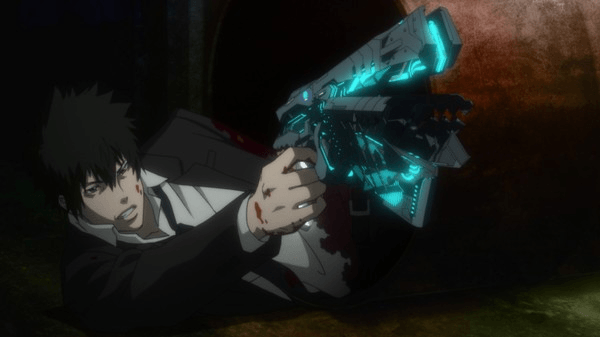 Story

"Collection One" (read the review here) did an amazing job at setting up the series' storyline. "Collection Two" does something just as brilliant; it ends the series. Now that might seem like an obviously generic comment but thinking it through will have you truly understand what I mean. There are shows out there that can start off well but be made obsolete thanks to an under-prepared and abrupt ending. This anime is not one of those animes. "Psycho-Pass" is an overly-intellectual anime series that features probably the most though-provoking storyline since "Fullmetal Alchemist".
It isn't that the series is hard to follow, it is that it begs the watcher to ask themselves questions they never though to ask before. Though even in saying that, to get the most out of "Psycho-Pass" it is best to pay as close attention as possible because it is very easy to miss something in the background of a scene that, while not hindering your understand of the overall story, WILL add to your appreciation of the layers of intelligence developed throughout. You'll hear me say this a few times throughout this review; I have to be very vague. This is an anime that must be experienced, not just watched. For me to divulge possible spoiler information would be unfair.
"Collection Two" shows some amazingly in-depth character development that has people seemingly jumping ship or rethinking allegiances, what's fantastic is that you'll follow the thought process of these characters yourself and you'll find that it would be very hard to make a decision in that situation that you wouldn't later come to regret. We call this "good writing", something I've found a lot of modern anime series' lack. The story is escalated beyond belief with the character of Makashima finally fully stepping into the spotlight he deserves. I always judge a story based on how relatable the antagonist is written and, well…you'll soon see exactly what it is that I mean. That is, if you take my word and go to watch the series now.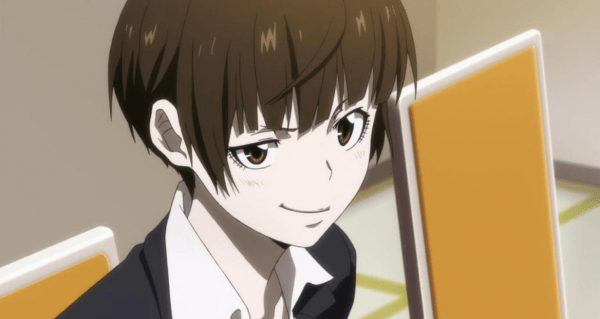 Visuals
"Collection Two" is much the same visually as "Collection One". For the most part it retains it's dark and cold yet vibrant colour palette but does show a definite change to warmer colours as the final episodes begin to creep in. To say anymore about the setting which hosts these aforementioned "warm colours" would be delving deep into the sea of spoilers so I'll refrain from saying such things. Everything about the series, visually, mostly stays the same. There's no massive jump in animation or no drastic change in character design but that's not to be expected.
A couple changes are noticeable; one of them happens to be the prolonged use of CG animation for certain environments which, contrary to what is believed about the style of animation, is actually quite fitting especially because the animators decided to focus all of the CG animation capabilities on one certain piece of the environment which made for an interesting clash of traditional and contemporary. The story coming to a close gives the animators a free pass to run wild with aesthetics. This means that the audience are shown certain things that the last collection simply couldn't. Once again, any more talk of this would be wandering into spoiler territory so unfortunately I'm to be as vague as possible.
Watching through the series, you'll certainly understand what it is I'm referring. There's much more hand-to-hand combat and it is all planned out very well. One thing "Psycho-Pass" does above all other series' I've seen as of late is use actual camera techniques apart from "front on" and "side on", the likes of which you see almost entirely populate anime. To include things like continuous sweeping shots in an animated medium seems odd but ultimately makes for one hell of a cinematic experience. Just know that "Psycho-Pass" is definitely a series you need to keep your eye on. Literally, I mean.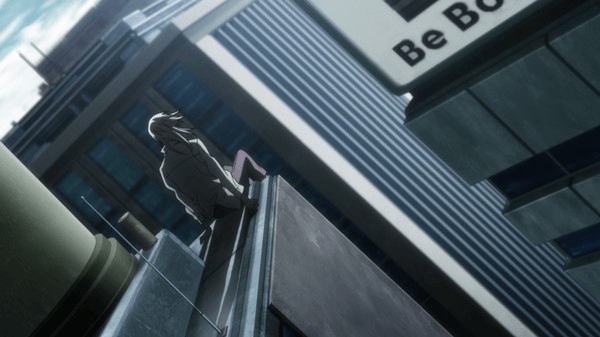 Audio
Being a direct continuation on from "Collection One", there's absolutely no change in the audio quality. Everything, auditorally, that made "Collection One" so appealing has returned to take the spotlight in "Collection Two". The English dub cast has, once again, blown me away. What DOES make "Collection Two" different from it's predecessor is simply that an escalation in the urgency regarding the story calls for the voice cast to be a little more, let's say, "on their toes" when it comes to their character portrayals.
This means there's plenty of shock, plenty of awe and plenty of raw emotion with lines delivered as realistically as I could have possibly perceived. Much like the voice acting, the soundtrack stood structurally sound much like "Collection One". Something I noticed this time around was that the opening and closing songs were timed quite well within the actual bulk of the anime. This means we constantly heard the closing theme before the actual episode had ended which brought such a thick layer of gravitas to the ending of the series. Japanese rock group "Nothing's Carved In Stone" provided the opening theme song for this half of the series.
The song "Out Of Control" was entirely sung in English and musically described the series perfectly. It was not just the lyrics that made sense in regards to the overall storyline, it was the composition of alternative rock sounds that really made for a hard-hitting introduction to any episode, the contents of which rocked you even harder. The in-anime soundtrack pretty much stayed the same which isn't a bad thing because, the way I see it; why fix what isn't broken?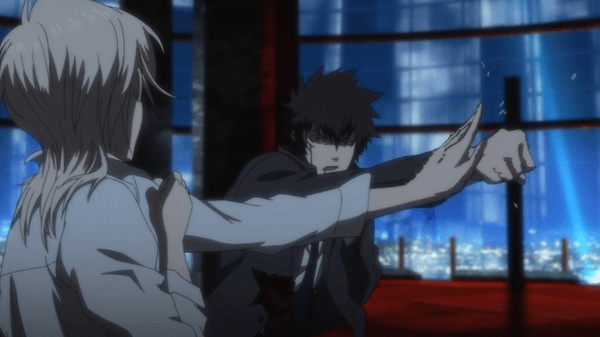 Extras
"Psycho-Pass Collection Two", despite being distributed on Blu-Ray, actually doesn't feature that many extras. Like regular anime home video releases, "Collection Two" comes with somewhat of a reversible cover, episode commentaries and textless opening/closing sequences. It was nice to see that the release also featured a "Sakura-con" spotlight video that basically showed "Psycho-Pass" in it's element at a popular convention but this is all pretty much normal for standard anime releases. It would have been nice to have seen more special features, especially seeing as I was given the Blu-Ray version to review; a format that can hold a great deal of data. Still, at least "Collection Two" came with what it did rather than nothing at all.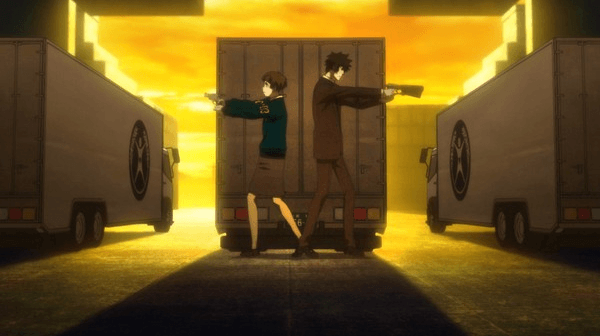 Overall
"Psycho-Pass Collection Two" perfectly ends the series while also leaving enough open to warrant the release of a second series which, in case you are unaware, has actually already been announced and confirmed for a release sometime late this year. "Psycho-Pass" forces watchers to think about morality in a world that is mostly immoral and makes them doubt their government and, in fact, the world in which they live. Luckily you're not baited into questioning it too much, I've yet to hear of an anarchistic-type uprising due to certain unhinged people watching "Psycho-Pass".
It's a modern series that takes a great deal of inspiration from early science-fiction films like "Blade Runner" and books like "Ninteen Eighty-Four", both of which (alongside many other publications) were actually mentioned throughout the show. "Psycho-Pass" is truly for the introspective thinker. It's a series that allows for the watcher to immerse themselves within it, it has plenty of quality insight and information to share, and it also indirectly remarks on the society we're currently living in. Yes, "Psycho-Pass" is simple fiction based in a dystopian future BUT there's a lot you can get out of watching it. You just have to think a little deeper.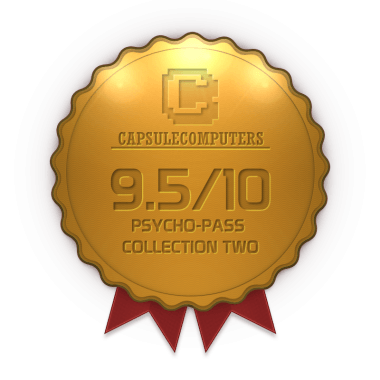 Capsule Computers review guidelines can be found here.