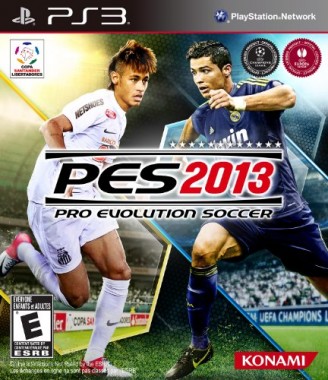 Pro Evolution Soccer 2013
Developer: Konami
Publisher: Konami
Platforms: Playstation 3 (reviewed), Xbox 360, PC, Wii, Playstation 2, Nintendo 3DS, Playstation Portable
Release Date: 25/09/2012
Price: $46.25 (Available Here)

Overview
Pro Evolution Soccer has always provided an alternative for football fans everywhere. This year, it returns as PES 2013, offering improvements to gameplay over previous entries, or so I have been told. The gameplay is quite solid, as well as elements off the pitch, such as Football Life and the UEFA license. The visuals and audio have their positives and negatives too. But is it enough to change the allegiance of the FIFA faithful?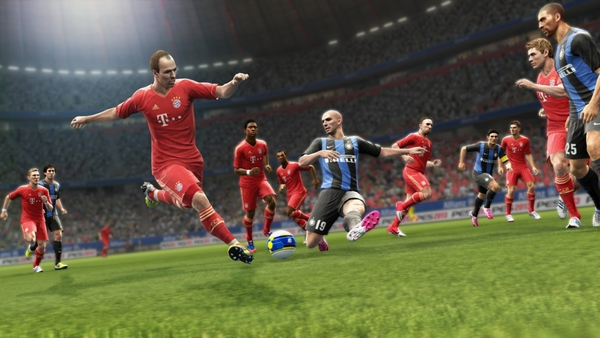 Gameplay
PES 2013 presents football differently that FIFA. Rather than being ultra realistic or downright arcade-style, it brings both realism and arcade gameplay into one bundle. PES pulls it off like the Wayne Rooney bicycle kick against Manchester City: sheer excellence. This is the first time I have encountered PES on console (you may remember my review for PES 2012 PSP) and, being someone who has always stuck with FIFA, I did not know what to expect. The basics are nailed, like a free kick hitting the top right (or left) corner. Passing is accurate and fluent. Teammates are actively giving the player a chance to execute an attack by looking for space. The player is given absolute control once they have the ball. It feels right. It brings it back to the basics of football, beating the player in front of you and stringing passes together in order to score a goal.
While Konami does quite a lot right with some aspects on the pitch, others require some attention. Shooting comes into play right here. Shooting isn't broken, but the 'Knuckle Shot' always hits the target but rarely produces any goals, even if you are within shooting range. Speeds for some players are quite unrealistic. I would expect a winger to be able to fly down the pitch, but a defensive midfielder shouldn't match that. Heading is also a problem. More often than not, any attacking headers my player executes results in one weak, off target header. I do not know if I am doing something wrong or it is the game itself, but the feeling of actually getting a powerful header into goal is gone. The referees are also quite whistle happy and yellow card happy. They are very harsh for the softest of tackles, which involved me scratching my head and shouting at the TV like a regular couch analyzer.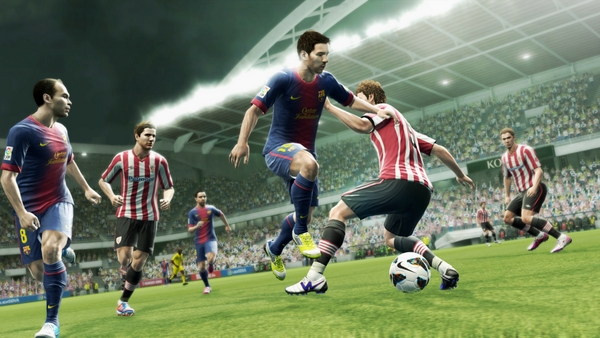 Then there are the great modes off the pitch. Football Life is the strongest and best feature of PES 2013. Football Life is divided into two modes: Master League and Become a Legend. Master League allows the player to take the reigns of any club they wish, whether they are part of the English Premier League or La Liga. Become a Legend is all about developing as a player on the pitch. There is quite a bit to do in both modes and one can earn items such as boots to improve player statistics. International duty is included in Become a Legend, although it seems that it is based on the current customised squad. With that said, it is disappointing to see that there are a few flaws within both modes. The one major problem is that, most of the time, all one would see is the calendar and menus. It would have been nice to actually play one's created player (or real player) through training, where the performance affects the statistics. Still, it is worth checking out.
Another excellent feature of PES 2013 (and one that has been part of the PES library for quite some time) is the inclusion of the UEFA club competitions (Champions League, Europa League and Super Cup) and the Copa Liberatores. For those who are new to football (or soccer, whatever one's preference is), the UEFA club competitions are the premium club competitions in Europe, while the Copa Liberatores is South America's premium continental club competition. Everything that has to do with both competitions is there, recreating the excitement and feel that both competitions bring to the world. However, not everything is included.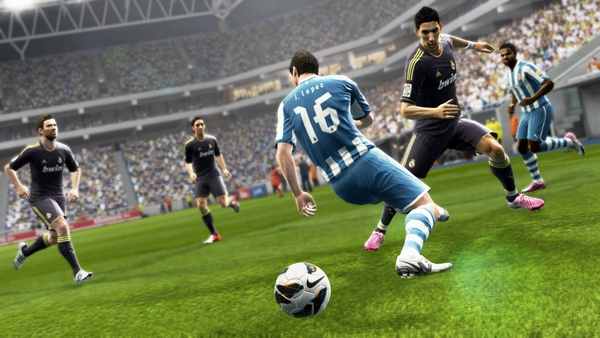 I refer to the licensing of teams in PES 2013. Whether it is a problem for one is their opinion, but, compared to the opposition, the licensing does lack in some ways. Mind you, PES 2013 do include teams that FIFA do mot touch at all (like two Ukrainian club teams), which is great and it is worth noting that Konami's bank may not challenge that of EA's own bank. With that said, there could be certain leagues Konami may want to bring to their game. Konami holds the license for the J.League, Japan's premium football competition, yet they don't include it in PES. Other Asian leagues, like the Chinese Super League, could also feature in PES, bringing more exposure to these two leagues. However, the lack of licenses should not be the deal breaker, as the gameplay offers enough for a purchase.
PES still offers deep customisable options, like changing settings for any league or cup in the game. They also offer stadium creation, which allows players to import any images for use. Creating a stadium is quite easy and it can turn out excellent for the player. It helps that it can become a home for that created team the player creates. PES also offers training exercises for those who need to acclimatise to the PES controls and the new features the game offers. The training is a hit and miss, as one will discover some tasks are too easy and others require excellence in execution. But that is how one becomes a master of the virtual round ball game.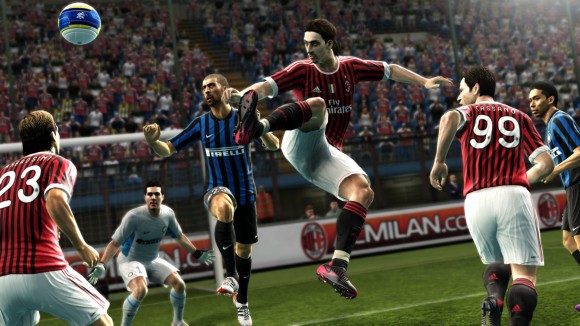 Visual and Audio
The visuals of the game could have been worked on, but we all know the budget PES 2013 received compared to the other game. Credit has to be given on the player models. The big stars like Rooney, Messi and Ronaldo do look like their real world counterparts and that includes their animation, thanks to PlayerID. However, I don't particularly like the animation for the celebrations. They look quite robotic and artificial. Stadiums look excellent and the menus are quite neat and easy to navigate. It is just too bad that there are quite a lot of menus to navigate around.
Whether the crowd is alive with excitement or it is hearing the words of Jon Champion, the audio of PES 2013 is quite a mixed feeling. The soundtrack is left to be desired. It is a great thing, then, that any music stored on your console can be playable in menus and other parts of the game. Konami has also included tracks from the 8-bit classics, such as Contra and Castlevania. Then there is the commentary. The team this year is the same as previous years, Jon Champion and Jim Beglin. You might have heard of Jon Champion. That is because he does call games for the Premier League in Europe, so you know he is quite an excellent commentator. It is too bad that the commentary isn't quite the best.
Overall
PES 2013 is definitely worth checking out. While it may have some problems with certain elements of the gameplay and lacks the licensing that FIFA has, the basics bring an excellent gameplay experience. Football Life and other modes add to the awesome experience. The visuals are nice but animations for celebrations could have been worked on. The soundtrack isn't the best, but one can make their own. Jon Champion and Jim Beglin are also not at their best compared to listening them commentate an actual match. With that said, PES is coming back and is offering an excellent alternative than FIFA.