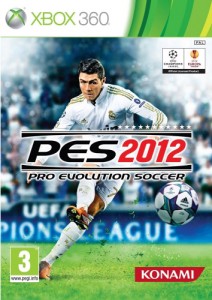 Publisher: Konami
Developer: Konami
Consoles: Xbox 360 (reviewed), PS3, PC
Release: 27 September 2011 (Americas), 13 October 2011 (Europe and Australia)
Price: Fishpond Australia ($88.56), Amazon US ($55.52), Amazon UK (£37.99)
Apparently, 2012 is the year of change. With a host of sports games introducing new features – and some revamping their franchised title entirely – it's safe to say that the next generation of sports simulation has probably arrived.
Konami's latest football sim, Pro Evolution Soccer 2012, boasts an improved Active AI, a new Teammate Control System, and a new face for the cover (although you may remember him from PES 2008): Cristiano Ronaldo. Overall, the title is a well-rounded and improved experience that caters for a variety of different skill levels; however, there are a variety of small issues that prevent the title from reaching its full potential and because of this the game can, at times, seem unfinished.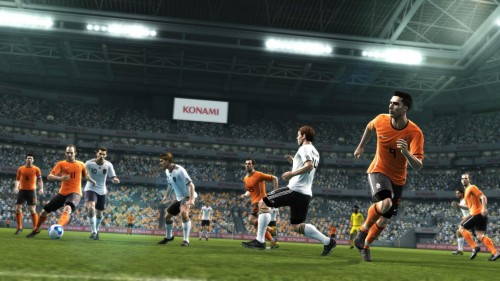 PES 2012's menu presents gamers with Exhibition Mode, the UEFA Champion's League, Copa Santander Libertadores, Football Life (with Master League and Become a Legend), League/Cup and community/online options. PES has always been lacking a bit in the licenses department, and while Konami have built upon the licenses from PES 2011, many gamers will still be disappointed at the lack of diversity in licensing.
Aside from UEFA's licenses and the license for Copa, three other leagues are fully licensed: France's Ligue 1, Netherlands' Eredivisie, and Spain's Liga BBVA (yes, Konami, you get brownie points for this one!). Premier League fans will be disappointed that, again, only Manchester United and Tottenham Hotspur are licensed. Teams are again given fictional names like Chelsea (London FC) and Arsenal (North London FC), and leagues such as the Serie A have all the teams licensed but not the logo and name. It's great to see Konami listening to the gamers and churning out more licensed teams, but it's undeniable that many people will still feel the lack of comprehensive licenses takes away from the authenticity of the game.
One of the great improvements in PES 2012 is its Football Life mode – or more specifically, the Master League mode. Let's face it – career modes (or Become a Legend, as PES players know it) can often get tiresome, but managing teams never gets old and the replay value is almost infinite.
Konami taps into this love for manager modes with revamped and stylish animations of the coaches briefing you (in the form of your avatar, which can be quite entertaining). The animations add a degree of realism to the title that you just wouldn't get elsewhere. Unfortunately though, the animations lack voiceovers: the coach's mouth moves and subtitles reveal the dialogue, but there is no sound but the background music. It's questionable as to why Konami would go to all the trouble of creating animated segments only to skimp on the audio, but nevertheless the animation adds a certain air of refinement to one of the most beloved modes in football simulation.
However, with all this talk about modes, we can't forget about the gameplay. First off, what's really great about gameplay in PES 2012 is the degree of customization you have. Konami are branching out and embrace every type of gamer: be it the casual gamer or the hardcore fanatic. If you're just starting out, then you can leave your manager, coach, or scout in charge of everything and just play a bit of casual football. If you're into choosing your own formations, performing heaps of tricks, or playing at the top level, PES 2012 can cater to your needs. You can play the game to the level that you want to, and get involved as much (or as little) as you want to.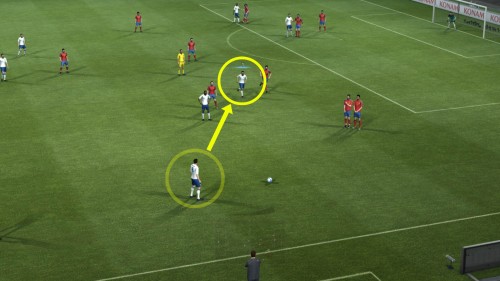 PES 2012 improves upon the gameplay issues of PES 2011, and the Active AI works a treat about 80% of the time. Attacking defenders like Ramos play exactly as they would in real life, and overall teamwork is definitely emphasised as a major component of gameplay. Most of the time, your players will try to find the best position possible, but sometimes this just doesn't work out and you end up running solo – straight into the defenders.
The Teammate Control system – a new feature that allows gamers to control two players at once – is a great way to undo some of the hiccups of the AI. Players can now be directed to different locations on the pitch with the use of R3, and is great when the AI just doesn't seem to understand what you're trying to get your players to do. The Teammate Control system can be a bit finicky for some gamers, but it's a great way for PES 2012 to acknowledge that sometimes a computer just doesn't understand what we're going for.
With all this being said, it's impossible to overlook the fact that PES 2012 is primarily still an attacker's game. While you can select the type of football your team plays (and customise the formation as such), possession football is still a difficult task. It seems the main focus of the AI is to force you into attacking, no matter what your playing style. Defence is largely overlooked and your players will somehow allow a striker to run straight past (at what still seems like lightning speed, by the way) – even if they are standing straight in the striker's way. The ref is a little bit too keen to give cards away for even the slightest hiccup in defending– but hey, maybe he just likes the colour yellow?
However, the attacking element of the game certainly adds plenty of pace and energy. You'll be caught up in a flurry of sprinting towards the goal and shooting, and focusing so heavily on attack does make the game very, very fun.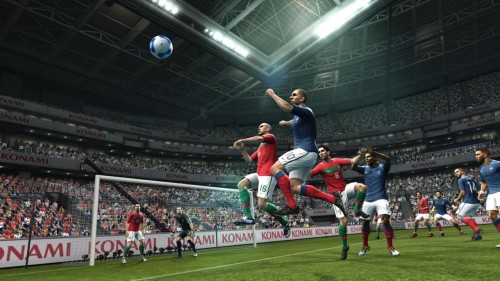 PES 2012 does definitely look sleeker than its predecessor, and the players all have their own mannerisms that come through during gameplay. Van Persie will consistently sweep and Messi will run to the back of the net after scoring. The lighting is definitely one of the pluses to the graphic design: a pitch half shrouded in shadow and half drenched in sunlight really does add a degree of realism to the title. At times, the animation can still be a little clunky and I even had a player run straight through the ball, but for the most part PES 2012 is visually on par.
Konami have also introduced a myPES service: a new take on the online arena, myPES is an application that links your Facebook account with the game. Results can be uploaded to your Facebook, and you can also share and interact with your friends, which is a big plus – given, of course, that you have enough friends who also play PES 2012. While myPES is still in its baby steps, hopefully PES 2013 will see even more developments in the football-meets-social-media avenue.
For all the improvements PES 2012 has made, though, I was sorely disappointed with the lack of attention to detail in some small areas. It may be nitpicking, but it's the finer aspects that really show off a game's cohesiveness. A big mistake on Konami's part was the lack of some inclusions of major transfers at the beginning of the 2011/12 season. Mata is still in Valencia and Fabregas is still at Arsenal, which makes the game feel dated from release day. Also, the Training Challenges (which many gamers may need if they are looking to try out PES for the first time) are difficult, frustrating, and often less helpful than they are a hindrance. In fact, newcomers to the franchise would probably find it easier to jump into an exhibition match rather than go through training.
Also, another key issue for me (although very minor for the PES market) was the lack of inclusion of a female avatar choice – it's not earth-shattering, but it's these little things that make the game feel complete.
Of course, there's no way to fully talk about PES 2012 without acknowledging the elephant in the room…its rival, FIFA 12. But let's all stop for a minute, breathe, and remember: Konami have been working hard to catapult Pro Evolution Soccer back to its former 06/07 glory. While EA have been building upon previous titles, Konami have been rebuilding. PES 2012 is most certainly a step in the right direction, and should be acknowledged as such.
With that being said, the title still has a few more steps to go in terms of improvements before it can hope to reign supreme over EA's FIFA juggernaut. PES 2012 has definitely closed the gap here, but it still may take a year or two before both are on equal par and the game is allowed to fully flourish without feeling like it's playing catch-up.