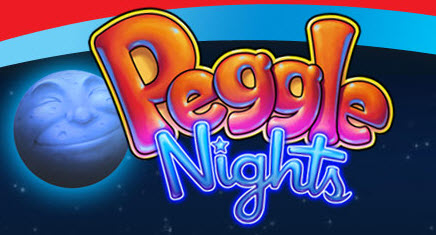 Peggle Nights
Platform: PC
Publisher: PopCap Games
Developer: PopCap Games
Release Date: November 18, 2009
Overview : 
Play the next episode of the peg-busting phenomenon from PopCap! Shoot and clear the orange pegs from 60 wild, dreamscape levels and bask in Extreme Fever glory. Meet the Peggle Masters' alter egos and wield 11 Magic Powers, and then try the ultimate Peggle test — 60 Grand Master challenges!
The fun doesn't end there. Take a brain break in Quick Play mode, compete against friends or the computer in Duel, and add to the action with downloadable Bonus Levels. Plus, you can celebrate your Peggle prowess with Instant Replay and a Trophy Room!
–
Peggle Nights is the next installment of peg popping addicting game Peggle, that took and still has taken the world by storm.  In Peggle Nights you get to bust through another 60 well designed and challenging levels.  The action doesn't stop there though, with four game modes: Adventure, Quick Play, Duel and Challenge this is going to keep you busy for weeks and even months.  Especially when you attempt to become the Grand Master in the 60 challenges that have been set to test you and your skills.
You also have duel mode where you can challenge your friends or even the computer.  One thing that could have been added to make this game even cooler for the PC version would be to have an online challenge duel mode where you can take on other Peggle Grand Masters from all over the world and show them the power of your Peggle-shot.  But thats a minor issue, you're going to be too busy trying to get through all the challenges to worry about anyone else.
Another cool option that does come in handy for the purpose of bragging rights is the instant replay and save option that will allows you to save that super dooper OH MY GOSH .. did you see that FLUKE.. erm i mean masterful shot I just did that took out the entire game board in one go ;).. You can save it and then share it out with all your mates.  More game should offer this reply & save option as perfect to prove to the world that you really do have the skills and it wasn't a complete fluke 😉
Lets take a look at the video review now shall we, and watch a true Peggle Master in action 😉
[youtube=http://www.youtube.com/watch?v=gvSCh2vEYAc]
Capsule Computers gives Peggle Nights a 9 Capsules Out Of 10

If you love the original Peggle and you've Peggled the Pegs out of it, and need something new to sink your Peggle into .. then look no further Peggle Nights is the game for you.   Grab it now on PC at the PoP Cap Games website :
Let us know what you thought of this video review here or in the forums