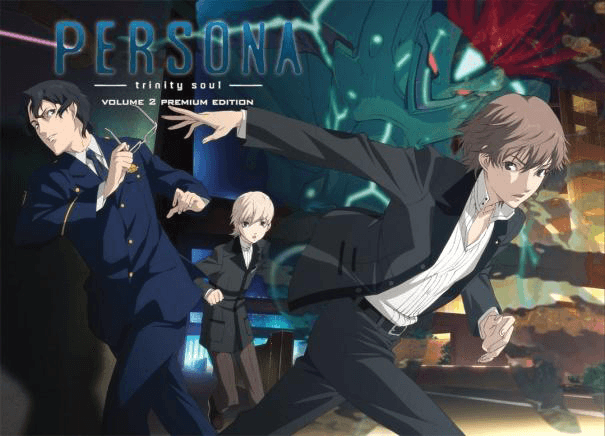 Persona -trinity soul- Volume 2
Produced by: A-1 Pictures (Aniplex)
Licensed by: NIS America
Contents: 2 DVDs containing episodes 14-26, Special Features, Premium Edition Box, and Art Book
Language: Japanese with English subtitles
Official Website: Persona -trinity soul-
Price: $38.99-47.99
Available for purchase at: NIS America's Online Store, Anime Castle, Right Stuf, and The Anime Corner Store
Overview:
Many different anime are released in Japan, and then have a video game created about them that features the storyline and expands upon it. Persona -trinity soul- does the opposite however as it takes the well-established Persona franchise and creates a storyline separate from the game. While the Persona games have a very large following in Japan and a good following in America as well, just how well does Persona-trinity soul- stand up? Or does it establish itself as a great story set in the Persona universe? A-1 Pictures and NIS America bring fans of Persona the conclusion of Trinity Soul's standalone story with Volume 2.
Art:
Fans of the Persona series will not find themselves wanting as far as the characters look, nor will they have any issues with the Personas themselves either. One noticeable reason for the fact that they look as real to game style as possible is the fact that Shigenori Soejima who happened to do the art for Persona 3 also provided the original artwork for the various characters inside of Persona -trinity soul-.
The Personas have a supernatural feel about them especially considering the way that they can are slightly transparent which allows for a ghostly presence to do battle with other Personas. The action scenes are handled extremely well without any loss of clarity or focus in the actual artwork which can sometimes happen. I can't count the number of shows that I have seen in the past that have seen drastic drops in quality in an action scene. Thankfully Trinity Soul avoids that problem completely with crisp clear artwork especially during the battles.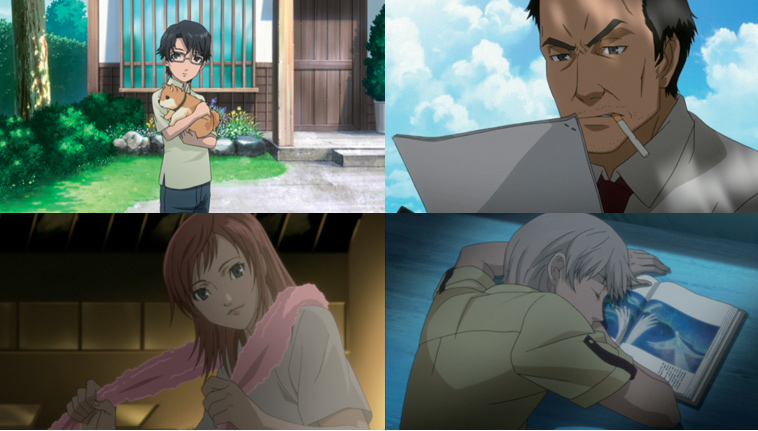 There are problems occasionally with how the characters interact with one another outside of major scenes, with still movements and conversations. This begs the question as to how much work was allocated towards the battle scenes that certain other scenes were left more lifeless due to the fact that only the characters mouth moves and the rest of the body stays entirely still.
Subtitles & Audio:
To begin with it is good to know that Persona –trinity soul- has retained its entire voice cast from Japan. What this also means is that the series is only subbed rather than dubbed. This is hardly a problem however as in my opinion subs are superior to dubs in a number of ways. With each episode being subbed Trinity Soul does not lose any of its original appeal, but it does mean that any viewer who does not understand Japanese will have to read the subtitles throughout the show.
The subtitles themselves are displayed in a white font and use what appears to be an Arial style font to be easily recognizable. Though one small sign of notice is that certain phrases are not translated and are displayed with English letters but still in Japanese. While this may not have been a problem if the subtitles had picked one format for the brothers and staying with that format. Instead the translation will leave aniki (Japanese respectful term for older brother) but translate Jun's use of onii-chan (another form of older brother in Japanese but endearing) into brother. This is not much of an issue but does show inconsistencies in the way translation was handled.
The music within the show itself is handled by Taku Iwasaki and fits the different parts of the show perfectly. The tone of the background music changes as one would expect, with rock sounding music on battle scenes and then switching to heartstring pulling orchestral pieces during serious scenes. The opening theme song "Word of Voice" was contributed by FLOW and the ending theme was handled by Yumi Kawamura and is titled "Found Me."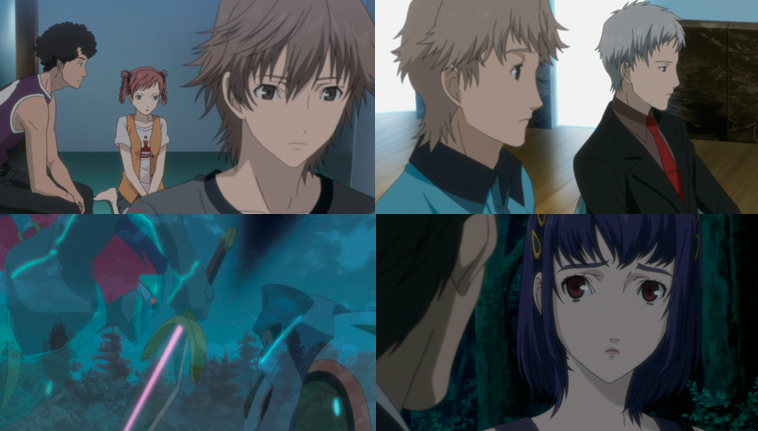 Story:
Persona -trinity soul- Volume 2 closes the chapter on the Trinity Soul series but how does it handle what was left for it in the first volume? While Volume 1 may have left a gap in much of the story the second half of the story easily makes up for this lost knowledge with relatively easy to follow plot developments and explanations.
Ryo, who is Shin and Jun's older brother, has fallen under suspicion for a crime that he may or may not have committed. Regardless of that fact however, one more disaster is looming in the world as a shortage of pills that suppress Personas are coming into a short supply. This instantly leads to trouble as users who do not know how to control their Persona run low on suppressants and ultimately go berserk and hurt innocent bystanders.
In an attempt to prevent their own loss of control by stopping the group known as Marebito and securing more control over their Personas by learning how to master them and use them without losing control of themselves in the process. All the while they must find out what truly happened to Ryo and the secrets behind "The Whale"
Fans of Persona 3 will be surprised to see that there is an appearance of an old character from the game within the show. Akihiko Sanada has returned to replace Ryo temporarily as he is still missing. The addition of Sanada is a great way to reward fans of the series who had probably been waiting to see a cameo appearance similar to this and it is handled smoothly enough to not feel forced upon the audience who otherwise would not know who the man is without background knowledge.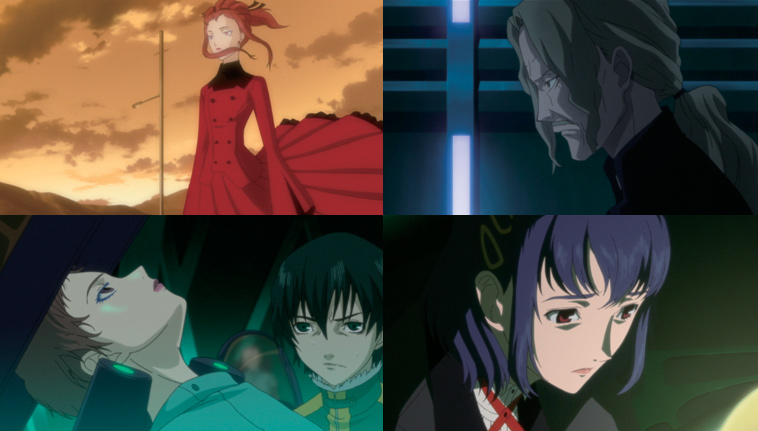 The story itself is fast paced enough to keep audiences interested while also keeping a serious attitude with the subject matter. We see much more in depth information about certain characters' pasts and discover much more than viewers ever thought would be revealed with secrets and the truth coming forth. While bits of the storyline may be confusing and hard to understand, the show itself ends satisfying enough to put the story to a close. However if you the viewer are still confused about various things that had happened then you are not left hopeless either, as a bonus feature was included just in case you were still left tangled in the mysterious web that Trinity Soul wove.
Premium Edition:
Now when you purchase Persona -trinity soul- Volume 2 you'll notice that it comes with a complete premium edition packaging that includes a special sturdy collectors box which measures 8" tall, 11" long and 1" thick contains two slim DVD packages as well as a hardcover art book. Now while the collectors box's dimensions do make it hard to find a shelf to put it on if you have standard DVD holding shelves, the box art itself will beg you to do otherwise.
The box itself features artwork on both sides featuring the three Kanzato brothers; Shin, Ryou, and Jun. One side of the box features each of the brothers looking out towards you, while the other side features each character getting ready to run plus Shin's Persona Abel. Each side also features the title in blue lettering for PERSONA and smaller white lettering for trinity soul. The cover art on both sides is gorgeous though I preferred the side that had Abel on it as it was more colorful and has more to see.
The DVDs themselves come in slim cases, with DVD #1 featuring episodes 14-20, and DVD #2 containing episodes 21-26. Disc #2 also has the special features on it which though not numerous, are very informative. There is the clean version of the opening and ending theme, meaning no credits or subtitles rolling across the screen. But the other bonus is very useful considering it contains something called the Perfect Guide which is where Omatsu Yutaka, producer of A-1 Pictures, explains various mysteries of Persona –Trinity Soul- and looks to answer any questions you may have which is great for those who may be confused about the ending or about different things that they saw within the series.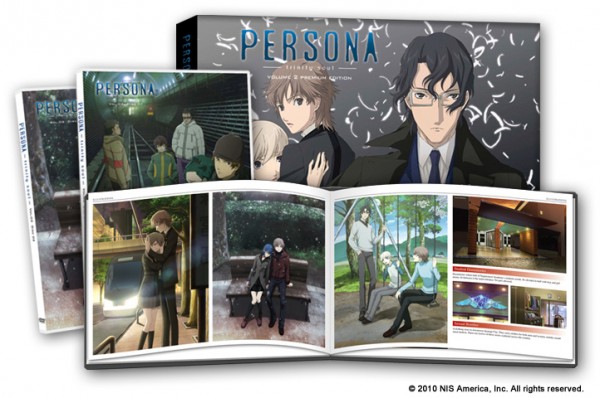 Then we have the art book which shares the same dimensions of the hardcover case, minus the 1" thickness of course. The artbook itself is a 34 page hardcover book that has Jun and Shin Kanzato as well as Ayane Komatsubara and Megumi Kayano with her Persona Diana on the cover. Inside however is where the art book shines. There are screenshots and small synopsis of each episode included in the volume and details on different characters (and their Personas) from the series itself. The characters detailed and pictured are mostly secondary characters as the first volume contained the primary characters but the details given are very in-depth even for characters that don't play large rolls. Also included are a few illustrations and location drawings, model sheets, and interviews with those who worked on the series. Another nice touch added into the art book is the inclusion of a yonkoma (4 panel comic) for each episode that puts a comedic twist on situations and is great for a laugh.
Overall:
Persona -trinity soul- tackles the difficult task of being placed within a well-established world and creating a setting and storyline just as interesting as the games themselves. The way that the Personas were drawn and were portrayed to do battle with one another kept the show fresh and the story developments in-between were enough to keep me watching with all of the mysteries it had to reveal. The bonuses included in the Premium Edition are just icing to the cake of what was a deep and intriguing experience and is hard to pass up for fans of the Persona series and newcomers alike.
I give Persona –trinity soul- Volume 2: