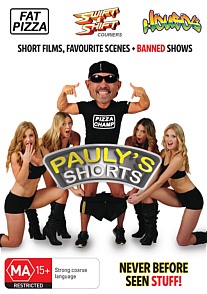 Pauly's Shorts
Studio: Beyond Entertainment
Publisher: Beyond Entertainment
Format: DVD
Release Date: September 4th, 2013
Price: $23.95 – Available Here
Overview
Unless you've been living under a rock for the past decade or so, you'd know that Australia has become the comedic stomping ground for Paul 'Pauly' Fenech and his group of stooges. It has been hard to escape his brand of comedy here down under and the jokes and characters that have sprung from Fenech's mind over all these years have become thoroughly ingrained into the hearts of Aussies across the nation.
Pauly's Shorts wears the facade of a collection of short films by Fenech well, but in actual fact it is really a victory lap of sorts for the man known affectionately as Pauly. This DVD in and of itself is a brief look at the history of Pauly's film-making career and in many ways a celebration of it. There are plenty of goodies to find in Pauly's Shorts, whether you love him or hate him, it is worth a peek inside.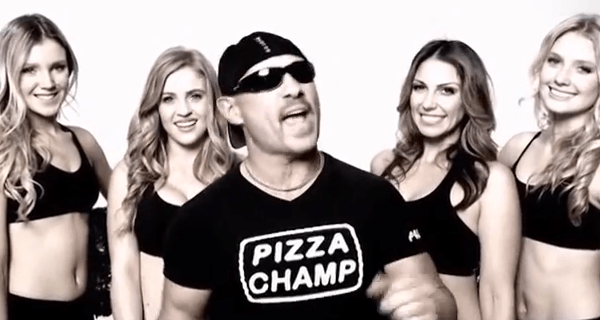 Story
The premise of this pseudo-documentary is that Paul Fenech is taking a look back on his film-making history and giving viewers a glimpse at some never before seen material. What we see covers his entire history from start to finish, touching upon his biggest hits and his short films that preceded them.
While the title of the DVD seems to refer to Pauly's short films, they are not exactly the stars here. Instead it is the behind the scenes look at production on his TV series and feature films that prove to be the most interesting. We see that despite its relatively tempered content, Swift and Shift Couriers was actually the subject of scrutiny from the SBS, resulting in some episodes being banned. We see some footage from the banned episodes and the question still remains, what was so bad for them to be pulled from air? It is certainly nice to see a look at what could have been though. In a particularly intriguing cut episode we see that Pauly went on location in Egypt to film an unaired episode of Swift and Shift Couriers.
The look at Fenech's short films, while not being as much of a fan-service as the behind the scenes look on Pizza, Swift and Shift and Housos, is still quite a bit of fun. His short film called Dangerous Pizza is undoubtedly the stand out of the bunch, being both intensely atmospheric and utterly hilarious.
There is an interesting portion that focuses on his 1999 entry into Tropfest. While the film itself was hardly anything special, it was the story surrounding it that was. Fenech having become frustrated with Tropfest judge's favoring works of women, entered the film festival under the name of Laura Feinstein. Shockingly he actually won, much to the chagrin of Tropfest judge and officials hoping for a female director to take the prize. It was a brief glimpse at Fenech as a man, that the rest of the documentary is unforunately void of.
Pauly's Shorts does however begin to spin its wheels once it gets onto the topic of Housos. While many consider it to be Fenech's weakest series, Pauly's Shorts spends far too much time on the weak parts of Housos rather than its stronger scenes. This is of course likely due to the dispute with former cast members of the show, but it is still a little disappointing.
While it does virge on self indulgent at times, Pauly's Shorts is a fun watch for fans of his work. It doesn't offer much in the way of a new perspective on the man to those who detest him, but he resolutely stays true to himself and his body of work in what amounts to an entertaining retrospective of the divisive Paul Fenech.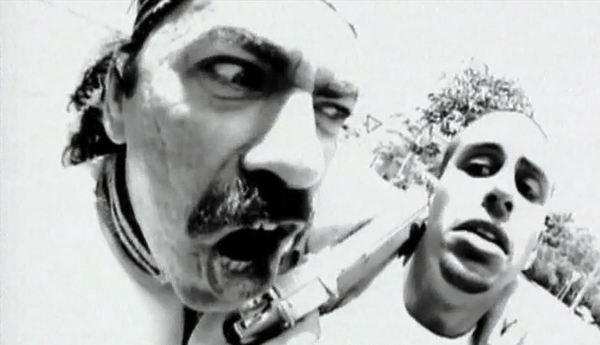 Visuals and Audio
Fenech is a flamboyant personality in many ways, he imbues his films and series with a sense of flare and vibrancy that are uniquely his own. Whether it is the black and white Dangerous Pizza or colour saturated Fat Pizza, there is a definite sense of style that comes off as natural for Fenech. While it is likely an unintentional aesthetic, it is undeniable that he has a sense of style that surrounds his works. It is something that is quite eye-catching and Pauly's Shorts covers the multitude of styles that have defined his career.
In terms of audio, there isn't any specific soundtrack laid out for Pauly's Shorts, instead Fenech has opted to feature some tracks from his works that have become synonymous with his career, including the vapid theme of Housos that has a way of scratching its way into your head, like it or not.
Overall
Pauly's Shorts is ultimately a round of applause for the career of Paul Fenech. It's a shame however that the only one applauding is Fenech himself. This is a look at the career of Pauly through the eyes of Pauly and in many ways it comes off as a little slanted to the way in which he would like to represent it. It would have done a world of a good to have a few other perspectives, but such was not the case.
If you are a fan of Fenech, you'll surely find a lot to enjoy in Pauly's Shorts, even if you've seen most of it before. It is the new stuff that is worth the price of admission. With behind the scenes looks at series like Pizza and Swift and Shift Couriers, we get a greater insight to what could have been. It is a great addition to Pauly's Shorts that will surely be worth the watch for fans.
Unfortunately if you are not a fan of Fenech and his particular brand of humour, Pauly's Shorts won't do anything to change your mind. Fenech comes off as self-serving throughout and at times a little too arrogant. But hey, Fenech is a pretty funny guy underneath it all and maybe, if you give him a chance, he might just make you laugh.
Capsule Computers review guidelines can be found here.